Nam Nam at Wheelock Place: no frills, great Vietnamese food…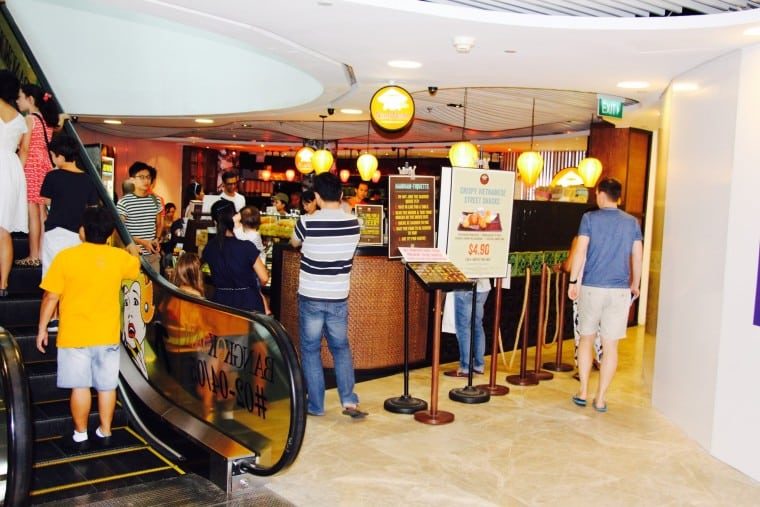 Go all the way to the bottom of Wheelock Place on Orchard (B2 in fact), and you will find Nam Nam @ Wheelock Place, nestled in a corner by the escalators. I'd heard of this place before and thought I must try one day, and this day we happened to be in the vicinity of Orchard so go we did. And very happy that we did too.
This is really good, honest, authentic Vietnamese food. Quite a variety of choices too as you'll see in a minute. One quirky thing is that you get seated, choose your order, fill it out on an order sheet, and then go to the till and pay. I always find this one a little odd in restaurants as there will be the; "What if I want another drink scenario?" Yep fill out another form and go queue again – is it just me or is that odd?
But anyway that aside, I really did like the food. It was fresh, it was flavoursome, and it was priced very reasonably. It even looked damn good, as I think you'll agree. I really did enjoy this lunch. I love Vietnamese as you know. So I tell you my friends this is indeed a should-try eating location, I think you'll enjoy it immensely – me, Mary and the kids certainly did.
Check these out – what crackers!!!
Even their basic crackers were incredible. Plain ones to the right and black and white sesame to the left. I cannot tell you though what the orange streaks are in the cracker to the left – no ideas, do you? These were gorgeous, light, and crunchy, and not oily at all. Served with some dipping sauce, oh yeah baby. Now I wonder who really liked these?
Yep, you guessed it…
Yes, it was indeed my two kids, Jude and Amy, who were here for lunch today. Tuck in kids!!! Actually, I don't think I really needed to say that, as about half the plate had gone by the time I got the lens cap off.
Now that is one good-looking salad
I just cannot go to a Vietnamese Restaurant like Nam Nam @ Wheelock Place, and ignore Vietnamese Pomelo Salad if on the menu. This is one of my all-time favourite salad dishes. Sweet and Sour and Spicy. My kind of salad. So in here some lime, pomelo, red onion, chicken, prawns, chili, fish sauce, crunchy peanuts, and a surprise one for me Macadamia nuts. BOOM!!!
Nuggets, like no normal nuggets
Deep-fried little chicken nuggets in an ever-so-crunchy batter. Me like, me like a lot. Give a little squeeze of some calamansi, and it gives that lovely citrus overtone. Perfect with fried food. Everyone wolfed these little beauties down.
And of course, you simply cannot visit without having a go at their Pho Bo. Remember my recipe for Pho Bo, it truly is just one of my favourite dishes to consume – and yes that is truly global. I just love it so and will always always eat it whenever it is on a menu. I don't think I have ever had a bad one, and this was no exception. Damn, fine Nam Nam Wheelock Place. Although I am not 100% certain if my Amy enjoyed it too, what do you think?
I think maybe she did enjoy it, although can't be certain (cough cough)
So there you have it reader the delightful Nam Nam @ Wheelock Place. Well worth a visit in my reckoning. We all rather enjoyed this place and of course the food. Nicely nicely done. We'll be back for sure. Oh yeah and check our friend's Google as there are quite a few Nam Nam's in a chain, so maybe closer to where you live than here. The Semi-Naked Chef says you should. ENJOY!!!