Steak and Eggs Brekkie Recipe is a cracker for 2023
Steak and Eggs Brekkie Recipe is time again. It's Sunday morning and the beasts are awakening and they're hungry. Time to get my cooking face on and get rummaging in the fridge. Yes, today's brekkie is going to be Steak and Eggs, with a lovely cut of Grade A5 Yaki Niku Japanese Wagyu that I got recently from a new online supplier called Shinsen (thanks for that call-out Frankie Goes to OllieWood).
She looks great and it is going to taste off the charts too… Steak and Eggs for Brekkie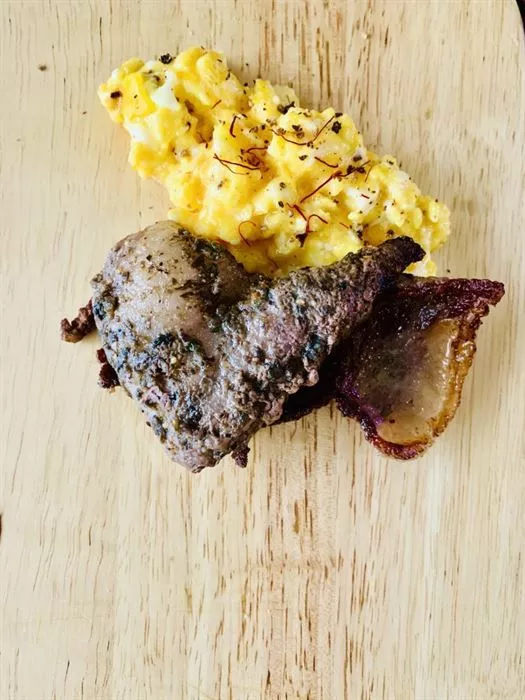 Steak and Eggs Brekkie two people;
Here we go;
Steak;
Season the steak slices with sea salt & cracked black pepper;
Then spread a little of the Black Truffle Tartufata over one side of the steak;
Get a frying pan on the heat and throw in a 2″ knob of butter;
Place the steaks in Tartutata side up and fry off the steak until nicely charred;
Flip for and fry again for less than a minute and take them out and pop on a plate.
Eggs;
2″ knob of butter in a pan and throw in 3 fresh eggs;
One the heat and stir continuously with a spatula;
As they start to form a little take them off the heat and stir with the spatula;
Back on the heat for a few seconds, stir, off the heat, stir and repeat until they are still 'wet' but nicely formed together;
Off the heat, season with a sprinkle of sea salt & cracked black pepper, and pinch of Saffron;
DONE!!!
Plate up like the photo. Give a little more sprinkle of Saffron on top of the eggs, and a sprinkle of sea salt & cracked black pepper onto the steak. Get that in front of the family and stand well back to avoid a feeding frenzy. A beautiful brekkie this was. The look, aroma, and tastes were seriously good. But it is actually quite easy. Steak and Eggs Brekkie Recipe, give it a go – ENJOY!!!
Wagyu is a breed of cattle that was developed in Japan and is famous for its rich, buttery flavor and intense marbling. In Japan, there are four primary varieties of Wagyu cattle: polled, shorthorn, brown, and black. The Beef Marbling Score (BMS) uses a scale of one to twelve to assess the degree of marbling in beef, with twelve representing the highest level of marbling.
The Wagyu beef must have a BMS rating of 8 or greater in order to be rated A5. The sirloin, which is regarded as the best beef cuts due to its fine, mesh-like marbling and rich, full-bodied flavor that spreads throughout the entire mouth, is one of the meat cuts that are especially well-liked among Japanese gourmets. Overall, Japanese Wagyu beef is prized for its distinct flavor and texture and is regarded as a luxury.
Popular and adaptable, scrambled eggs can be eaten for breakfast, lunch, or supper. Scrambled eggs can be prepared in a variety of ways, from the traditional butter and salt to more daring combos with herbs, cheese, and vegetables. It's important to whisk the eggs thoroughly, cook them over medium heat to avoid overcooking, and add a splash of milk or cream for additional richness if you want your scrambled eggs to be perfect. Scrambled egg recipes with various flavors and spices can be found on our website for a step-by-step explanation of how to prepare scrambled eggs.
https://islifearecipe.net/tomahawk-contemporary-steakhouse-formerly-omaj/
https://islifearecipe.net/stoneaxe-wagyu-short-rib-recipe-butcher-box-joo-chiat-singapore/