Roast pork belly
Yes folks I have indeed broken protocol. I have entered the inner sanctum. I may have stepped on many toes with this one. Something I thought I would never cook. Breaking the trust of my favourite hawkers. Insulting my most favourite of favourite hawker foods? What the hell are you talking about Kennett – well today, I did it, I cooked my hallowed roast pork belly.
My great mate and fellow foodie, Dougy, pinged me a photo of his version of roast pork belly, with a brief description of how he prepped and cooked it. It looked absolutely amazing. How could I resist the challenge. How could I. I spoke to my friend and colleague SoonYew over a beer that night about it. I discussed the need for running to a wet market in the morning, but didn't know where the nearest was. He explained that there is a small one about 5 minutes away in Siglap. Off I went early this morning to secure a monster slab of the purveyors best pork belly for $20 for a Kilo. What a cracker recommendation SoonYew – thank you.
And here is how she turned out – The Semi-Naked Chef's roast pork belly.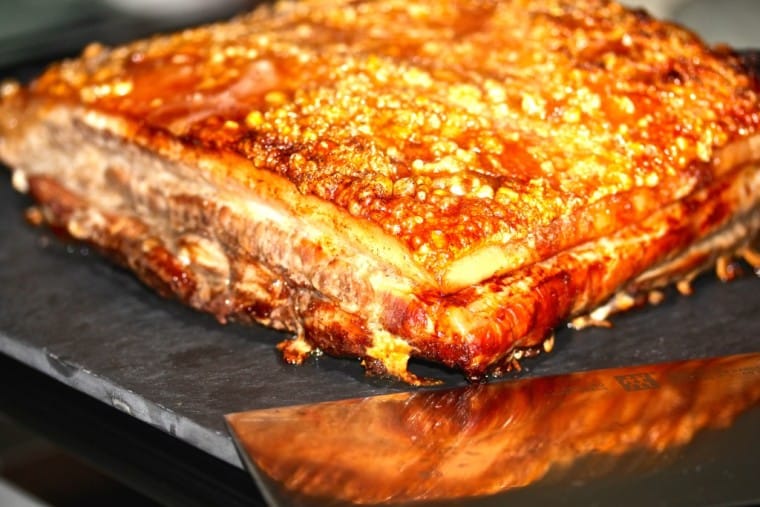 So from an ingredients perspective clearly you need a monster slab of pork belly. No prizes there. Ask the butcher to debone it whilst you are there. That's what I love re wet markets – no pre-packed here, its all on demand.
In fact there really is no need for me to list ingredients. For something so beautiful to look upon, for something so flipping tasty it is actually incredibly simple. It just takes some time is all. So plan ahead. You want to be preparing this and getting it in the oven and 4 to 4.5 hours before you are ready to eat.
Turn the pork so it is skin side down. Take some Chinese 5 spice, about 4 tablespoons and massage it in to the pork meat. You need a lot as this will form a crust once it is roasted. Also massage in a good few pinches of salt. Then I changed Doug's a little here, well I had to didn't I. I drizzled over some soy sauce – use the good stuff. And then drizzled again with some Olive oil. Then you flip that bad boy over and in to a roasting tray.
I then scored the skin side with a series of criss-crosses – not too deep, just enough to open the surface layer a little. Why, well next step is again to massage in a good few pinches of salt. You want to massage that in to the little cuts and when roasting this will cause the skin to crisp up as you can see in the photo above. Final thing to to is drizzle the skin with Olive oil.
That's it – you are done – see simple right?
Turn your oven to 90 degrees, yes only to 90 as you are gonna slow cook this baby. Three and three quarter hours of slow cooking in fact. Just leave it. Don't prod it, don't poke it, and please don't think I need to whack the heat up. Go out, do something, jump in the pool – but seriously just leave this for the time required.
Once that time has past, whack it up to 230 degrees and blitz it for about 15 minutes or so more on the high heat. You should start to see the skin bubble and pop, here comes your perfect crackling. As soon as you see some blackening on the skin you are finished completely. Simply bring her out, and let it rest a while. Slice lengthways in to half inch but long slices, then lay the slice down and cut in to bite sized pieces, again about half inch.
I served this up with plain white rice – and it looked like this, which I have to say is hawker standard in my reckoning. Taste was truly sublime. The crackling was to die for. I will be doing this again, as this was amazing roast pork belly.
An absolute CRACKER!!!
Thanks again to my mates Dougy and SoonYew for inspiration and enablement!!!
There you have it folks, The Semi-Naked Chef's roast pork belly – ENJOY!!!