Plain and to the point – Perle Noire Siglap changed name to Black Pearl SteakHouse @ Siglap
A little trip down the road for a return trip for my Mary and I, but a first time for Spencer and Emily – despite the fact that their daughter goes to the same school as the owners daughter. Anyways here is a Semi-Naked Chef review of Perle Noire Siglap – now called Black Pearl @ Siglap it is indeed a belter of a joint. I think this is about the third of fourth time we have been there now. Always a good sign.
What a lovely night we had with wonderful friends.
Not the cheapest of Siglap restaurants, but also not the most expensive. But you do get what you pay for of course. And therefore in my reckoning this place is bloody good value for money. Very delicious in fact.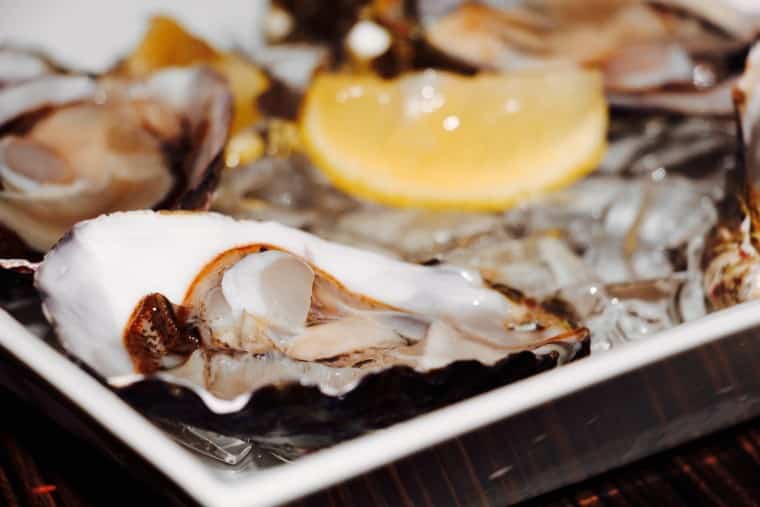 Now if you have seen my previous blog Memoirs of wet markets and oyster omelettes you would see that perhaps oysters are not my favourite dish in the world. Ah Ha but then you'd be wrong. Cooked oyster I clearly loathe as you'll see if you watch the video. Now raw oysters are a different story, as I think they are bloody funky. So between Mary and I we ordered 6 Tasmanian oysters, squeeze some lemon and add a pinch of salt and cracked black pepper. Yummy. Not really fishy at all, soft, briny, salty, zesty, peppery – all in one little mouth-full. Bloody nice. Just don't cook them.
What difference a few days make. Here I am munching away on raw oysters and loving it. Not a barf or gag in sight. Absolutely delicious, and so so fresh. Truly yummy these little blighters. I surprise myself sometimes.
OK let me try to remember what's in this salad. OK lettuce of course, roasted almonds, strawberry (yep!), onion, avacado, baby spinach, pomelo and a lovely dressing. So yep may sound strange – but indeed these are perfect bed fellows.
Goosey, Goosey gander. Nah I'll just have it's liver please. Every single time we have come here we order this. You can't come to Black Pearl SteakHouse formerly known as Perle Noir Siglap and not have the Foie Gras. This is decadence at it best. Fatty, unctuous, and so very very bloody tasty. I just love this stuff, its wonderful. Even Baby Jude had a little mouth-full and wolfed it down.
Nicely done says The Semi-Naked Chef – this is death-row cuisine at its best.
Nice choice babes. Cod wrapped in parma ham, with a little pulse salad and some rocket. How pretty is this dish? She said it tasted amazing too, and Baby Jude agrees as he shared it with his Mum and loved every spoon-full.
Yes please. I'll have the rib-eye, medium rare please. Served with a little gravy, some blue cheese, and some snap peas. How good was this steak. Cooked to perfection, buttery in consistency and truly a melt-in-mouth experience. Damn good. And then spread a little blue cheese on top and let that melt a little – BOOM, completely different. Wonderful steak, well done Perle Noire Siglap, The Semi-Naked Chef applauds you.
After the main course out comes entertainment. Amazing little dance troupe here courtesy of Tiana, Amy and Baby Jude.
Wow an amazing magic act next. Don't think I'll be using that spoon for my dessert though.
None of the above would be possible without these amazing people – the cook staff of Perle Noire Siglap, minus the Head Chef , Johnathan, who was stood next to me as I took the photo. Thanks to Apple (owner) and your wonderful staff, and Chef Johnathan for feeding is so so well. We had a ball as always, and of course an array of truly top grade, top drawer food. Simply delicious. See you again soon.
Perle Noire Siglap – gets a massive tick in the 'must-do' box. The Semi-Naked Chef says – ENJOY!!!
If you enjoyed this Perle Noire Siglap Review and want to keep up with the channel be sure to Subscribe: The Angmo Cooking Show
Connect with me on Socials:
➤Facebook: https://www.facebook.com/islifearecipe
➤Twitter: https://twitter.com/Islifearecipe
➤Instagram: https://www.instagram.com/islifearecipe/
➤Tumblr: https://www.tumblr.com/blog/view/islifearecipe
➤Facebook: https://www.facebook.com/chillaxbbq
You'll see many many other recipes on the channel and heaps of restaurant and hawker reviews too.
(Visited 70 times, 1 visits today)