Semi-Naked Chef Chili
Here is The Semi-Naked Chef Chili recipe for you. I made this for a mates house party recently and it went down rather well. Literally. Everyone said how much they liked this. Some interesting ingredients in there as you'll see, but the outcome is this dark, thick, savoury, spicy chili. It really is rather good I have to say.
Heat up a wok or pan and drizzle over Olive oil,
In with 2-3 roughly chopped red onions and a tablespoon of finely chopped garlic;
Stir fry that until the onions have softened;
In go 2-3 small sweet peppers, or a capsicum – roughly chopped and again cook for a few minutes;
Next pop in 2-3 finely chopped chili padi;
In goes circa 1kg of minced beef. Keep stirring this until the meat has browned;
2 tablespoons of tomato paste or tomato sauce next. Stir to make sure all the meat is coated;
Throw in two tins of tomatoes (I used baby vine), and a tin of kidney beans including the juice;
Sprinkle over two table spoons of smoked paprika;
And a good grating of nutmeg;
Weird bit now – half a bar of chocolate. You need the 75% plus coca content for the bitterness. Stir that through until melted;
Pop all that in to a pot and cover with a loads of cheese;
When you are ready to eat in the oven on 200 degrees for 10-20 minutes until cheese is melted.
There you have Semi-Naked Chef Chili.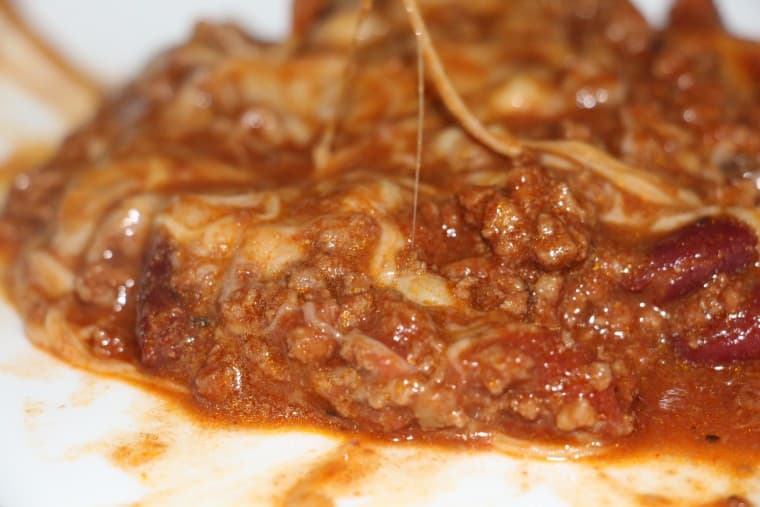 So I do believe I am going to say it yet again. You have to try Semi-Naked Chef Chili. It is so damn good. I ask you to try. I know Wills will be. ENJOY!!!