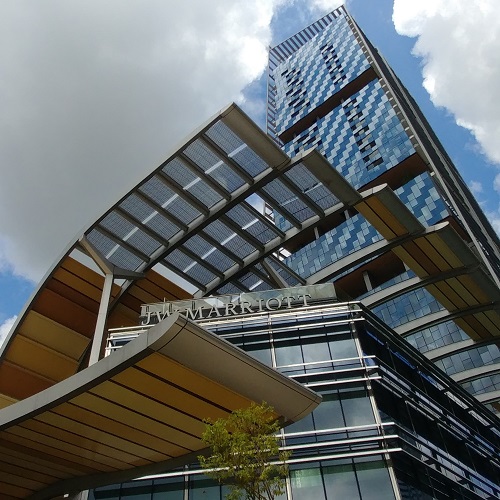 South Beach Restaurants are located at the former Beach Road military camp is located opposite Raffles Hotel, along Beach Road.
The Britannia Club (formerly known as the NAAFI – Navy, Army, and Air Force Institutes) was erected in 1952-53 to serve as an entertainment center for the 'Other Ranks' of the British Armed Forces. It is now known to many Singaporeans as the Former NCO Club. The new South Beach Tower now sits in pride along side to the former NCO Club.
From business to dining, South Beach provides unequaled luxury in the heart of Singapore's downtown sector near Marina Bay where you can enjoy Singapore's dynamic downtown district and all of its amenities.
JW Marriott Hotel Singapore South Beach
The JW Marriott Hotel Singapore South Beach is a luxurious and contemporary 5-star hotel located in the heart of Singapore's vibrant city center. Situated in the iconic South Beach development, this upscale hotel combines modern sophistication with a rich historical heritage, making it a popular choice for both business and leisure travelers.
The hotel boasts a stunning architectural design that seamlessly blends the historic South Beach conservation buildings with cutting-edge, futuristic elements. Its prime location provides guests with easy access to some of Singapore's most famous attractions, including Marina Bay Sands, Raffles City, and the Esplanade Theatres on the Bay.
Upon entering the JW Marriott Hotel Singapore South Beach, guests are greeted by a stylish and welcoming ambiance. The hotel offers a range of well-appointed rooms and suites, each thoughtfully designed with modern amenities and elegant decor. Whether you're staying in a spacious guest room or an extravagant suite, you'll enjoy luxurious comfort and stunning views of the city skyline.
For those in town for business or special events, the JW Marriott Hotel Singapore South Beach offers extensive meeting and event spaces equipped with state-of-the-art technology and personalized services. Whether you're hosting a corporate conference, a wedding, or a social gathering, the hotel's event facilities cater to various needs.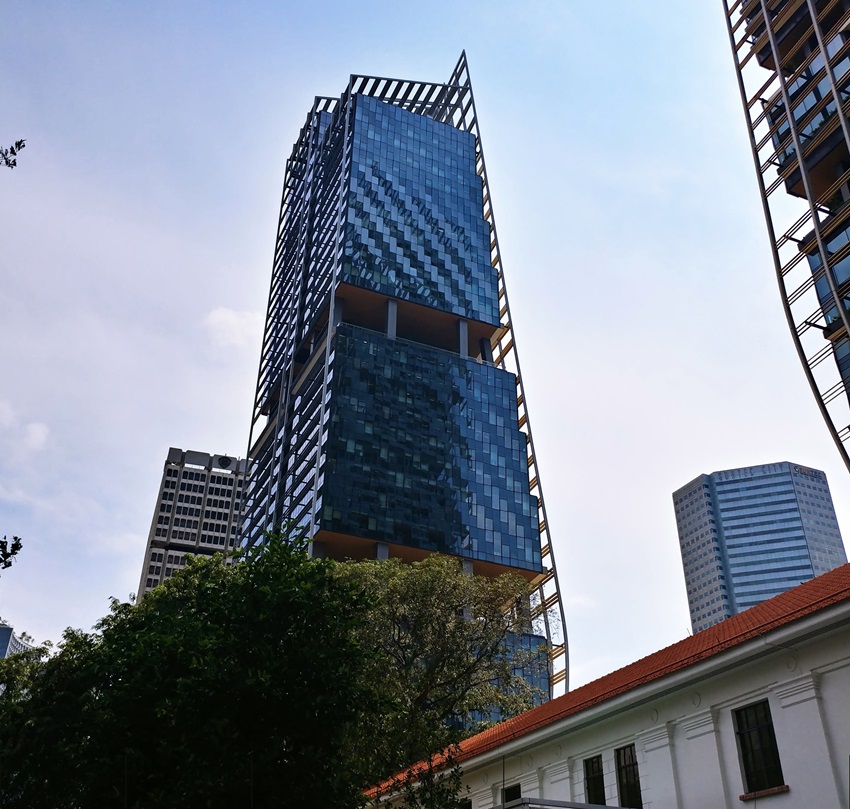 190 opulent apartments with breathtaking views of the city skyline make up South Beach's residential area. The apartments have cutting-edge smart home technologies, premium fittings and fixtures, and contemporary designs. Additionally, residents have access to a number of amenities, such as a gym, a lounge area, and a swimming pool.
Over 500,000 square feet of luxurious Grade-A office space are available in the South Beach office towers. Modern technology is featured in the towers, which also provide panoramic views of the city skyline. The office towers also have a rooftop terrace and a sky garden, among other green areas.
In conclusion, South Beach is an incredible example of a mixed-use development that combines luxury, practicality, and innovation in a singular way. The development, which is a must-see location for both locals and tourists, is an accurate representation of Singapore's contemporary architecture. South Beach has everything you could possibly need, whether you're looking for dining, entertainment, shopping, or just a place to unwind.
South Beach Restaurants - JW Marriott
In the South Beach restaurants and bars of the JW Marriott Hotel Singapore, you can indulge in delectable dining experiences that cater to your every whim and fancy, from the signature international buffet at Beach Road Kitchen to the modern Japanese restaurant with Korean accents created by Chef Akira Back. At The NCO Club, you can enjoy some of the best eating and entertainment in the city, with the highlight being the contemporary Cantonese lifestyle-dining restaurant Madame Fan.
A mixed-use building called South Beach can be found right in the middle of Singapore's business area and is full of cool South Beach restaurants. It was finished in 2016 and includes an upscale hotel, condominiums, office buildings, and a shopping center. The development's architecture, which draws inspiration from the modern buildings in the city, melds in perfectly with the surroundings and South Beach restaurants.
The South Beach development is situated at the junction of Beach Road and Nicoll Highway and spans 3.5 hectares of property. The Esplanade and City Hall MRT stations, as well as the development itself, are both conveniently located close to public transportation.
Its distinctive design is South Beach's most striking characteristic. The development's two 45-story towers are connected by a futuristic, undulating canopy, which was designed by British architecture firm Foster + Partners. The development's outdoor spaces are shaded and protected by the canopy, which also functions as a shading device for the South Beach restaurants.
There are many different choices for dining at South Beach restaurants, shopping, and entertainment at the South Beach shopping center. Along with a variety of eateries, cafes, and bars, the mall offers a mix of national and foreign brands. Additionally, there is a cutting-edge movie theater complex that provides an immersive viewing experience.
JW Marriott is in charge of the luxurious South Beach hotel, which has 634 rooms and apartments. The hotel has a number of amenities, including a spa, a fitness center, and an infinity pool on the rooftop. Several dining choices are available at the hotel as part of South Beach restaurants, including a Michelin-starred Japanese restaurant and a contemporary French brasserie.
Address: 
38 Beach Rd, Singapore 189767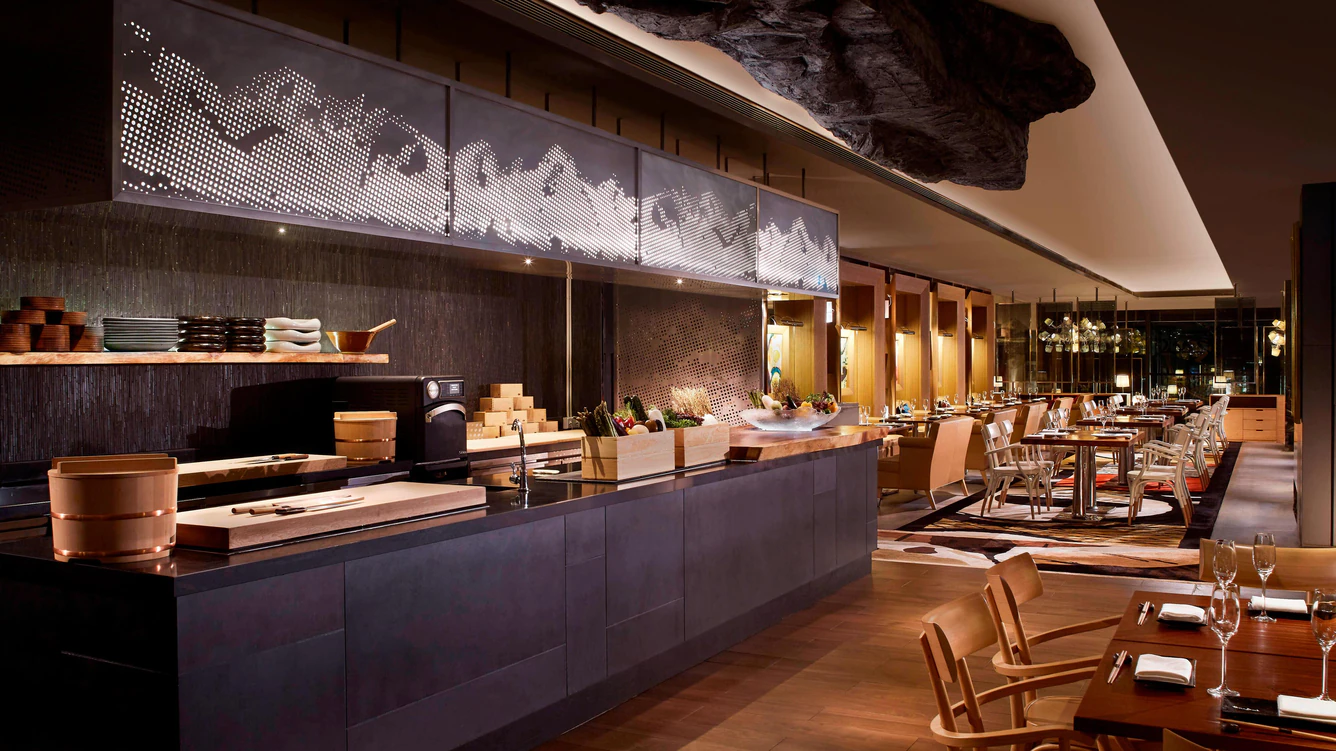 Akira Back Reservation Reservations Akira Back Japanese Food Akira Back restaurant brings celebrity chef Akira Back's award-winning brand of modern Japanese cuisine with Korean accents