Have you seen BBQ 99 Katong before? I reckon we have walked this place 100's of times and never actually noticed it. How crazy is that? Today we didn't miss BBQ 99 Katong. We popped in prior to going to the cinema and had an incredible buffet lunch. A lunch that was incredibly reasonable with regards to cost. Basically it is an 'all-you-eat' BBQ for 3 hours. Loads of food on offer that you help yourself too and bring back to your table to cook on your own personal BBQ tray. I like that.
Get down to 99 East Coast Road, just opposite i12 for some bloody good Korean food.
It is with great sadness that we have to report that Korean barbecue restaurant BBQ 99 Katong is permanently closed, another victim of COVID-19 but you can always try our latest favourite Korean barbecue restaurant at Yun Ga Korean BBQ @ Katong V
My gang clearly enjoying themselves, ahead of Daddy going fossicking and grubbing for food. See how the griddle is on an angle with a small cup at the end. Yes folks this is healthy eating as the oil is being drained away. Just marinated meats and vegetables. So delicious.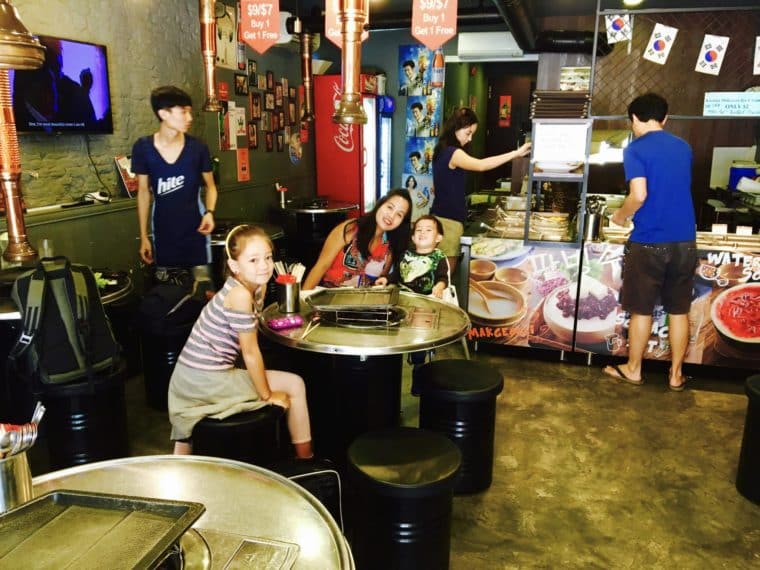 Here is griddle number one loaded up. I think we ended up having 3 griddles worth of food. Quality meats. Amazing marinades. Everything was just so fresh.
I don't understand how we have walked past this place so many times without going in. They have been open 2 years apparently. Three hours all-you-can-eat was too much for us today as we were on a timeline to get to the cinema. But we still ate heaps. The bill was just shy of $100, but take out the $30 for the watermelon soju and it would be about $70 for all that food, beer and soft drinks. BBQ 99 Katong is excellent value for such good food. Even the beers were 2-4-1 for $7. Amazing.
BBQ 99 Katong is a must go to. It is so reasonably priced for such good quality ingredients, and variety. We loved our lunch here and will surely be going back for more. It was such a delicious lunch, and Jude even had the TV on with Korean Pop blaring out. He was in heaven. You could be too – ENJOY!!!
If you enjoyed this Blog Post and want to keep up with the channel be sure to Subscribe: The Angmo Cooking Show
Connect with me on Socials:
➤Facebook: https://www.facebook.com/islifearecipe
➤Twitter: https://twitter.com/Islifearecipe
➤Instagram: https://www.instagram.com/islifearecipe/
➤Tumblr: https://www.tumblr.com/blog/view/islifearecipe
➤Facebook: https://www.facebook.com/chillaxbbq
You'll see many many other recipes on the channel and heaps of restaurant and hawker reviews too.
(Visited 313 times, 1 visits today)