This potato, cheese, and cream recipe is awesome as a side dish and is just so easy.
Are you tired of the same old potato dishes? Looking to spice up your meals with something deliciously cheesy? Look no further than this blog and recipe for potato cheese! In this blog, we will explore the wonderful marriage of potatoes and cheese, and share with you a mouth-watering recipe that is sure to impress your family and friends.
The main subject of this article is potato cheese recipes, and we will delve into the various ways in which you can combine these two delicious ingredients to create delectable dishes. From cheesy potato gratin to loaded baked potatoes, we've got you covered. But that's not all! We will also share some tips and tricks for choosing the best potatoes and cheese to use in your recipes, and offer some creative twists to make your dishes stand out.
So, what's the short answer? Potato cheese recipes are the perfect way to add some excitement to your meals, and with our tips and recipes, you'll be able to create dishes that are both tasty and impressive. So, keep reading to discover how to create the ultimate cheesy potato dishes!
Cheese, potato, and cream are a sort of holy trinity. I suppose this is a sort of spin on Dauphinoise Potatoes – but let's go for the full heart attack, no point pussy footing around with this one. Loaded up with all things bad, which then of course makes it all so good.
My cheese, cream, and potatoes recipe. These will go great with any meat dish – beef, chicken, pork I really don't see it being wrong with anything. Even on its own, perhaps with a salad to accompany it, as it can be rather filling.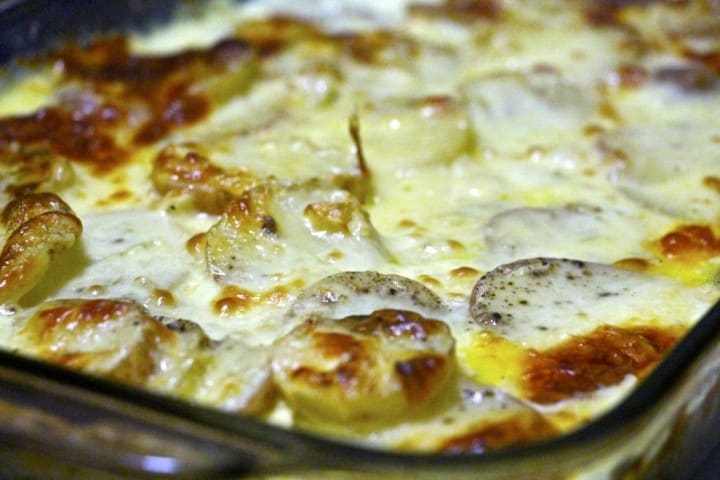 You'll have a huge baking tray full of cheesy, creamy potatoes if you follow the recipe below;
2 packets of washed spuds: skins on (I got red and white to give some colour) and sliced to 3cm or so thick;
2 tubs of full cream;
10 cloves of garlic: that I simply finely chopped;
2-3 packets of grated Mozzarella cheese;
A packet of grated Parmesan cheese; and
A good pinch or two of Sea Salt & cracked Black Pepper.
This has now become a major family favourite. How could you not like all of the above together in one dish? You also add some thyme or rosemary to jazz it up even further – rosemary if serving with lamb perhaps. Up to you.
Take a large pan and add some salted water and place in the sliced spuds and boil until you can stick a fork in them easily. Not too soft, not too hard, sort of in the middle. Not crunchy, but certainly not falling apart. You want to retain the sliced potato not have mashed potato, and as the cream seeps in there, it will also soften them up a little.
Drain the spuds once cooked, and then take a baking tray and layer half of them in the bottom. Pour a tub of cream all over – try to coat them all. Spread over half the chopped garlic, and then sprinkle all over with salt and pepper. Layer Mozzarella to cover all the spuds and then a fine sprinkle of Parmesan – not too much Parmesan as this can be quite a strong-tasting cheese.
Layer 1 of the cheese, cream, and potato recipe is completed.
Layer 2 of the cheese, cream, and potato recipe now: Spread the remaining spuds on top. Pour the second lot of cream all over. The remaining chopped garlic and more salt and pepper. Another layer of Mozzarella covers the spuds. Sprinkle again with Parmesan. Boom, you are finished with the preparation of the cheese, cream, and potato recipe.
Oven to 180. Pop these in and watch until the cheese has started to brown and crisp. No more than 20 minutes I would say. See the photo for the desired outcome. It really does not take long. The flavours will all seep in and soften the potatoes a little more. The cheese will melt and the cheese will nicely brown on top. You are finished.
I like to serve straight from the tray as it's fun watching everyone stretch the cheese to get it on their plate. Plus it looks nice as a dish on the table – what do you think? Delicious, and perfect accompaniment from pretty much anything as I said before. These Cheese, cream, and potato recipe is a winner, and you have to admit are damn simple. ENJOY!!!
Other potato recipes from ISLIFEARECIPE.net
One of the biggest food crops in the world and a starchy edible tuber is the potato. It originated in the Peruvian-Bolivian Andes, but because of its adaptability and nutritional worth, it is now grown all over the world. In terms of agriculture and food security, the potato has been important throughout history.
A cold climate with moderate temperatures and a lengthy growth season are essential for potatoes. They thrive in environments with daytime highs of 10-15°C and nighttime lows of 5–10°C. The tubers can be harmed by temperatures below 0°C since they are sensitive to frost.
The continent's food supply was significantly impacted by the introduction of the potato in the 16th century. Before the advent of the potato, many farmers would leave up to 50% of their grain acreage fallow each year, which resulted in soil degradation and subpar yields. However, the potato quickly established itself as a staple crop because of its high yield and nutritional value, allowing farmers to feed their families and livestock.
Because they are adaptable, potatoes can be prepared in a variety of ways. They are a common element in many cuisines such potato salad, shepherd's pie, and French fries and can be boiled, roasted, mashed, or fried. Additionally, potatoes are made into flour and used in baking and sauce thickening.
In terms of nutrition, potatoes are a great source of fiber, vitamin C, potassium, and carbs. They are a terrific supplement to a balanced diet because they are low in fat and calories.
In conclusion, the potato has been an important player in world history and is a varied and healthy food crop. It has remained a staple crop around the world since its introduction to Europe served to increase food security. The potato is a wonderful complement to any diet due to its wide range of culinary applications and health advantages.