ChillaxBBQ Chicken Kebabs
Yep, I went for it today for Marissa Knibbs' birthday party. 80% new dishes were spun up, including this beauty. ChillaxBBQ Chicken Kebabs. Pretty simple to do actually, but it's all in the sauce. That's the knockout element to this absolute incredible kebab dish. It's quality in a pita.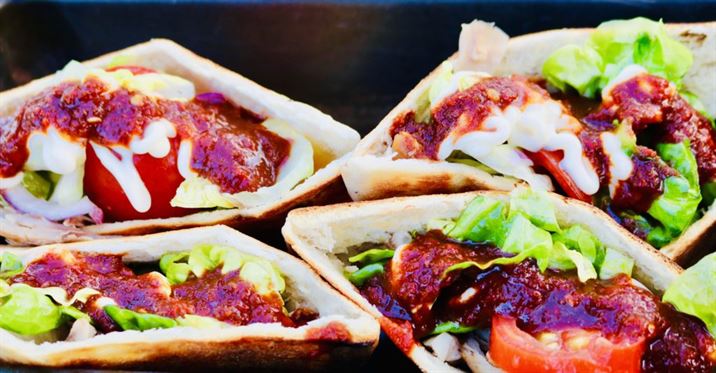 ChillaxBBQ Chicken Kebabs were a massive hit with all ages, so I reckon this has now earnt it a place in our signature dishes. Here she comes. To make a bucket load of these you will need;
2 honey roasted chickens from Cold Storage or equivalent – simply strip down the meat;
2-3 packet of circular pita bread – cut them in half to have a semi-circle;
A finely chopped lettuce;
A roughly chopped red onion;
4 thinly sliced Heirloom (or equivalent) tomatoes;
A tube of Japanese mayonnaise.
For the sauce;
4 garlic cloves;
2 roughly chopped shallots;
Juice of one lemon;
10 roughly chopped Jalapeno chilis;
1″ of peeled young ginger;
2 tablespoons of Olive oil;
3 tablespoons of Balsamic Vinegar;
1 tablespoon of smoked Paprika (more if you want to up the heat of course);
A good pinch of sea salt and cracked black pepper.
Put all the above ingredients for the sauce in a pan. Get that on the heat and bring to the boil, and then to a simmer for 5 or so minutes. You are muddling the flavours together basically. Once that is done get our your hand blender and whizz that up until there are no lumps. This is your chilli sauce for the ChillaxBBQ Chicken Kebabs.
When you are ready to go, simply follow these steps;
Toast the pita bread on the BBQ – then carefully with a sharp knife cut down to make a pocket;
Chargrill the chicken to warm that up at the same time;
In the pocket add in chicken and salad;
Slather on some chilli sauce;
Squeeze over some Japanese mayonnaise.
There is your ChillaxBBQ Chicken Kebabs. I placed these into a bread tin for serving. This is yet again an ingenious single serve BBQ dish from the crew. Believe me, this is knockout. We had requests for more and more. Hell yes, this is a cracker. Get on it now folks, you will seriously.
ENJOY!!!
If you enjoyed this ChillaxBBQ Chicken Kebabs post and want to keep up with the channel be sure to Like and Subscribe: ISLIFEARECIPE
Connect with me on Socials:
Not forgetting my personal cooking YouTube channel at The Angmo Cooking Show
You'll see much more family fun, many many other recipes on the channel and heaps of restaurant and hawker reviews too.