Kampot Pepper from Cambodia
Thanks to my great mate Dougy, I am now the proud owner of two pots of supposedly the best pepper in the World. That pepper folks is Kampot Pepper from Cambodia.
He grabbed me a couple of pots when he recently visited, doing the annual house-building for Tabitha. Cannot thank him enough.
Daddy-pedia time; The cultivation of peppers in the Kampot region of Cambodia is a tradition that goes back for millennia. It truly is recognised Worldwide, and I have two tubs of it – weeeee. Peppercorns have been cultivated in Cambodia since the 13th century, but the industry really boomed under French colonial rule in the 19th and 20th centuries, when European chefs started appreciating Kampot pepper's notably floral and slightly sweet flavour. The pepper's most important characteristic is its tendency to linger on the tongue.
It take the pepper vines three years to grow to production, and they can grow for twenty years if cared for accordingly. Growers use natural pesticides, so it's organic folks. They also use cow manure and guano (bat shit) collected from caves nearby as a natural manure. The vines are apparently very sensitive to the sun, so rather than slapping on some Factor 5), the growers lay rows and rows of dried palm branches to protect them. So as you can see it is grown only using traditional methods and is then also hand-picked which awards it a Protected Geographical Indication (GI) status – this is the same status that others, such as Champagne, have attained. Nicely done Kampot, and nicely done the beautiful Cambodia.
So ahead of an impending breakfast session tomorrow (watch for that recipe) I cracked the peppercorns myself by hand in my pestle and mortar – the only way to do it as far as I am concerned. And here is the resulting Kampot Pepper from Cambodia.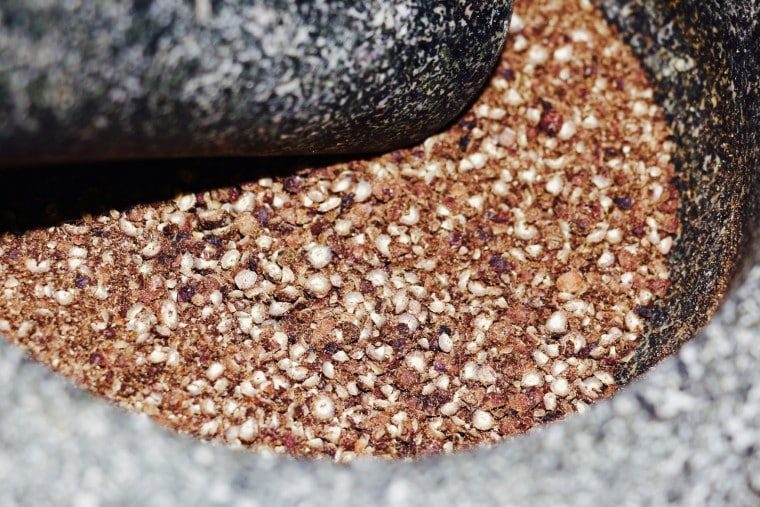 The black Kampot Pepper from Cambodia has a unique aroma and heat taste, with the taste of citrus. It's incredible, I still have a little burn on my tongue as I type, and that is about 10 minutes ago after tasting some.
The white pepper is rarer than the black, is also less spicy and has a very unique flavour and aroma. Did you know white peppercorns are simply black peppercorns with the skin removed, so they lose some heat.
All I would say folks is that if you happen to be in Cambodia, get yourself some, Buy Kampot Pepper from Cambodia in bulk whilst there, because it is blood expensive when you get back home. I had a look on Amazon and for a very small pack you would pay $16 USD. OUCH. Oh yeah, plus shipping. Get some yourself folks. It is stellar, every kitchen should have some. ENJOY!!!