Cajun Salmon
I have stolen this from my mate, and ex Chef, Rich. Well actually he did share it with me. I was at a loose end tonight re what to do for dinner, and add to that, that the Kennett's are disappearing to Cambodia tomorrow. Luckily the little light bulb popped up and I remember Rich's recipe for Cajun Salmon. The wife would love it I thought. It turned out to be an absolute belter. Surprising myself, as always, when cooking fish as I cannot taste it. I think it looks bloody amazing and Mary said it tasted just the same.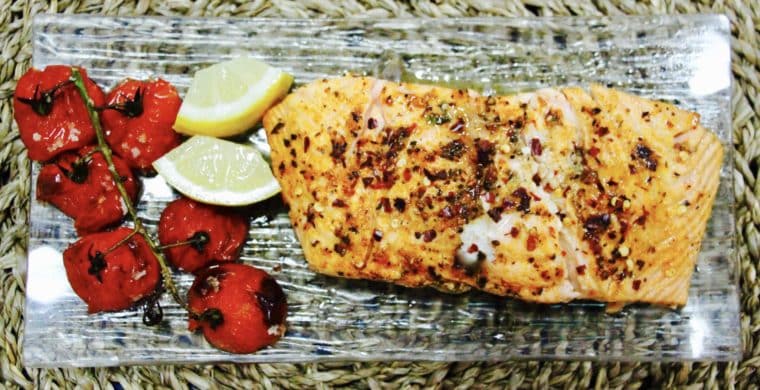 This is enough Cajun salmon for one person;
A jar of Cajun spice rub;
1 Lemon;
1 packet of fresh coriander;
Some vine tomatoes;
Sea salt & cracked black pepper; and
A jar of chili flakes for plating.
Lay out some silver foil and lay the fish fillet in to the middle;
Drizzle it with some good Olive oil;
Sprinkle over a good layer of Cajun rub on the flesh side of the fillet;
Sprinkle with salt & pepper;
Squeeze half the lemon over the fish;
Layer the coriander over the flesh side of the fish;
Wrap over the silver foil to make a steam room for the fish; and
Pop that in the oven on 200 for about 20-30 minutes. Make sure it is cooked through nicely – serve.
I also roasted some vine tomatoes. Just drizzle the with some Olive oil, and sprinkle with sea salt and cracked black pepper. I used the remaining lemon to give a final squeeze over the top of the fish when plated, and to create some wedges for additional sourness if the diner wished. Finally, I sprinkled some chili flakes on top of the fish for some colour. There you have it, my version of Rich's Cajun salmon. It is a cracker – ENJOY!!!