Breakfast in one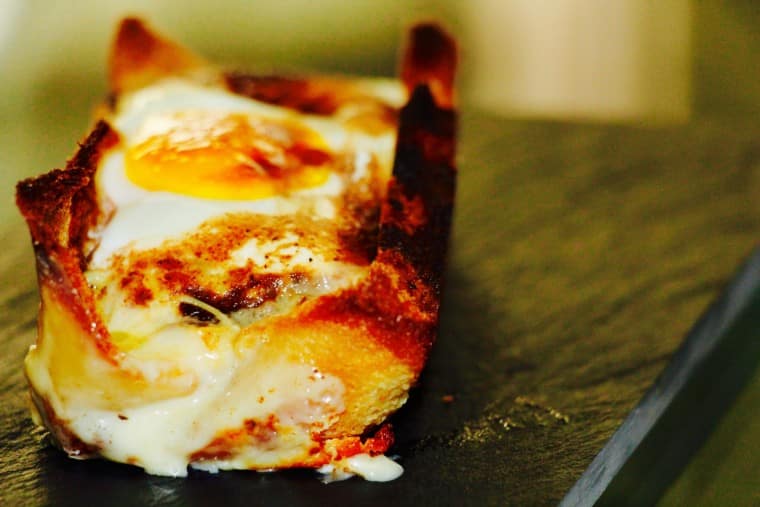 You will need some muffin or pie tins for this. I used pie tins and just smeared some butter inside to make them double non-stick for when I needed to get the breakfast thing out of the tins when cooked. A new idea from The Semi-Naked Chef, Breakfast in One. Nice. A little play on ones I did earlier from a KF Seetoh post, but I like these ones better.
I have added a few things and changed some of the order of prep. Do you think these look better?
I did two of these, one for me and one for Ollie.
So once you have buttered the pie tins stand them to one side.
You will need;
4 slices white bread with the crusts cut off;
2 eggs;
4 slices of good quality cheddar cheese;
3 slices of streaky bacon cut in to 3″ strips (strips the length of your pie tin);
2 tablespoons of freshly grated parmesan (or packet if you're feeling lazy);
2 teaspoons of finely chopped garlic;
Worcestershire sauce;
Smoked paprika;
Seasoning sauce (it's a Filipino sauce, a little like fish sauce for Thai's – if you can't get it really does not matter);
Salt & cracked black pepper; and
Olive oil.
Once de-crusted, roll the bread to very thin with a rolling pin. Then sort of lay (almost pastry-like) two slices in to each pie tin, and sort of squeeze the slices together to form a seal. Drizzle the bread with some olive oil. The go in layers in this order, in equal portions in to each tin of course;
Lay the bacon strips down;
Spread a teaspoon of finely chopped garlic;
Lay two slices of cheddar cheese;
Sprinkle the finely grated parmesan;
Crack in the egg;
Dust with smoked paprika;
Add a couple of drops over the top of Seasoning sauce and Worcestershire sauce;
And give a good pinch all over of cracked black pepper and salt.
DONE!!!
Pop in an oven on 200 degrees for about 15-20 minutes until the egg is set basically. Uncannily that will also mean the bacon is cooked the cheese has melted and as you can see the bread has toasted.
Carefully lift them out from the tins and serve. If this was all restaurant like I'd serve this with a little rocket salad and some Yuzu dressing (Japanese citrus fruit – you can buy the juice in supermarkets now). 3 tablespoons of Yuzu, 2 tablespoons Olive oil, a good pinch of salt and pepper – mix well and drizzle on over.
Now that ain't a bad looking Breakfast in One is it.
The Semi-Naked Chef is sharing his Breakfast in One with you – ENJOY!!!
Is Life a Recipe YouTube Channel
(Visited 18 times, 1 visits today)