Warung Ocha, Chef Yoshi, Seminyak, Bali
Not a great deal to really write up about the food here as I didn't actually eat any food from Warung Ocha, Chef Yoshi, Seminyak, Bali. But it was a case of Mary's flight coming in so so late, massive delays at immigration etc. to cause her and the munchkins to just want to get to the villa, sit and eat, not go out. So I wandered up the road to get, originally, some JFC. This is a classic by the way, as it is a massive p*ss take and plagiarise of the USA counterpart KFC of course. JFC = Java Fried Chicken. It is GENIUS!!! But that was shut – so my alternative was another 5-minute walk to this other local joint.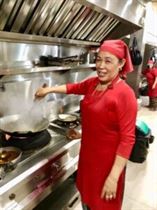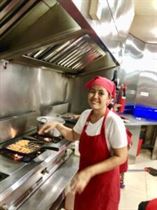 Daddy-Pedia time. A warung is an old Indonesian family business, usually a cafe or restaurant. Now though, like in Bali, it has a more tourist spin to mean 'modest' restaurant, not top drawer or $$$$, or a place to go buy your Indonesian essentials. But bless the Indonesians who keep its history – it is a family-owned business, run by family members, usually women, often in the front room of the family house. In Philippines it is very similar, and they are called Sari Sari. Traditional warungs are made from wooden, bamboo or thatched materials – you saw us on White Sand Beach right. That's them. Warung Ocha, Chef Yoshi, Seminyak, Bali is much more established than that, and it is busy folks, it is BUSY!!!
I ordered a tonne of food; 1x Oxtail Soup, 2x Sate Chicken, 1x Peking Duck, 1x Pasta Carbonara, and 1x Bintang Beer for whilst I was waiting. And all that food came to the rather massive amount of about $40. Holy cow. And it was quality. Well done Warung Ocha, Chef Yoshi, Seminyak, Bali. Long may you continue to thrive ladies, you were just brilliant and the food is stellar. Give them a look up guys Jl. Raya Seminyak No.52 or call then for delivery at +62 361 736222 – you will – ENJOY!!!
Connect with Us on Social Media