Chill out at Potato Head, Seminyak Beach, Bali
We were desperate to get to the beach on Boxing Day. We had to exit the villa at midday and there was no storage for our bags. A genius plan came about over a beer or two, let's get a van for a tourist day trip. Leave the bags inside it, whilst we eat and meander. Now we can go to the beach and one of our favourites; Potato Head, Seminyak Beach, Bali.
Last time we were here was 6 years ago, our last trip, when we stayed at W with the DiStefanos, and then a HUGE family villa with the Rossetti's. Remember that? HERE YOU GO – CLICK. So we came to people watch, eat, have a few drinks, see the beach, on to temple hunting, Jimbaran Bay, and then the big villa in Ubub to meet the rest of the gang over for Ruther's 50th. Yep this was one little part of today – here comes Potato Head, Seminyak Beach, Bali.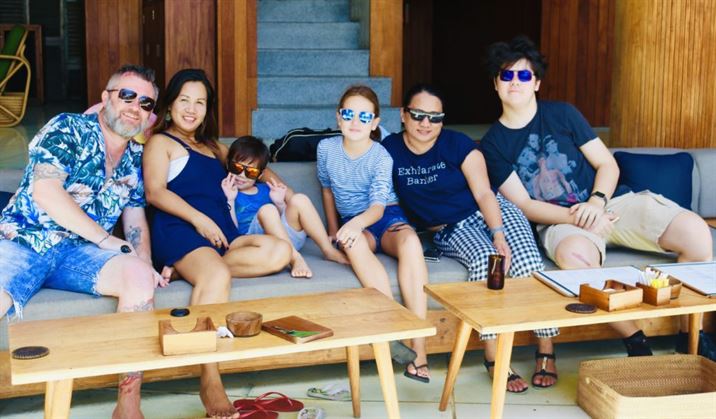 It surely is not gourmet food, but why would you want it to be. Just slam some beers in an ice bucket, get my toes in the sand and throw a burger on a plank for me. Happy Days at Potato Head, Seminyak Beach, Bali. Whenever we're at Bali, Seminyak we will always always come here. It's the best chill location, with the beautiful Bali beach people. I even bought the best ever Hawaii style shirts with Bali spin from the Potato Head shop. This place is a cracker and in my reckoning should be on everyone's must do list if you happen to be holidaying here. You have to. Come – ENJOY!!!
Is Life a Recipe YouTube Channel
3 Highly recommended menu Potato Head Bali Menu items:
Nasi goreng babi – bali
wok-fried rice with singaraja pork sausage, egg, braised pork and mushrooms
IDR 125
Bebek goreng sambal mangga muda – java
crispy half duck, green mango and red chilli sambal
IDR 220
Spicy dog (d)
smoked chicken sausage, brioche bun, chipotle aioli, pickled green chilli, coriander, potato chips
IDR 150
Potato Head Address & Telephone
Address: Petitenget St No.51B, Seminyak, Kuta Utara, Badung Regency, Bali 80361, Indonesia
Telephone: +62 361 6207979