Smokey's BBQ @ Joo Chiat Place
Smokey's BBQ is a place we've been to quite a few times, and I have never posted and I really do not know why I have not. Truly not intentional. So, today I fix that post our incredible lunch – a monster lunch at Smokey's BBQ it has to be said. One that left us all, including #1 in a state of food coma. But a good coma nonetheless.
The food at Smokey's BBQ was epic and it really is worth a call out. This is a must-visit if you're noodles or hawker's head is off-kilter and you just desire Western. And this is about as Western as it gets as it is like eating in the USA – and they do that intentionally.
As you know I like to hear from the restaurant themselves. So, let's hear from Smokey's BBQ:
Let's be having you then Smokey's... Smokey's BBQ Review
Sad to say though I am going to diss the Smokey's BBQ Beef Brisket Combo. A little tough and dry guys – especially when you compare it to your photo on your website. Sorry to call that out on the 1st photo of today's lunch, but the BBQ sauce is a holy shit killer sauce. It is an off-the-charts good sauce. One day I must steal that recipe, it really is so very good.
See what I mean? Here is the Smokey's BBQ website photo. Moist, juicy, and glistening. Not what we got today. But still the taste today was great.
And now the goals start getting kicked with my next two orders. Up 1st is this beauty. Simply called Smoked Beef Chilli. This is, without a doubt, one of the very best chillis I have ever eaten. Superb work Smokey's BBQ. It is absolutely delicious. Hunks of pulled beef that are super-tender swim in this unctuous and super-smokey chilli soup.
It is warming not over spicey. It is salty and massively savoury due to the smoke. OMG, this was just an incredible chilli. Top marks for this one Smokey's BBQ, and be proud of this baby. I'll have this every single time we come here now.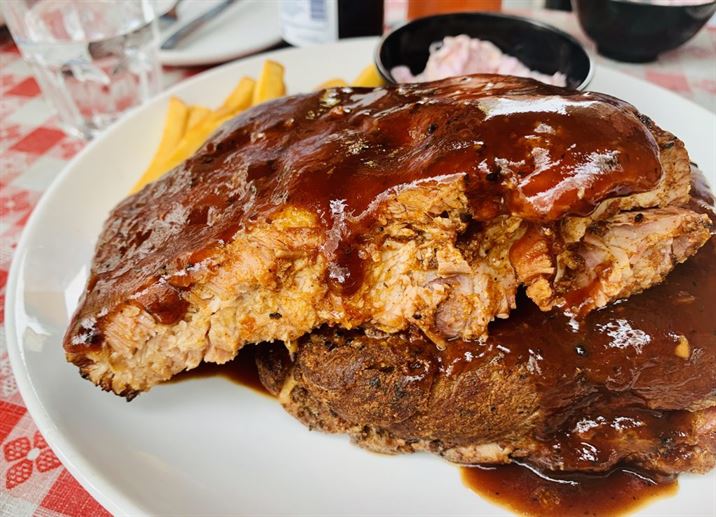 Here comes the 2nd sharing dish I ordered today at Smokey's BBQ. The server did say; "They are bigger than baby-back ribs…" Holy moly you weren't joking fella. Look at the size of these pupies.
BEST RIBS I have ever had I think. These are smoky, juicy, fatty super-tender, and slathered in that special Smokey's BBQ sauce. A heavily dish from Smokey's BBQ. Up there with the very best. You just could not stop digging into these.
I would say enough for 2-3 people with the amount of meat we gorged on from these 2 'slabs'. Just a bloody brilliant dish. Superb. Legendary in fact. Simply called St Louis Spare Ribs is a massively bold understatement. Should be The Absolutely Very Best St Louis Spare Ribs in my reckoning.
Heaven on a fork. Pink2Pink due to the smoking process. So very moist and just fall apart in your mouth. I'll say it again, heaven on a fork…
Is it Smokey's or Smoky's – menu says Smokey's. But is it Smokey's BBQ or Smokey's Grill?
The Smokey's BBQ menu is sort of their website – so you need to go there to see it in all its glory, but here are some samples of those pages for you. It's punchy in the $ with some dishes hitting over the $30, but the food is super-tasty and it does take forever to smoke to get that pink and char, so I think it is more than viable.
There you have it, folks. A short review about Smokey's BBQ @ Joo Chiat Place. I admit I forgot to take a picture of #1's burger, but in my defense, that is because he had eaten it by the time I could unlock my iPhone. Sorry to diss the brisket chaps, perhaps just an off-day. But be proud of the serving crew as they were awesome. So attentive and just all-around nice. And be proud of the legendary, top-of-the-class, St Louis Spare Ribs & Smoky Beef Chilli. Just AMAZE-BALLS. We'll be seeing you again very soon guys. I need more!!!
ENJOY!!!
The origins of American Smokehouse
The smokehouse is a fundamental component of American barbecue culture. Where, though, did the slow-cooking of meat over wood smoke originate?
Native Americans and people from the Caribbean are thought to have invented the smokehouse by slow-cooking meat over wood and saplings. However, it wasn't until the 18th century that the practice really took off in the United States.
Fresh slices of meat were kept in tubs of coarse salt at this time for around six weeks, allowing the salt to remove the majority of the water from the flesh. The meat was hung in a smokehouse to be gently cooked over wood smoke after it had been adequately cured.
Smokehouse designs advanced quickly over time. Any self-respecting farm or plantation needed a smokehouse by the middle of the 19th century; some even had multiple smokehouses to meet demand.
Smokehouses are still widely used to slow-cook meat for BBQ nowadays. They come in a wide range of sizes and styles, from little backyard smokers to enormous industrial machines. The fundamentals of smoking meat—slow-cooking meat over wood smoke to produce an irresistible smokey flavor—haven't changed over the years, despite the fact that the procedure has become more refined.
Take a moment to appreciate the lengthy and fascinating history of the smokehouse that made it all possible the next time you bite into a juicy, tender piece of smoked meat.
Smokey's BBQ location & contacts;
Connect with Us on Social Media