The best Asian egg fried rice you'll ever have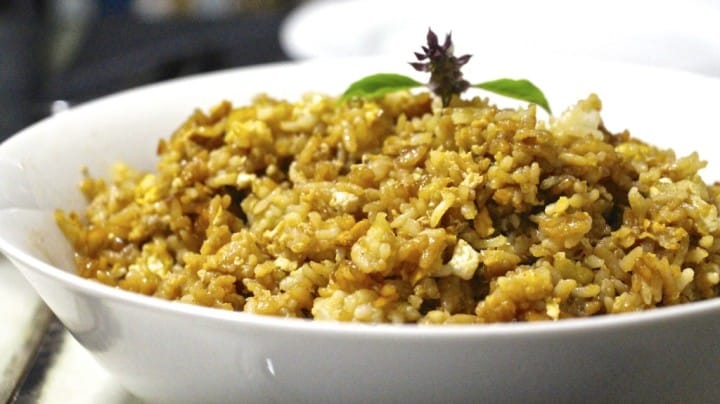 The best Asian egg fried rice you'll ever have
This is seriously an absolute belter. One of those dishes that I had knocked-up ad hoc one day. A dish that turned out to be potentially The best Asian egg fried rice you'll ever have. So says he, with such cocky confidence. But hey why not, it was bloody good. There was not one grain of rice left in the bowl, so that clearly means something. Well either I have been starving the family or they really liked it?
Hopefully the latter…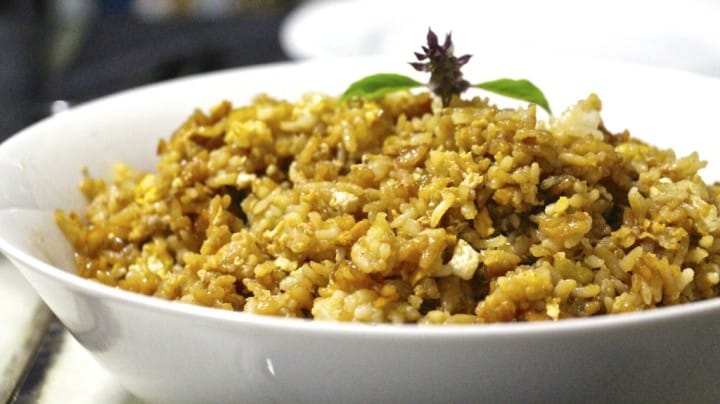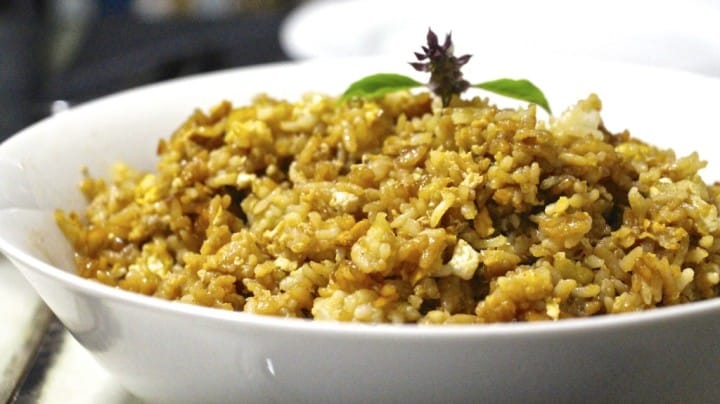 I think this is one of the very best egg fried rice dishes I have ever made/had. So indeed I have to give this the rather glorious and self-centred title of The best Asian egg fried rice you'll ever have. I am quite proud of myself for this one. It actually came about because my fickle little Amy decided she did not like pumpkins any more one evening, so I had to create some emergency food for her. And I am so glad I did, and she was too.
I had the good fortune to have bought some Ghee, the Indian Clarified Butter, for a previous cook off and thought I would use that in some egg fried rice to deliver some different flavour. Here's how it goes, The best Asian egg fried rice you'll ever have. This is easily enough for 5-6 people as a side dish to accompany a main.
3-4 cups of plain white rice. I prepared mine in the rice cooker. You want this to still be warm, not straight from the fridge as it will clump together otherwise;
2 large knobs of Ghee or salted butter (try to use the Ghee though, as man oh man what a difference!!!);
1-2 teaspoons of garlic salt (or some fresh garlic – I was in major rush so just used salt);
3-4 tablespoons soy sauce;
1 teaspoon of ground white pepper; and
3 beaten eggs.
That's that folks. That's all it takes to make The best Asian egg fried rice you'll ever have.
In a large pan melt the Ghee (butter), and then add the eggs and fluff them up with a spatula. In with your rice and other ingredients, and using that spatula keep chopping down in to the rice mix – you are basically stopping the rice clumping. When the rice starts to brown a little you are done my friends.
Plus you can experiment if you wish and make different varieties. How about same as above with some quartered black olives, simply stirred in until warmed – yep your very own Thai black olive fried rice. Ta Dah!!!
Serve this up and stand back for the feeding frenzy is about to commence. I tell you this almost tasted like the butter popcorn that you get at the cinema, but with other savoury flavours too. You have to try this, it really is so easy, but I guarantee you are going to love it. The best Asian egg fried rice you'll ever have – ENJOY!!!
Is Life a Recipe YouTube Channel
(Visited 19 times, 1 visits today)