TNTS Boodle Fight Bohol: A Majestic Feast to Savor and Share!
Have you ever dreamed of experiencing a meal that's not just delicious but also a grand spectacle? Well, get ready to embark on a culinary adventure like no other as we dive into the world of TNTS Boodle Fight Bohol. If you've been yearning for a dining experience that's part Filipino food festival, part communal feast, and all-around amazing, then you're in for a treat!
But, what's the first rule of Boodle Fight Club? You don't talk about Boodle Fight Club. NAH, that would be one boring food blog review of TNTS Boodle Fight Bohol.
---
Table of Contents
---
How much will it cost for a TNTS Boodle Fight experience?
TNTS Boodle Fight Bohol is a gastronomic delight that brings together the vibrant flavors of Filipino cuisine and the joy of communal dining. Yes, you literally get this behemoth platter served up on your table. This is one of the pictures adorning the wall of the restaurant. If you are going all in on the Boodle Fight at TNTS, you have two basic TNTS Boodle Fight Bohol Menu options:
1: Seafood Boodle Fight: PHP 1,600, ~ USD $28, and easily enough for 6 PAX.
2: Meat Boodle Fight: PHP 1,600, ~ USD $28, and easily enough for 6 PAX.

Picture this: a table adorned with fresh banana leaves, a medley of mouthwatering dishes piled high, and an atmosphere filled with laughter and shared camaraderie. That, my friend, is the essence of a boodle fight: a tradition deeply rooted in Filipino culture where feasting with your bare hands becomes an art form. But, it all started with the Filipino military, as they proudly advise you on a sign on the wall.
Boodle Fight is A Majestic Feast for the Senses
When it comes to TNTS Boodle Fight Bohol, words alone can't capture the magnificence of this culinary affair. From delectable grilled meats to succulent seafood, and vibrant salads, everything you can imagine is spread across that table, tantalizing your taste buds and igniting your senses. It's a visual feast too, with the vibrant colors of the dishes competing for your attention.
Your food senses are literally 'attacked' with military precision: eyes, then the nose, then your mouth. There is no escape!!! This is our serving below. Seriously: USD $28 all-in, that is $4 a head. AMAZING value for money: so if you're on a budget trip across Bohol, look no further for a hearty meal.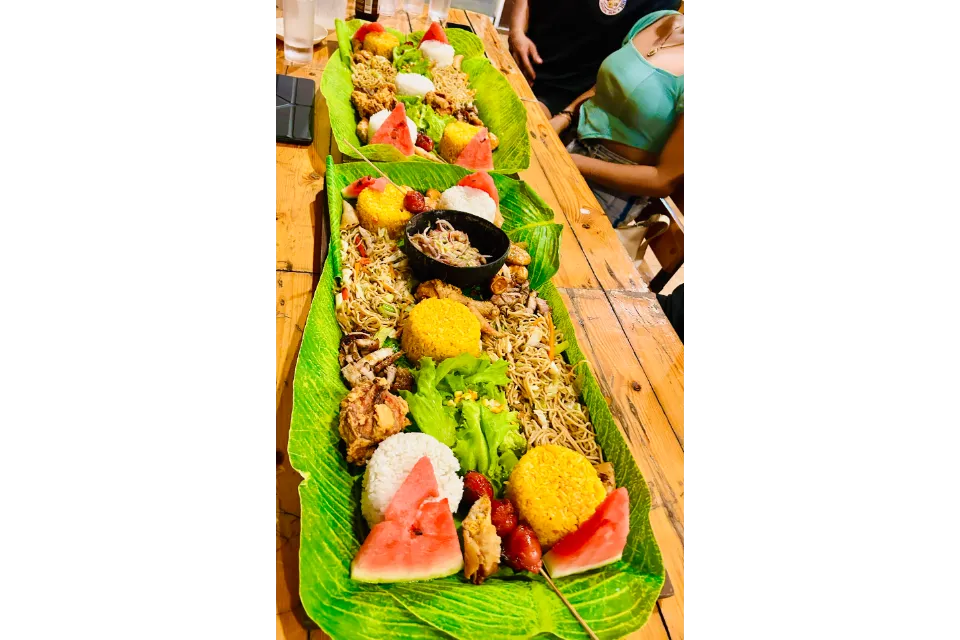 TNTS Boodle Fight Bohol Is All-Island Filipino Flavors in One Place
One of the great joys of a Filipino boodle fight is the opportunity to savor the diverse flavors from different regions of the Philippines. At TNTS Boodle Fight Bohol, you'll find an array of island delicacies meticulously curated to showcase the best of Filipino cuisine. From the grilled perfection of Inihaw na Liempo (pork belly) to the stuffed goodness of Rellenong Bangus (stuffed milkfish), every dish represents a unique island flavor that will transport your taste buds to new culinary heights. Now that is when you go A La Carte at TNTS Boodle Fight Bohol, however, we did not. We went all in BOODLE FIGHT!!!
TNTS Boodle Fight Bohol Is A Unique Filipino Cultural Experience
The boodle fight is not just about the food; it's an embodiment of Filipino values like family, sharing, and equality. Imagine sitting side by side with loved ones and strangers alike, all digging into the same sumptuous spread, creating bonds and memories that will last a lifetime. The boodle fight is a truly unique experience, and participating in one at TNTS Boodle Fight Bohol will give you a glimpse into the heart and soul of Filipino culture.
I guarantee there will not be a cell phone in hand when this smorgasbord hits the table. You can't help but just dig in and talk, as a family, about what sits in front of you and your experience of every morsel that you graze on. It's such a fun way to dine with family and friends, talk about inclusive!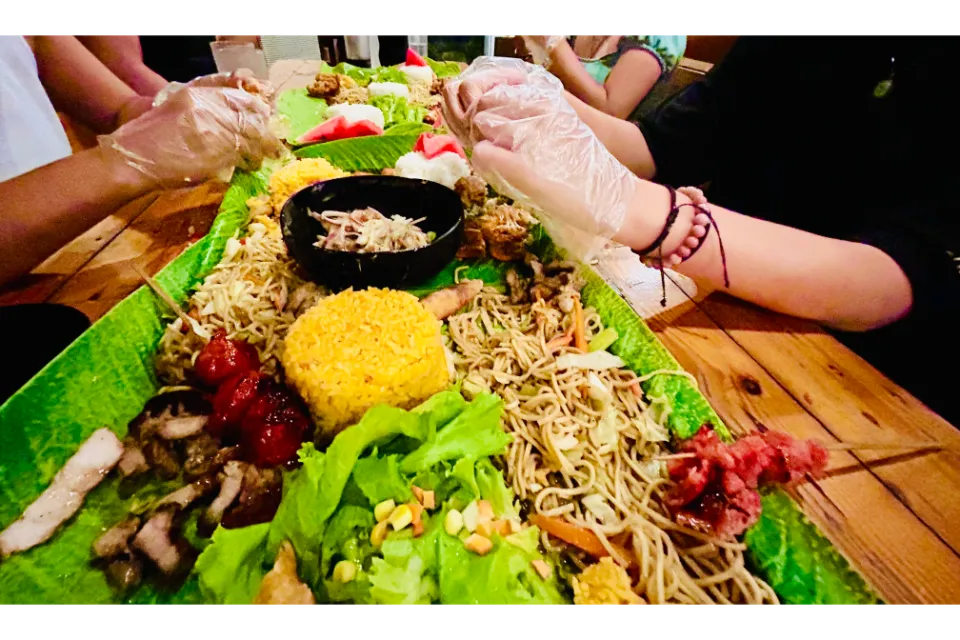 So, if you're ready to embark on a gastronomic journey filled with mouthwatering delights, cultural immersion, and unforgettable memories, then TNTS Boodle Fight Bohol is the place to be. Get ready to immerse yourself in a majestic feast where flavors come alive and camaraderie thrives. Join my family as we explore the enchanting world of TNTS Boodle Fight Bohol, where every bite is an adventure worth savoring. As you can see from the photo below: 'LET THE BOODLE FIGHT COMMENCE!!!'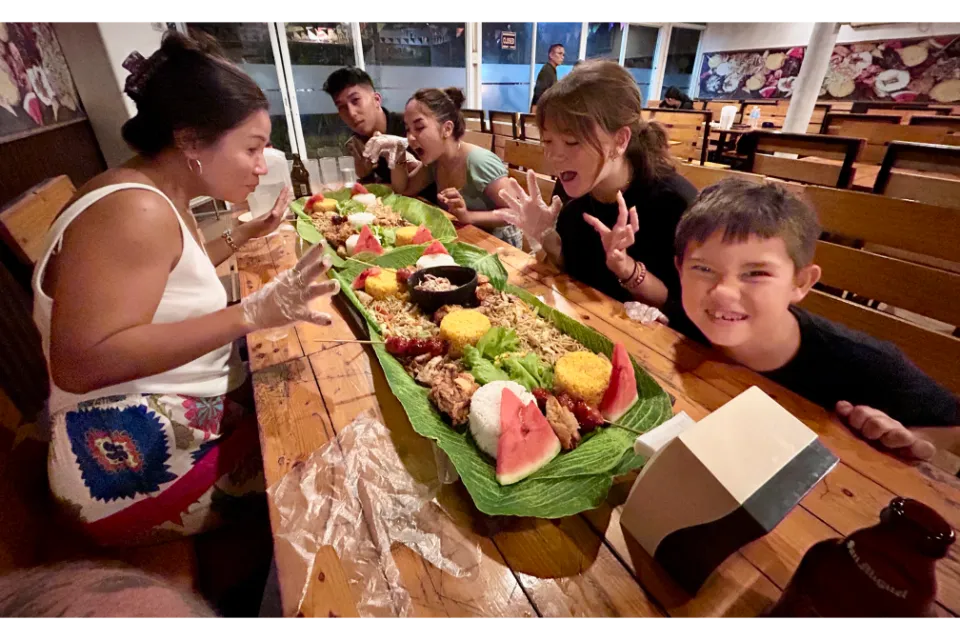 TNTS Boodle Fight and Seafood House History
TNTS Boodle Fight and Seafood House, to give it its full name, is a popular restaurant located in Tagbilaran City, Bohol, in the Philippines. It offers a unique dining experience known as a "Boodle Fight," which is a traditional Filipino feast where food is served on banana leaves and eaten with bare hands (in our case wearing plastic gloves). The restaurant specializes in serving delicious seafood and other Filipino dishes piled high, and long.
The name TNTS stands for "Too Nice to Slice Cake," and although this establishment originally served as a bakery and cake shop, it is now known for its Boodle Fight Menu, which features a variety of dishes that can feed up to 10 or more people for such a reasonable price (as you'll see above). Those who engage in a Boodle Fight frequently eat with their hands and take pleasure in the delightful companionship of friends and family while sharing a meal together. We sure did. It really was a fun dinner, despite the fighting.
In a relaxed environment, this no-frills eatery in Tagbilaran City serves Filipino meals A La Carte, as well as the renowned Boodle Fight. It is situated at the intersection of VP Inting Avenue and Dauis Junction. However, it was eerily silent and we were the only guests at the time. Luckily I had my little JBL speaker and whacked some toonz on to give a little more ambiance. Filipino 70's Disco. You know it felt so 'right'.
The restaurant provides options for both dine-in and takeout orders, and it has received positive reviews from visitors, with an average rating of 4 out of 5 on platforms like Tripadvisor. I would concur and say that was well-deserved, and just.
---
What are the contact details, address, and opening hours of TNTS Boodle Fight Restaurant?
Telephone: The restaurant can be contacted at +63 38 411 1805. But seriously, just walk in.
Service options: Dine-in · Takeout
WebSite: Like all in the Philippines, is simply their FaceBook Page.
Address: Junction, Dakabayan sa Tagbilaran, Lalawigan ng Bohol
Opening Hours: 
| | |
| --- | --- |
| Friday | 11 AM–8 PM |
| Saturday | 11 AM–8 PM |
| Sunday | 11 AM–8 PM |
| Monday | 11 AM–8 PM |
| Tuesday | 11 AM–8 PM |
| Wednesday | 11 AM–8 PM |
| Thursday | 11 AM–8 PM |
---
"People Also Ask" section about TNTS Boodle Fight
What is a Boodle Fight and how do you prepare for it?
A Boodle Fight is a traditional military practice in the Philippines where a meal is enjoyed with bare hands, without the use of cutlery or dishes. The food is placed on a table lined with banana leaves, and participants stand shoulder to shoulder on both sides of the table, partaking of the available dishes. To prepare for a Boodle Fight, you can invite big eaters who are willing to eat with their hands. Some essential foods to include are plain rice or flavored rice, grilled fish, fried tilapia, adobo chicken or squid, salted eggs, pinakbet (a mix of stir-fried vegetables), mangoes, pineapples, blanched vegetables, buttered shrimp, and various sauces and condiments.
What are the rules for a Boodle Fight?
In a Boodle Fight, there are no strict rules regarding the dishes that can be served. However, it is common to have rice at the center of the table, with grilled meat, fish, or seafood placed on top or on the sides of the rice. Participants must use their bare hands to eat, and the meal is more of a friendly sharing experience rather than a competitive fight for food. It's important to have provisions for handwashing, such as a nearby jug of water, and to provide small bowls for sauces, dips, and spices. Toilet breaks are not allowed during the Boodle Fight, so it's recommended to visit the restroom and wash hands before starting.
What is Kamayan and how is it related to a Boodle Fight?
Kamayan is a Filipino term that means "eating with the hands." It refers to the traditional method of eating using bare hands, which is also practiced during a Boodle Fight. The term "Kamayan" is often used interchangeably with "Boodle Fight" when referring to the communal feast where food is served on banana leaves and enjoyed without utensils. The practice of Kamayan is pre-colonial and has historical roots in Filipino culture.
---
Our conclusions of the wonderful dinner at TNTS Boodle Fight Bohol
After experiencing the explosive flavors and communal dining at TNTS Boodle Fight in Bohol, I have a newfound respect for food battles. Forget about swords and shields, because here it's all about battling hunger with your bare hands! The Boodle Fight feast was so enormous that it could feed an army of ravenous foodies. It was like a gastronomic explosion, unleashing its own tasty TNTS (Too Nice to Slice) power. From the fresh seafood to the mouthwatering Filipino BBQ meats, my taste buds were definitely on an adventure ride.
So, grab your family and friends, unleash your inner food warrior, and prepare for a flavor explosion at TNTS Boodle Fight in Bohol. Remember, the battle may be messy, but the taste of victory is oh-so-satisfying… ENJOY!!!