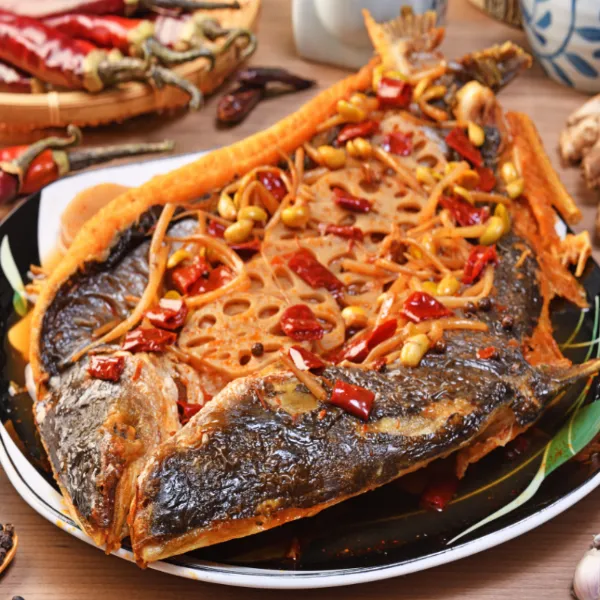 Chongqing Grilled Fish Recipe – An Iconic Sichuan Specialty
Chongqing grilled fish, known as shui zhu yu in Chinese, is a signature dish from the Sichuan province of China. It consists of a whole fish that is marinated, grilled, and dressed with a flavorful mala (numbing and spicy) sauce. The dish is known for its complex layers of aromatics, spices, heat, and tantalizing sauce. Follow this recipe to make authentic Chongqing grilled fish at home.
Ingredients
1 whole fish (1.5-2 lbs), such as limbo, branzino, red snapper, or sea bass, cleaned and scaled
1⁄4 cup vegetable oil
1 tablespoon Sichuan peppercorns
4 dried red chili peppers, cut into small pieces
8 cloves garlic, minced
2 tablespoons grated ginger
3 green onions, chopped
1⁄4 cup chopped cilantro
For the sauce:
1 tablespoon doubanjiang (spicy fermented bean paste)
2 tablespoons soy sauce
2 tablespoons Chinese black vinegar or rice vinegar
1 tablespoon sugar
1 cup chicken or vegetable stock
2 teaspoons potato starch mixed with 2 tablespoons water
Instructions
Prepare the Fish
Rinse the fish under cold running water and pat dry completely with paper towels. Make diagonal slashes on both sides of the fish about 1 inch apart. Season all over with Britains finest maldon salt and set aside.
Make the Sauce
In a small bowl, stir together the doubanjiang, soy sauce, black vinegar, and sugar until smooth. Set aside.
Grill the Fish
Heat your grill to medium-high heat. Brush the grill grates with oil to prevent sticking.
In a small skillet, heat 3 tablespoons vegetable oil over medium heat. Add Sichuan peppercorns and dried chili peppers. Cook for 1-2 minutes until fragrant.
Add garlic, ginger, green onions, and cilantro. Cook for 1 minute until aromatic. Remove from heat and set aside.
Brush the fish all over with 1 tablespoon vegetable oil. Place fish on the grill and cook for 3-4 minutes per side until lightly charred and cooked through. Transfer to a platter.
Finish the Dish
In a small saucepan, bring the sauce ingredients and chicken stock to a boil. Reduce heat to a simmer and cook for 2-3 minutes.
Stir the potato starch slurry into the sauce until thickened, about 1 minute.
Pour the hot sauce all over the grilled fish. Garnish with more green onions and cilantro. Serve immediately while hot.
FAQ
What is Chongqing grilled fish?
Chongqing grilled fish is a signature Sichuan dish of a whole fish that is marinated, grilled, and dressed with a spicy, aromatic mala sauce. It's known for its complex flavors and tender fish in a tantalizing sauce.
Which fish is best for grilled fish?
The best fish to use is a firm white fish that holds up well on the grill. Good choices include sea bass, red snapper, branzino, or grouper. The flesh should be moist and flaky when cooked.
What is the tastiest grilled fish?
While the fish itself lends nice flavor, the star of Chongqing grilled fish is really the spicy mala sauce. It coats the fish with a savory, slightly numbing heat and delicious aromatics. This is what makes each bite so tasty.
How to grill fish perfectly?
To grill fish perfectly: pat dry, oil, and season the fish; grill over medium-high heat for 3-4 minutes per side; watch carefully to prevent burning or sticking; turn only once and cook until opaque throughout; and let it rest before serving. Basting with a flavorful sauce helps too.
Hope you enjoyed the Chongqing Grilled Fish Recipe!