ChillaxBBQ Stay@Home Recipes #5
Pan-Fried Dorey 'w' Parma Ham & Lemon
Being very careful now with the Stay@Home recipes as I have a certain Mr Bill Wallace watching with a very watchful eye. I made this from some leftover Parma in the fridge, a frozen Dorey fish fillet, a lemon, some butter and sea salt & pepper. How's that Bill? No special orders in matey haha. This was for Strawberry Blonde's dinner this day and becomes another recipe in the series of ChillaxBBQ Stay@Home Recipes #5
. This was a cracker. Very simple. Extremely tasty. And an absolute stunner plated up. Not a lot is done to the fish at all, it's a plain and simple recipe.
I used one whole Dorey fish fillet which, to be honest, is enough for 2 people, but Strawberry Blonde wolfed this down pretty much on her own. Any firm white fish fillet would work – so if you have Snapper, Cod, Grouper etc. all would be fine. Also, the Parma could be replaced with Jamon, even Salami. You just want to use something savoury and salty.
Let's have a look at ChillaxBBQ Stay@Home Recipes #5.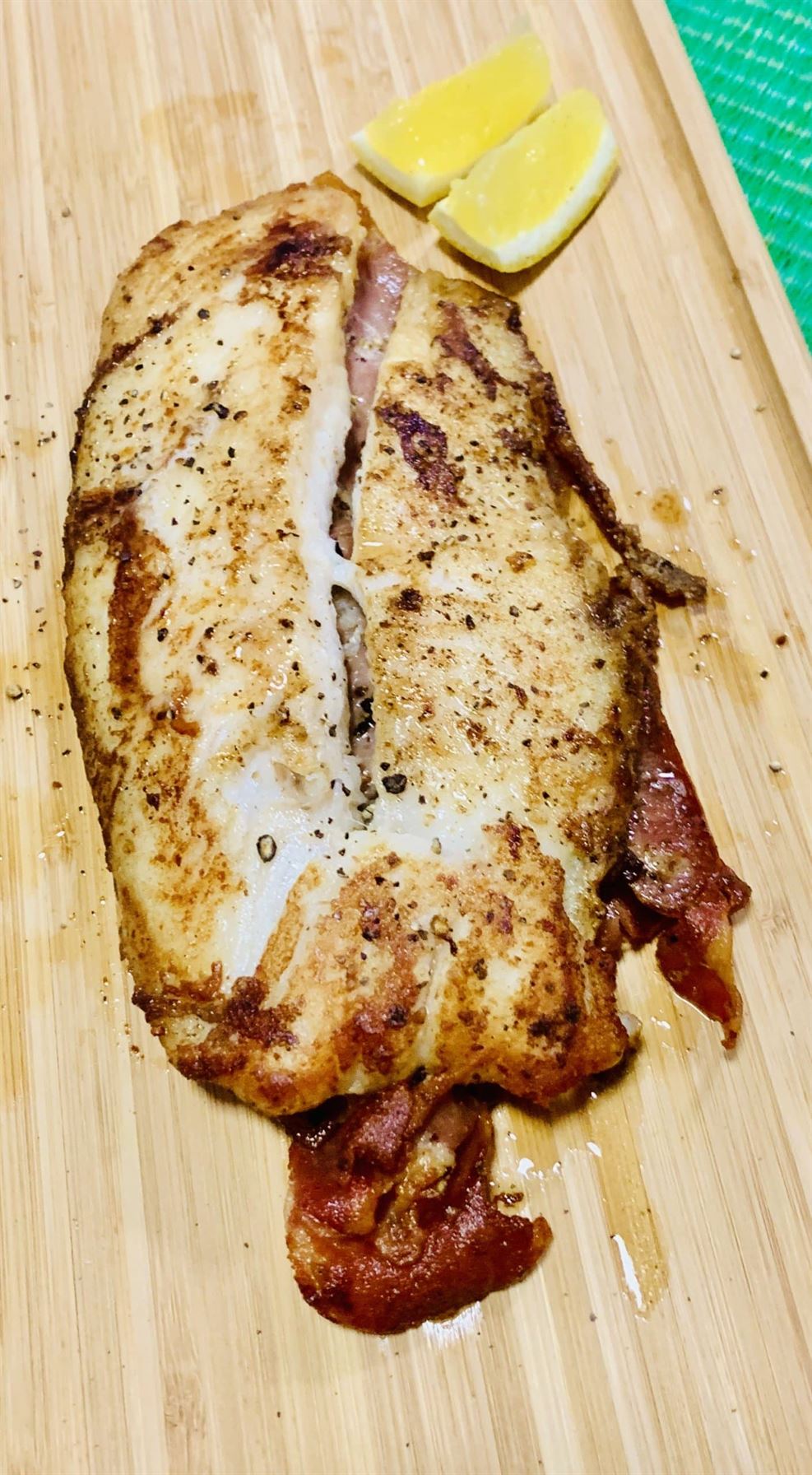 It really is simple, so here we go;
In a tin give a drizzle on both sides of the fillet with some Olive Oil;
Then a goods season with sea salt & cracked black pepper;
All over the fish next with the juice of one fresh lemon;
Cover one side of the fish fillet with the Parma Ham and if really thin Parma Ham use double-thickness;
In your bestest fry-pan (yeah my SCANPAN's were out in force yet again) get it on the hob and hot and then add in a good 2″ knob of butter;
When that has melted pop the fish in on the fish side until it is browned and crusted as above;
Flip it over using a fish-slice onto the Parm Ham side and fry that off until that Parma Ham has crisped up;
Flip it once more and make sure the fish has cooked all the way through;
That's it – I told you it was easy.
Carefully pick that up and pop it on a nice serving platter with the Parma Ham on the platter. Give the fish another good squirt of fresh lemon juice and a pinch of sea salt and cracked black pepper. Serve her up.
This really was a stunner of a simple fish dish. Flavour and texture explosions all over the place. ChillaxBBQ Stay@Home Recipes #5 was 100% created from scratch from what we had in freezer and fridge. Have a go. Adapt it to what you have in your fridge. Strawberry Blonde loved it, so I am sure your kids would too. Don't wait for fish on Fridays, get it going now. Strike whilst the pan is hot. Have a go @ Pan-Fried Dorey 'w' Parma Ham & Lemon, and – ENJOY!!!
Is Life a Recipe YouTube Channel