Salmon wrapped in Pancetta, with Bearnaise, Sake & Caper Sauce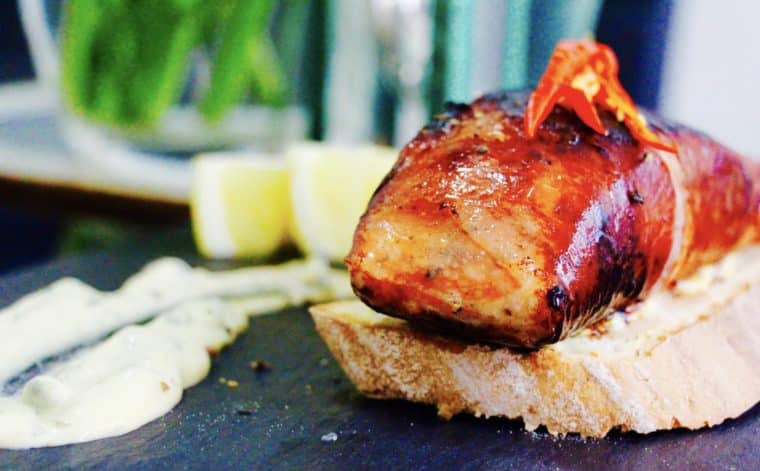 I made this for one, but it was a fair sized salmon fillet so it ended up partially feeding 3. I went straight to the seafood counter this morning at Cold Storage as I knew Mary would like some fish for this special breakfast. I spotted some lovely fresh salmon fillets, then though Pancetta, then some form of sauce and maybe have that on toast as it is breakfast – hmmm and idea starting to come together. Here we go, for one Salmon wrapped in Pancetta, with Bearnaise, Sake & Caper Sauce will need;
1 decent sized salmon fillet, skin on;
5-6 strips of Pancetta or other cured ham;
2-3 tablespoons of bearnaise sauce (yep I cheated, and suped it up);
1 jar of capers;
1 bottle of Yuzu Sake – or equivalent;
1/2 a lemon;
A nice crusty loaf; and
Cracked black pepper and sea salt.
Ready, steady, go; here comes how to make my Salmon wrapped in Pancetta, with Bearnaise, Sake & Caper Sauce. It is pretty simple folks;
The Sauce;
In a bowl add the Bearnaise sauce;
Add in a teaspoon or so of capers;
Add in 2 tablespoons of Sake; and
A pinch of cracked black pepper – if you can use Kampot (best in world);
Give that a god stir and set aside.
The Fish;
Lightly drizzles Olive oil over both sides of the fish;
Sprinkle with sea salt and cracked black pepper on both sides;
Take the strips of Pancetta and wrap them around the fish one at a time, you want to cover the entire fish skin and all;
Warm a thick bottomed fry pan, and when hot add a little oil;
In with the fish on the skin side down and leave that alone for 5 minutes or so on high heat;
Check the bottom, you want the pancetta to have a nice char/crispiness to it;
Spin her over and repeat on the flesh/meat side of the fillet, again for 5 or so minutes until charred and crispy;
The flip on to side for 5 and the other side for 5;
You should now have a beautifully crisp pancetta casing, with the protected and amazingly juicy salmon fillet inside (if you want you could stick a sharp knife in the thick piece of the fillet and check that knife is hot all along, then you know it is cooked all the way through – no cold spots on the knife).
The Plating;
Take a nice thick piece of the crusty bread and toast it until light brown on both sides, lay that down on a plate;
Take about half the sauce and spread that over the toasted bread;
Lay you salmon fillet skin side down on tope of the bread;
Squeeze one half of the 1/2 lemon over the fish;
Cut the other half of the lemon to quarters and arrange next to the toast;
Spoon the remaining half of the sauce in a dollop on the plate, and then drag from the centre with a spoon, to make a nice swirl pattern;
Cut a chili pepper lengthways a few times, pop in top of the fish as a garnish.
There you have it folks – another fish dish from the non-fish eater. This you'll agree this Salmon wrapped in Pancetta, with Bearnaise, Sake & Caper Sauce looks quite amazing as a dish. Believe me this is quite easy to make, have a go, your wife/loved one will love you for it I am certain. This got me some major Brownie points for my 1st Wedding Anniversary! Ha Ha!!! My Mary said, and I quote; "Amazing Babe, salmon was perfect, so juicy, Pancetta gave it salty flavours, the sauce was very nice I just don't know how to describe it, but it went so well with the fish!" Well there you go, can't get much better review than that. In fact even my Amy, another non-fish eater ate a good portion of this, and I hope you do too – ENJOY!!!