Wet Markets Singapore
The Semi-Naked Chef on Wet Markets Singapore.
Can you tell I have been traveling a bit recently?
Yep not many recipes popping up over the weekends for a while, so I am relying on reviews, and interesting tidbits. And here is one such blog on Wet Markets Singapore. These are just wonderful. Nothing pre-packed, its like the old days of living in England when you'd go to the market for your veg and meat, or the local butcher and he'd cut the meat to how you want it done. This is indeed that experience.
You'll find most suburbs in Singapore will have one, but sometimes not so evident. This includes my Siglap home, that I only discovered when my mate SoonYew told me about it when I was after some pork belly to roast.
So here is ours above. Now don't be fooled by the red awning and fruit and veg only being stacked up. Yes that is deceiving and in fact you could potentially walk past assuming the same – but step behind the fruit and la de da de da…
See what I mean.
Fresh noodles of all types, and tofus of all description.
OK OK yes I hear you, more fruit and veg on the left hand side – maybe that is a tad excessive.
The meat guy – like the best butcher ever. I wanted a kilo of pork belly, and to have that deboned. But I could not see anything behind the counter, but like a magician he reaches beneath and pulls out just the perfect lump of pork. Nothing pre-packed as I mentioned, you ask and you get – LOVING this place.
A little further back and it's hello to the fish counter.
Not being a massive sea food guy in regards to eating, as you all know, but I'll cook anything as you also know. So this stall to me as a major foodie is a thing of beauty. Just look at this. So so fresh and such a variety. Quite incredible.
Now THE one and only caveat to this experience – get up bloody early and get down there. Normally the stalls are empty about 10-11am, it is a mad storming from the locals from like 6am – almost like trench war-fare with the stall owners blowing a whistle and all the local shoppers in unison going 'over-the-top'.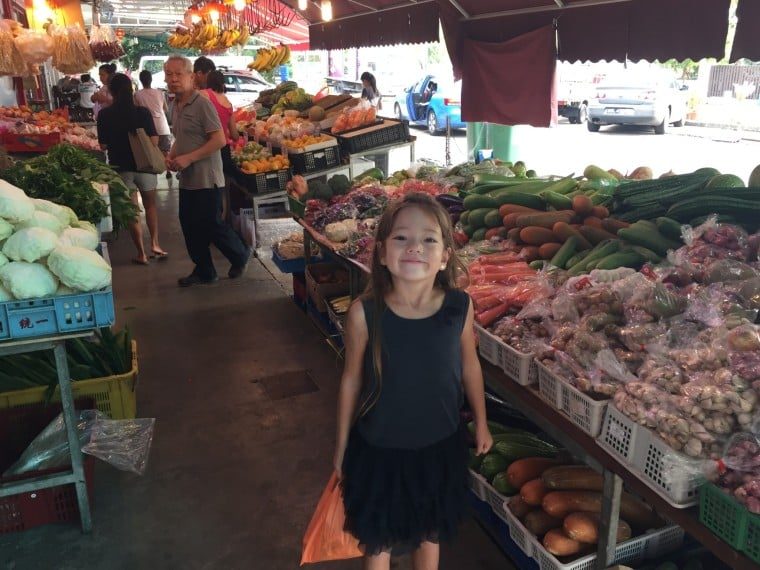 The food is cheap, it is very fresh in all of the wet markets Singapore, it's the best you can get in my reckoning and you choose how you want it. Nice!
The Semi-Naked Chef will be back…
GET THERE EARLY, and shop the Wet Markets Singapore – ENJOY!!!
Is Life a Recipe YouTube Channel