Wet Markets Singapore: a second home for Singapore foodies
Wet Markets in Singapore are traditional marketplaces where fresh produce, meats, seafood, and other daily necessities are sold. These markets are an integral part of Singaporean culture and have been a significant feature of the city for many years. In these markets, shoppers can find a wide variety of locally sourced products, and the atmosphere is often vibrant and bustling.
Some well-known Wet Markets in Singapore include Tekka Wet Market, Chinatown Wet Market, Tiong Bahru Wet Market, Geylang Serai Wet Market, Senoko Fishery Port, and my locals: Marine Parade Wet Market and Siglap Wet Market. These markets offer a glimpse into the local way of life and are popular among both residents and tourists seeking to experience authentic Singaporean culture and food ingredients.
Chinatown Wet Market is particularly famous for its bustling atmosphere and a wide range of Chinese products, while Tiong Bahru Wet Market is known for its diverse array of fresh produce and local delicacies. Geylang Serai Wet Market, on the other hand, caters to the Malay community with a variety of halal products.
I remember visiting Chinatown Wet Market with my Islifearecipe.net partner when he forced me to shop for live eels and eat oyster omelets for breakfast – yeah thanks Spencer.
Wet markets are an essential part of Singapore's multicultural society, as visitors can find stalls representing various ethnic backgrounds, each offering its unique products. These markets also provide a space for interaction between different communities, fostering a sense of unity and diversity. It's just wonderful to meander through our wet markets Singapore. 
I decided to write some words on Wet Markets and Wet Markets Singapore because I have been traveling a bit recently and have no recipe content. So, here is one such blog on Wet Markets Singapore. These are just wonderful. Nothing pre-packed, it's like the old days of living in England when you'd go to the market for your veg and meat, or the local butcher and he'd cut the meat to how you want it done. 
You'll find most suburbs in Singapore will have a wet market, but sometimes not so evident with them being hidden in a hawker, or beneath the local HDB housing. And, this includes my Siglap home, which I only discovered when my mate SoonYew told me about it when I was after some pork belly to roast.
Here is ours above, our little Siglap Wet Market. Now don't be fooled by the red awning and fruit and veg only being stacked up. Yes, that is deceiving and in fact, you could potentially walk past assuming the same – but step behind the fruit and there she blows: meats and seafood galore.
See what I mean? Fresh noodles of all types, and tofus of all descriptions. OK yes, I hear you, more fruit and veg on the left-hand side – maybe that is a tad excessive.
The meat guy is like the best butcher ever. I wanted a kilo of pork belly, and to have that deboned. But I could not see anything behind the counter. Like a magician, he reached beneath the counter and pulled out just the perfect lump of pork. Nothing pre-packed as I mentioned, you ask and you get. I am LOVING this place.
A little further back in the wet market and it's hello to the fish counter.
I am not a massive seafood guy in regards to eating, as you know, but I'll cook anything as you also know. So this stall to me as a major foodie is a thing of beauty. Just look at this. So fresh with such a variety. Quite incredible.
Now, the one and only caveat to this experience: you have to get up super early, get down there, and shop before it's all gone. Normally the stalls are empty of food at about 10-11 am. The locals shop from like 6 am, adopting an almost trench-like warfare with the stall owners blowing a whistle and all the local shoppers in unison going 'over-the-top'.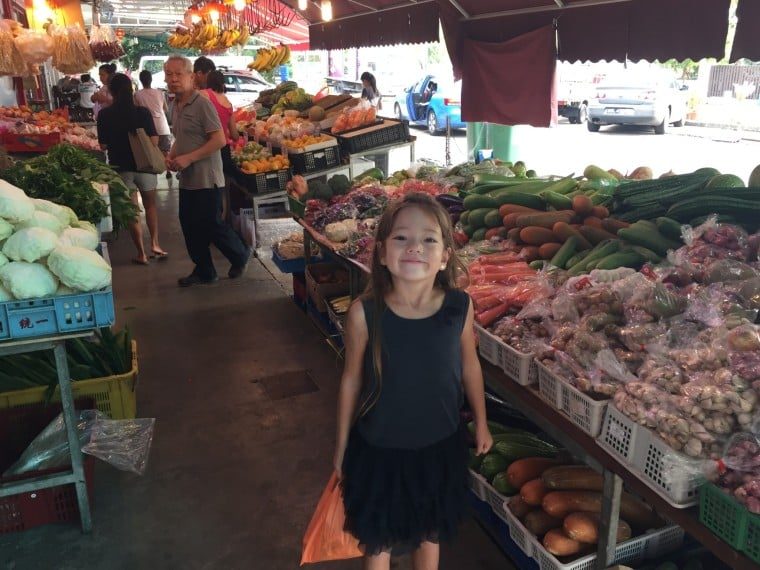 The food is cheap, it is very fresh in all of the wet markets Singapore, it's the best you can get in my reckoning and you choose how you want it. Nice! The Semi-Naked Chef and Islifearecipe.net will be back: again and again… GET THERE EARLY, and shop the Wet Markets Singapore – ENJOY!!!
People also asked about Wet Markets Singapore
Are there wet markets in Singapore?
Yes, Singapore has several wet markets scattered throughout the city. These markets are traditional marketplaces where fresh produce, meats, seafood, and other daily necessities are sold.
What is a wet market in Singapore?
A wet market in Singapore refers to a traditional market where vendors sell fresh food products like fruits, vegetables, meat, poultry, seafood, and other essentials. The term "wet" originates from the practice of vendors washing the floors and surfaces of these markets to keep them clean and hygienic.
Which wet market is cheapest in Singapore?
The prices in wet markets can vary, and the "cheapest" wet market in Singapore may change over time. However, some wet markets known for offering competitive prices include Chinatown Wet Market, Tekka Wet Market, and Geylang Serai Wet Market.
Are wet markets closed on Monday?
Wet markets in Singapore do not follow a standardized closing day. Some wet markets may be open every day, while others might have certain days off, typically on different weekdays. It is advisable to check the operating hours of specific wet markets you wish to visit.
What makes Singapore's wet markets unique?
Singapore's wet markets are unique for several reasons. They offer a rich cultural experience as they showcase a diverse range of products from various ethnic backgrounds. Visitors can find Malay, Chinese, Indian, and other cultural stalls, reflecting the multi-cultural society of Singapore. The markets are also known for their bustling and vibrant atmosphere, with locals engaging in lively bargaining and interactions with vendors.