Asian Egg Breakfast
This dish is slightly inspired by one of my all-time food heroes, the legend Gordon Ramsay. His version was North African in style, but hey The Semi-Naked Chef lives in Singapore – so here is my Asian Egg Breakfast. This is superb for all the family, as indeed I did for breakfast this morning. We all had this, even baby Jude. Now that is a good sign.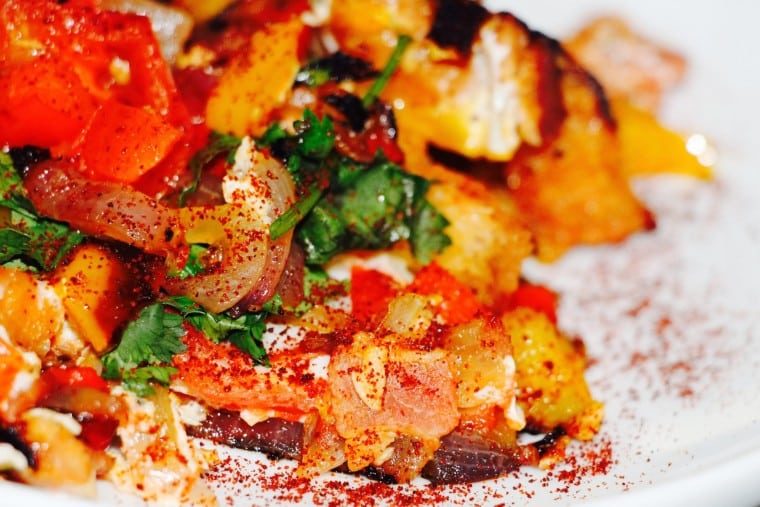 The only addition I did after cooking (as you can see on the photo above), was to sprinkle some smoked paprika on Ollie's and mine to whack a little spice in there. You could of course do this as you're cooking by throwing in a roughly chopped chili padi – YUMMY YUM!!!
OK here we go. I did this for 4 four normal sized humans and one baby.
You will need for my Asian Egg Breakfast;
4 eggs;
4 big strips of bacon, simply sliced into bite sized pieces;
2 red onions roughly chopped;
4-5, 1″ slices of French loaf, that I then simply cut to cubes for use as croutons;
1 red and 1 yellow capsicum, top and tail and take out the seeds, and roughly chop;
5 tomatoes cut into quarters;
1 roughly chopped chili padi (if you want the heat in there from the start);
1 tablespoon of roughly chopped garlic;
1 teaspoon of ground coriander; and
A good pinch of salt and pepper.
OK take a good sized pan, one that has a lid. Get that on the heat and when nicely hot, in with some olive oil, the bacon, the garlic, the onion and the croutons. Keep moving them about. The croutons will absorb all the bacony goodness, and flavours, and should start to toast and crisp up, as should the bacon. You just know this is going to be good don't you.
Once you have all the nice crispy bacon and toasted croutons, in goes the capsicum, tomatoes, chili (if adding now), ground coriander and that all important good pinch of salt and pepper. You want to occasionally move this round in the pan so not to stick. You really don't want to overcook this as there is yet one more step to do for my Asian Egg Breakfast.
You are now up for the next stage. With the back of a big spoon, make some indentations in this mix above. Wells, if you will. One well per egg, which is one egg per person of course. Then crack the eggs one at a time into the wells. Try to make the wells evenly spread in the pan, as you actually want to serve this dish from the pan, at table side – so it needs to look nice.
See what I mean from the photo above. Now what you do is add the lid and leave this alone for about 4-5 minutes on a slightly reduced heat. The eggs will now cook almost like a poached egg in the mixture by steaming from the top and frying from the bottom. How cool is that. When you are finished with this stage of Asian Egg Breakfast you should have…
Now at last stage of Asian Egg Breakfast. Simply rip up some fresh coriander, sprinkle that over and the a dusting of smoked paprika. Take the pan to the table and serve on up with a spatula. A bloody nice breakfast by anyone's standards!!!
And there you have it folks. You are done. Believe me this is not a hard recipe at all. Take your time to chop all the items up before you start, and then it is real easy just to throw them on in at the right time. It's seriously simple, but looks really nice, tastes seriously good, and you know another good thing was the whole family ate it together. I like that, and hope you do to. The Semi-Naked Chef Asian Egg Breakfast – ENJOY!!!