Best Thai Food in Singapore
Calling this the Best Thai Food in Singapore was not an easy decision because there are many good Thai restaurants in Singapore to choose from.
The reason I am calling Happy Thai Food at Loyang Point the best Thai food in Singapore is simply due to its authenticity. There are so many Thai restaurant chains here that you lose the element of great Thai street food!
The two Thai ladies manning the small outlet at Loyang Point was overheard talking about me in Thai, could only make out a few words but Farang (foreigner) stood out! She probably said lets make it double spicy for the foreigner! It certainly tasted that way and I was not complaining!
Just how good is Happy Thai Food?
My wife never likes to eat the same type of food in succession but after we at Happy Thai Food for lunch at Loyang Point she made me order it again at night for delivery! It really is that good!
The only caveat here is that the dine in tasted so much better, mostly due to the condiments on the table which consists of birds eye chilies in fish sauce, peanuts, green chilies in vinegar and chili powder.
What did we eat at Happy Thai Food?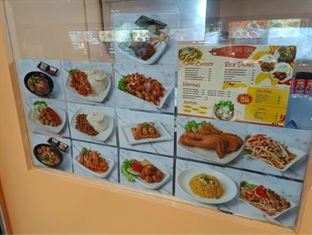 The Thai Noodles Pork – Medium Bowl at $6.20 is a belter so buckle up when you eat this because it packs a big punch of flavours. It felt like the bowl was never ending, imaging this was medium not the giant bowl of Thai Noodles Pork which costs $16.20. That can easily be shared amongst 3 or even 4 people.
The Thai Pork Leg does not look appealing but boy was it tasty! plus at a mere $11.80 it was a bargain! So soft, it had clearly been braised for hours on end. Each part of the Thai Pork Leg had different tastes and textures and with so many choices of condiments we were spoilt for choice.
The Tom Yum Soup is the Star of the Show! If you close your eyes and take a big slurp of this thick red tom yum soup you are instantly transported back to Bangkok! My daughter is known for saying just Ok to any food you ask her about but in this case we got an entire sentence strung together telling us how good it was and just like it was in Thailand. Big thumbs up all round for us!
Medium bowl $7.20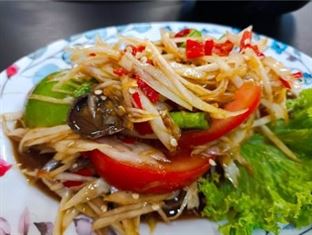 I can't begin to tell you how good the Papaya Salad (Pu Plalaa) was. At $7.20 it was a steal. Now you might remember I like my spicy food hot but this takes the biscuit! Thai Red Chilies are running through this like they are going out of fashion. The salad dressing is kickass, the Pu Plalaa was made using a salted field crab, just look at the little fella looking back at me when I was done!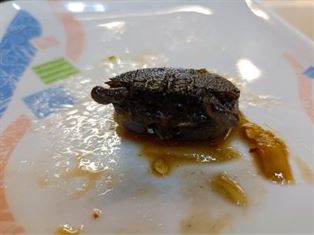 Papaya Salad Dressing (not for the faint hearted)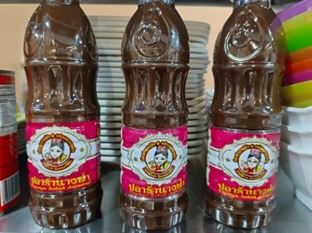 They even sell the Papaya Salad Dressing made by Nang Fah from Thailand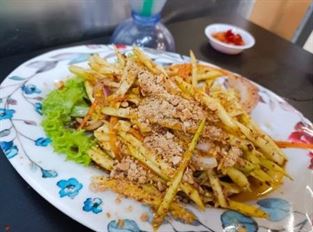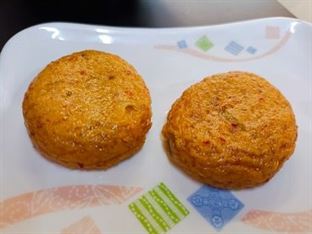 Happy Thai Food Loyang Point Address &Telephone Number
259 Pasir Ris Street 21, Loyang Point, #02-42, 510259
Tel. +65 81620201
Happy Thai Food Tampines Address &Telephone Number
10 Tampines North Drive 4, JTC Space @ Tampines North, – 528553
Tel. +65 81620201
Connect with Us on Social Media