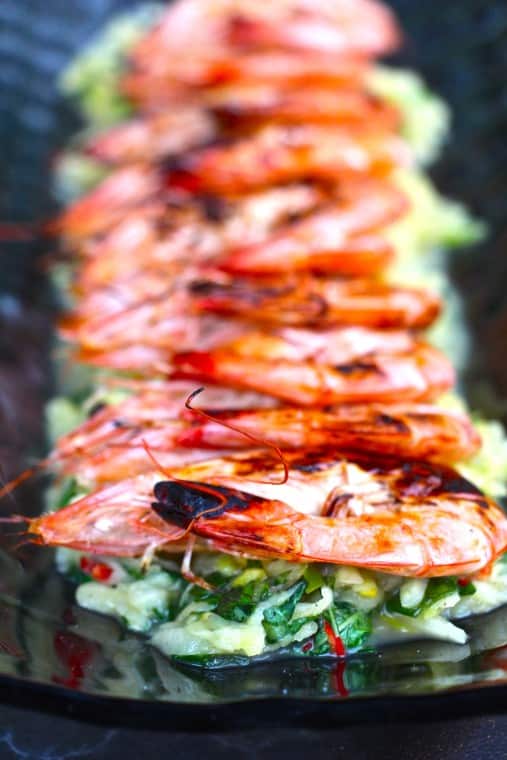 For the salad, you will need;
2 green mangos – I (well rather Mary) simply peeled and then grated them down to the core stone. Pat the shaving with some kitchen cloth as you don't wang them super wet;
5 limes cut in half and juiced over the mango shavings;
2 packets of mint – pick the leaves off the stalks and finely chop;
1 finely chopped chili padi;
2 teaspoons of fish sauce;
One large pinch of salt; and
A pinch of baked ground pepper.
Combine these in a bowl and then lay on a serving platter as I have done in the photo.
For the BBQ Prawns, you will need;
10 prawns with the shall left on;
Half a cup of lemon juice;
1 Tablespoon of finely chopped garlic; and
A good pinch of salt and cracked black pepper.
Again combine these in a bowl, give a astir and set aside to let the acid of the lemon start to slowly cook the prawns. If you can leave this in the fridge for about 2 hours that's great but longer if possible.
When you're ready 2-3 minutes each side on a nice hot BBQ or grill. BBQ best because you get the smoky of the coals. Simply take the BBQ Prawns off then, allow them to sit a couple of minutes, before arrantly them neatly on top of the salad on the platter. And you can serve my friends.
Looks bloody nice.
Tasted equally so, I heard. I did try the salad and oh yeah that was double nice!!!
BBQ Prawns with Green Mango, Chili, Lime & Mint salad – Enjoy!!!
Check out the Chili prawns – throw one on the barbie courtesy of Pia Rutherford