Frittatas
Absolutely a super dish for breakfast, for a starter, for one. I did this one day for my Mum, Mary, Ollie, and Baby Jude – little individual Frittatas, served straight from the hob in the pan. Little pans that I had purchased from TOTT previously – yes this was invented because of those little pans…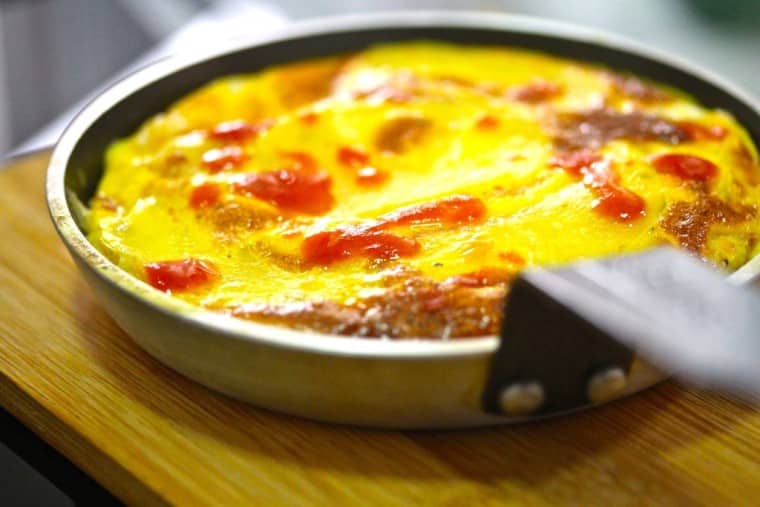 If you want to serve the Frittatas as I did in the pan, you will need to invest in small frying pans with metal handles, as these will need to go in the oven. A very simple affair to prepare and cook, in fact bloody simple. But they come out looking great and have to say tasting absolutely flipping delicious.
I made about 4 mini Frittatas with the following;
6 eggs – beat them in a cup and sprinkle in some salt & pepper and a glug of milk;
Finely slice two small red onions;
Finely slice some cooked ham or cured ham – about half a cup all up;
1 tablespoon of finely chopped garlic;
1 tablespoon of dijon mustard;
2 small potatoes, peeled and finely sliced and boiled in salted water until just soft;
2 tablespoons of grated parmesan or alternative; and
A bottle of Jalapeño sauce to squirt on top when cooked.
I mean really how easy is that to prep. It continues in that vein when you end up cooking it.
Take your little pan;
Layer some sliced onion, some sliced ham, sprinkle over some chopped garlic, spread a little dijon mustard, and sprinkle some cheese;
Pour over the egg mix – not to the top of the little pan as you need a little space for the eggs to rise when it bakes; and
Then add in some of the thinly sliced potato making sure the egg mix covers it all.
Repeat that process x4, and then pop the pans in an oven preheated to 200 degrees. Leave them in there for 10 minutes or so. They will rise, but don't panic. The top should be nicely browned and the eggs should be firm to the touch. Now drizzle a little Jalapeño sauce on top to jazz them up.
Leave them in the pan and serve it as is. Give a health warning though – 'do not touch pan, likely it is hot!' These are my individual Frittatas. Look cool served up 121, taste amazing, and so so simple – ENJOY!!!