No Name Strawberry Blonde Dessert
Here we go with this Delicious Strawberry Dessert Recipe I don't do desserts very often, so when I do I try and make them a little bit special. After a panic buy and super-fast prepare dinner session last night I had served the family their food on the dining table. That gave me some time to mess about with the ingredients I had just bought to make a dessert. Sadly I am not hitting any of my parameters for #BillWallaceFriendly or #KnibbsyKiddleWagyuFriendly as all were purchased at the last minute from the supermarket, and clearly, there is not a Japanese cow in sight. This was created as I shopped, so very last minute.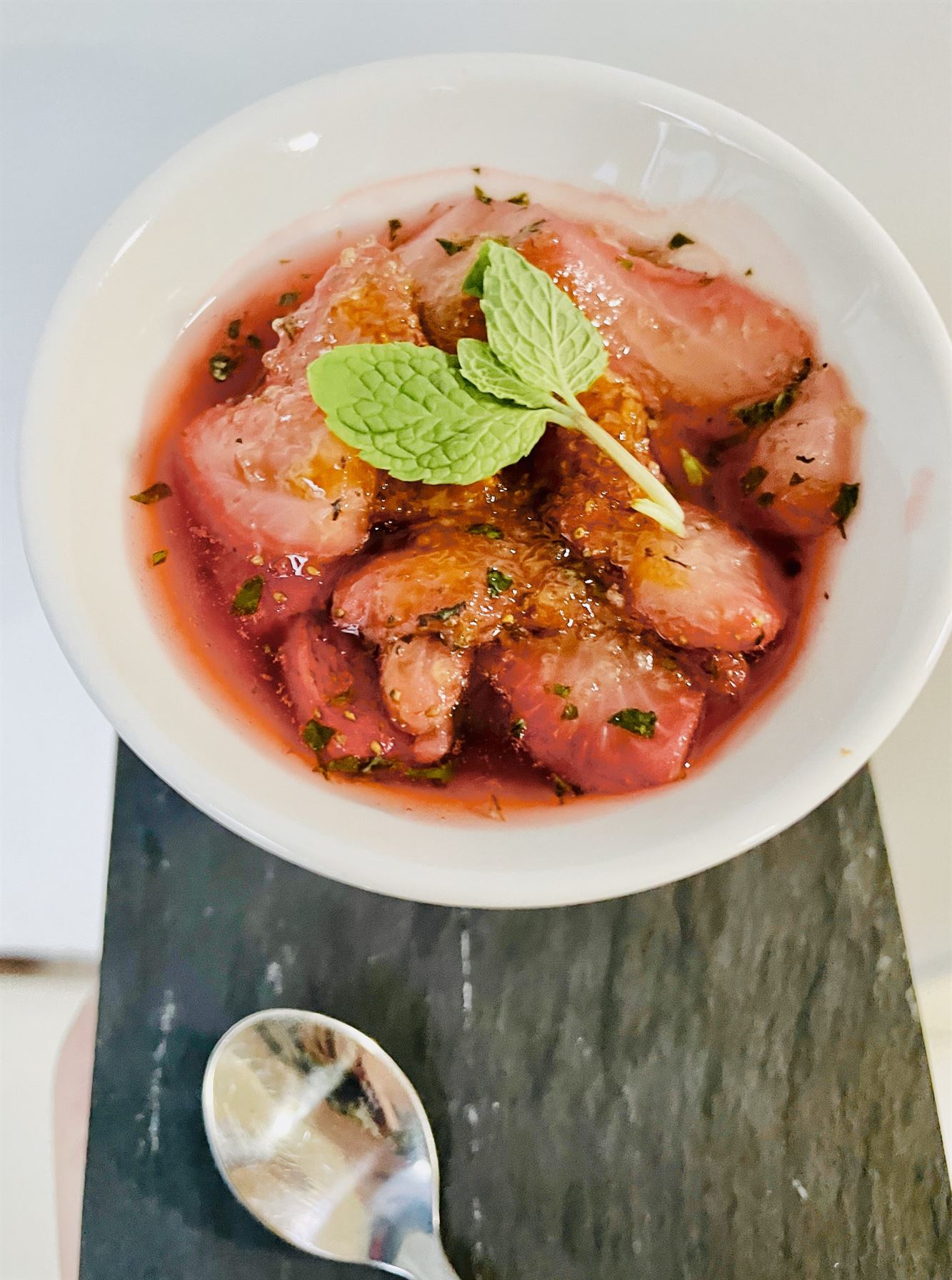 How did the name for the dish arise? Well, I had Strawberry Blonde helping me with the filming for our new YouTube Channel. When we got to the final garnishing I realised we had no name. So that has now become the name.
Have you looked @ the new channel yet? Hey, it's a bit of fun…
This was a cracker. Sweet and savoury all in one, with a little texture gig going on too with the caramelized sugar crunch. The flavour pops and zings all over the place too with some amazing bedfellows in the dish.
Here we go. This easily fed 5;
2x punnets of strawberries
2x Tbsp sugar
1x packet of fresh spearmint
1x packet of Marscapone cheese
Some good quality Balsamic vinegar (trust me)
Some brown/cane sugar
One thing to call out is important to note. If you want the caramelised sugar crunch on top, you will need a Chef hand-burner-torch-flaming thingy. You could try under the grill but then you'll need special heat-resistant serving-ware. Easiest just to leave that out of you don't have.
Here we go;
Wash the strawbs, cut off the tops and slice thinly lengthways;
Pop the sliced strawbs in a saucepan with the white sugar and about 2 cups of water;
Get that on the heat, bring to a boil and reduce to simmer for 5-10 minutes until the strawbs are all soft, the sugar has infused into them and the water has turned a little thicker like a pink syrup – let it cool;
That's the 'cooking' element done – easy right? Plating time;
Pop a Tbsp or so of Marscapone cheese in the bottom of a flashy serving bowl;
Drizzle with your very best Balsamic vinegar (trust me it's good);
Remove the spearmint leaves from the stalks and finely chop – keeping back some little leaves for the final garnish;
Drain the excess sugar syrup off the strawbs into a bowl;
Mix the chopped spearmint in with the strawbs and pop 2 Tbsp of that on top of the Marscapone;
Spoon a little more of the strawb sugar syrup on top;
Sprinkle some brown sugar on top of the strawbs and torch it until it melts, browns and caramelises – you'll get a hit of toffee apple smell;
Garnish with some of the little spearmint leaves;
Serve and await the oooohhhhs and aaaahhhs…
No Name Strawberry Blonde Dessert is a beauty and a holy trinity dish too; 1: she looks good – we eat first with our eyes, 2: she smells incredible – we then sniff the aromas, and 3: she punches above her weight in complex flavours – finally we eat. How about that? ENJOY!!!