Chicken & Bacon Pot Pie
Whilst reading my mate Anthony Bourdain's new book, Appetites a Cookbook, I saw this recipe for Chicken Pot Pie. It immediately threw me back to the one I had recently in New York. So, thought I, for Sunday dinner my mission is to create my very own from these two experiences. As you will see, I did, but of course changed it so it became mine, ha ha. It is now Chicken & Bacon Pot Pie.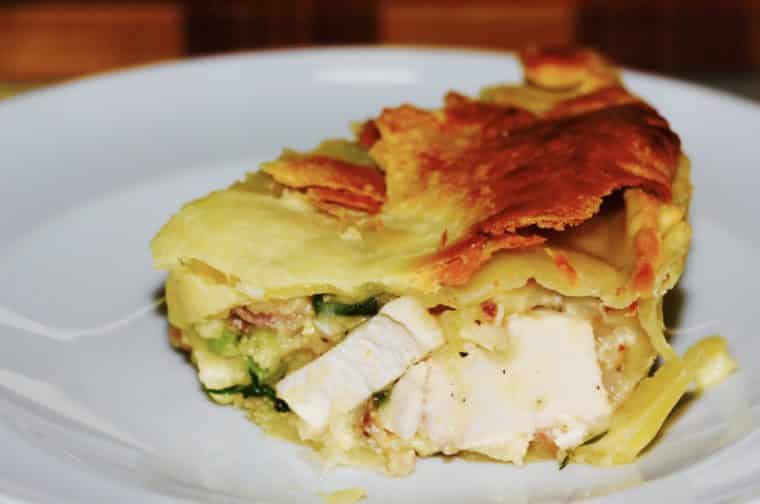 The Americans tend to have this is a bottomless pie, only with the pastry on top. Chicken, béchamel sauce, and vegetables (different to the ones I have used). So my version, my Chicken & Bacon Pot Pie, could be unique – you never know.
My Chicken & Bacon Pot Pie is a little tricky actually. There are quite a few moving parts, but as usual I will break it down to bite-sized chunks (scuse the pun). I made two decent sized pies with the ingredients below, and they easily fed 5 tonight with some left over for tomorrow.
Here we go, are you ready?
Phase I; Chicken & Baconong>
You want to get these going as you need this to cool down so you can shred the chicken.
2 boneless chicken breasts;
1 packet of bacon bits; and
Sea salt & cracked black pepper.
Throw the chicken and bacon bits on a baking tray;
Drizzle with a little oil, and sprinkle some sea salt & cracked black pepper on both sides;
Get the oven on 200, and put the tray in for about 10 minutes, and then flip over the chicken and back in for another 10 minutes. That should do you;
Out of the oven and set aside to cool; and
Once cooled simply shred the chicken up.
Phase II; Béchamel Sauce
Quite tricky to make full-stop, so lets take a little time on this.
4″ knob of salted butter;
1/2 cup each of;
Sea salt & cracked black pepper.
In a pan melt the butter until it starts to sizzle;
Pop in the flour, and using a whisk mix that round until all the flour is absorbed and there are no lumps;
Add the milk and stock next, and keep that moving. Make sure there are no lumps again. If it is too thin add some more flour, and if too thick add some more stock;
Keep stirring the liquid until it sticks to the back of a spoon;
Add in a sprinkle of sea salt and cracked black pepper and set aside.
Phase III; Vegetables
4 white potatoes, simply cut in to small cubes (I scrubbed and left the skins on);
1/2 cup each of;
Sea salt & cracked black pepper.
Add the vegetables in to pan;
Add water to cover and throw in some sea salt and cracked black pepper;
Bring to the boil, then reduce to a simmer and cook for 10 more minutes until the potatoes are softened, but not mushy;
Drain and set aside.
Phase IV; Fragrants
2 heaped teaspoons of chopped garlic;
A bunch of Thyme, with the leaves taken off the stalky bits;
A bunch of Sage;
4 finely sliced red onions;
3 finely sliced stalks of fresh celery;
1″ knob of salted butter; and
Sea salt & cracked black pepper.
Pop a pan on the stove, and melt the butter. Add in all the other ingredients, and sweat down a little. Off the heat and set aside.
Phase V; Now to the pie
You were probably thinking to yourself; "How much more do I have to set aside? I only have a small kitchen!" Well we are now finished with the prep my friends. Of course, you could do all the above Phases at once. It all goes for a final cook together anyway. As stated, I was just breaking the recipe down in to bite-sized chunks to make it simple to follow.
Mix all the chicken & bacon, Béchamel, vegetables and fragrants together;
Take two pie tins and smear with some melted butter – this makes it easier to get the pie out when cooked;
Lay some short crust pastry sheets (yes I cheated) in the trays and smooth to the edges, creating a small overhang;
Brush the tops of the overhang with more melted butter to act as glue for the top;
Spoon in the filling mixture to about 2/3 of the depth of the pie tin;
Lay another piece of the pastry on top and, with a fork, flute the top edges of the pastry;
Cut off the excess pastry that is flapping about with the back of a knife;
Cut a few slits in the top of the pie to let the steam out;
Brush with more melted butter and get that in the oven;
Set the oven at 180 for about 20-30 minutes, or until the pastry browns and starts to puff up.
Serve straight from the oven, and straight from the pie tin. It should hopefully look something like this.
Now, as I mentioned, if you wanted to keep more authentic to the USA version, just use the pie tin as the base, and only put pastry on the top. To be honest though, I was raised with pies like the above. Pies you can pick up with your hand and munch on with no cutlery. This is my version. This is my Chicken & Bacon Pot Pie and we loved this version, and we hope you do too – ENJOY!!!
If you enjoyed this Chicken & Bacon Pot Pie Recipe and want to keep up with the YouTube channel be sure to Subscribe at ISLIFEARECIPE:
Connect with me on Socials:
Not forgetting my personal cooking YouTube channel at The Angmo Cooking Show
You'll see much more family fun, many many other recipes on the channel and heaps of restaurant and hawker reviews too.