Ki One Whisky: Are you ready for a spirited adventure that will take your taste buds on a rollercoaster ride? Look no further than Ki One Single Malt Whisky, the pride, and joy of South Korea's burgeoning whisky-making scene. Picture this: a whisky that's mashed, fermented, distilled, and matured entirely in Korea, delivering a distinct flavor profile that captures the essence of this vibrant nation. So, what makes Ki One so special? Well, for starters, it's the first of its kind to be crafted from start to finish in Korea, making it a true trailblazer in the world of whisky. But that's just the tip of the iceberg.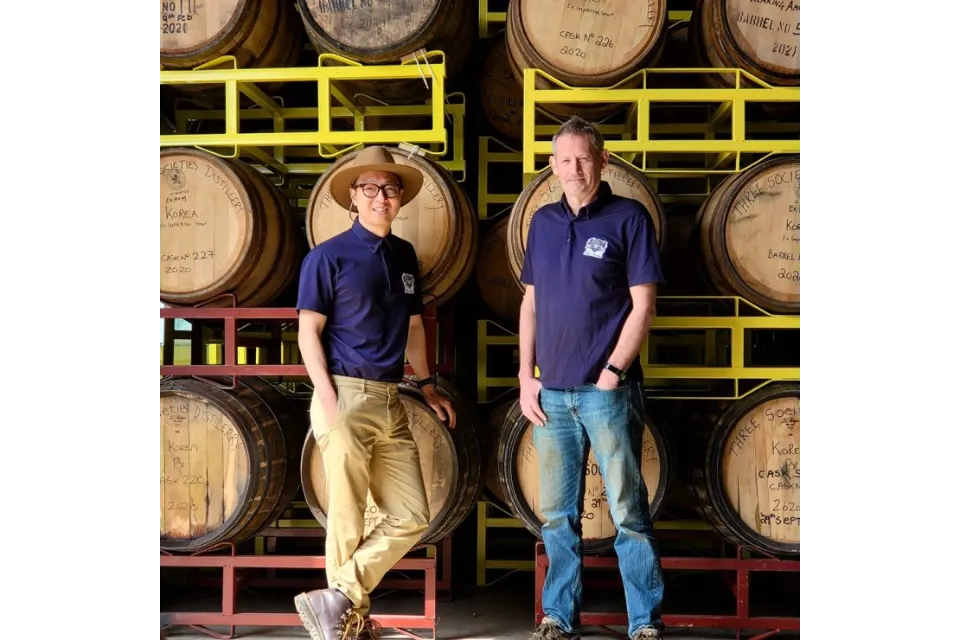 Photo courtesy of The Drinks Business
Table of Contents
It's made by the distilling company, Three Societies, named as such due to the molding together of different nations with Founder and Chief Spirit Taster, Bryan Do, originating from the USA, and Head Distiller and Spiritual Advisor, Andrew Shand originating from Scotland, who both now live and work in South Korea: hence Thee Societies.
I love my alter-ego as a food, drink, and travel blogger. Today the ISLIFEARECIPE.net crew was invited to a press session for the launch of Ki One Whisky. How good is that? We are honored to write up our experience, which was such fun and also extremely informative: as we'll share below. Plus there is a YOUTUBE to watch.
About the Founders: Bryan Do and Andrew Shand
Bryan Do, an American, and ex-PR of Singapore, was originally in tech, but in 2013 he founded his own beer brewing company, The Hand and Malt Brewing Company, which got acquired in 2021. This gave him the release to focus on creating Korea's first-ever single-malt whisky. His partner, Andrew, is a Scot that has grown up in a long family lineage working in the Whisky business. He started off sweeping floors and even making the barrels as a cooper. Clearly, these two gentlemen have a voice of authority in whisky.
We met them at the incredible La Maison du Whisky Singapore, which houses some 1,000 bottles of Whisky, Rum, and Gin. It really is jaw-dropping when you walk in.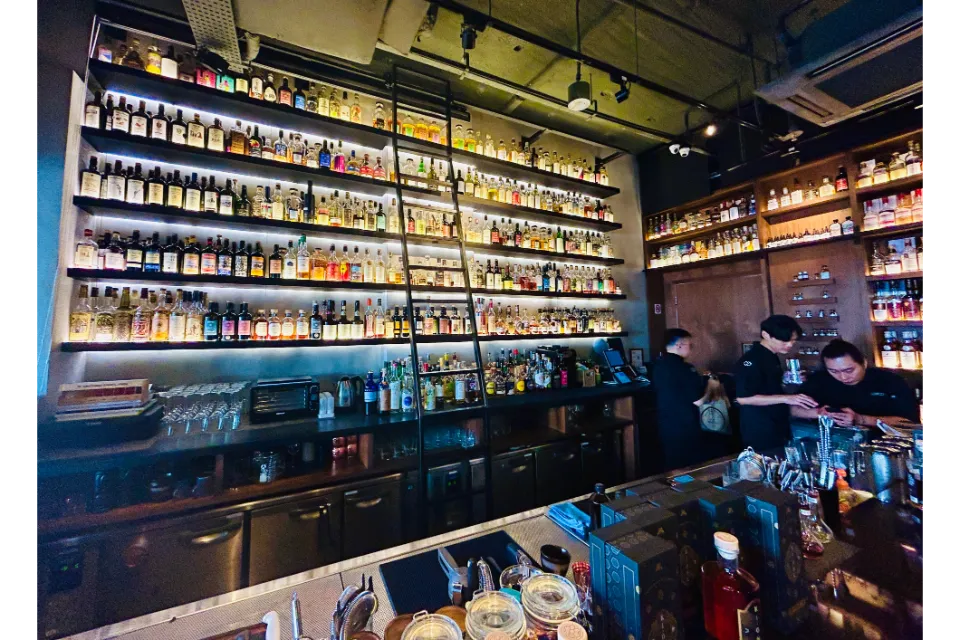 La Maison du Whisky
Is a renowned establishment that specializes in whiskies and fine spirits. With locations in Singapore and France, it has been a leading authority in the industry since its establishment in 1956. La Maison du Whisky offers an extensive collection of over 800 expressions in-store and 1500 online, making it a haven for whisky enthusiasts and collectors.
The establishment prides itself on curating a niche portfolio of whisky brands and distilleries from around the world. It is known for its wide selection of single malt, blended malt, bourbon, and Scotch whiskies. Additionally, La Maison du Whisky offers a diverse range of other spirits such as rum and gin.
In Singapore, La Maison du Whisky is considered an authoritative source for exceptional whiskies and fine spirits. It serves as both a specialty store and a bar, providing customers with the opportunity to purchase bottles or enjoy a drink on-site. The Singapore location is situated at 80 Mohamed Sultan Road, offering a unique and inviting atmosphere for whisky enthusiasts.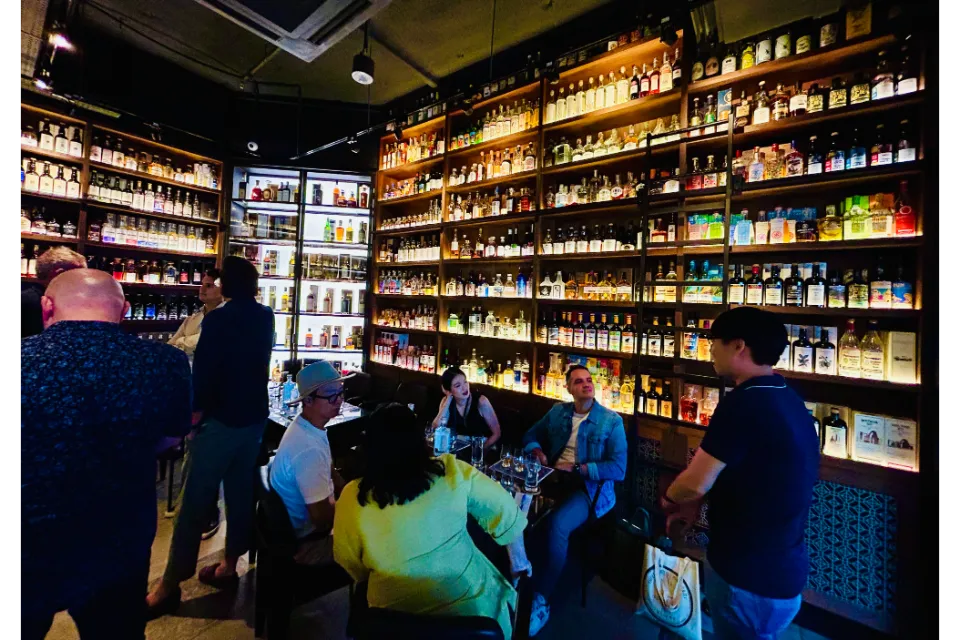 Imagine savoring a dram that's aged since July 7, 2020, in new American oak casks, infusing it with oakiness and the tantalizing notes of a summer citrus fruit salad. With each sip, you'll be greeted by the dance of fruits on your tongue, followed by a delightful burst of oriental spice and pepper. The long-lasting spices gracefully give way to hints of barley sugar and a forest of oak. Ki One Whisky is a symphony of flavors that will leave you craving for more.
Ki One Whisky Batch 1 is so easy to drink, effortless in fact, as it is super-smooth. So smooth, in fact, that the Korean purveyors complained, and in came Ki One Whisky Batch 2 that is matured in Bourbon Caskets. Kapow goes Batch 2 with a much stronger nose, smokiness, and hit when you sup. Both are quite incredible and matured to single-malt in less than three years. Uniquely amazing!!!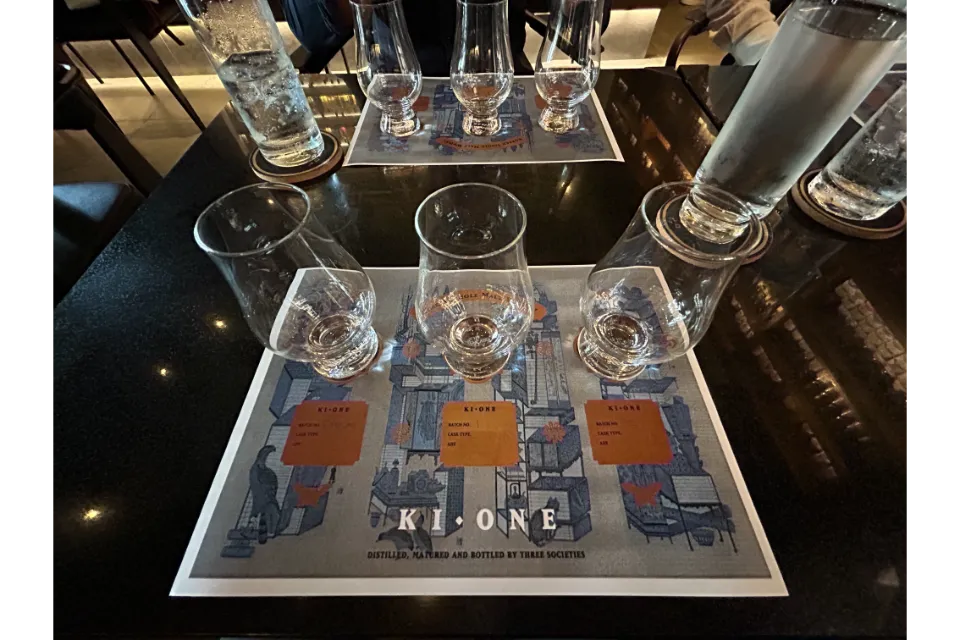 Ki One Whisky Tasting: Jung One Gin, Ki One Whisky Batch I, and Ki One Whisky Batch II.
Islifearecipe-dia:
It's quite amazing that in comparison to traditional Whisky distilling in Scotland, the aging process in Korea is substantially shorter due to the weather swings (30-degree variant between Summer and Winter) causing the liquid to literally suck in flavor from the casks. Because of this it only takes Ki One Whisky under three years to reach the maturity of a Single Malt, that in Scotland would take four times as long. It's also a crying shame because Ki One Whisky is not allowed to be sold in Europe, because legislation there states a Sigle-Malt Whisky can only be called such if it has matured for over three years. Go figure!!! Time to change the rules methinks!!!
The tasting started with their gin, Jung One
Jung One means garden in Korean. It is made from the same base spirit as Ki One Whisky and is triple-distilled to perfection. It contains the mandatory botanicals such as juniper berries but then added local Korean-ness with local pine needles, lemon and orange peel, lavender, Chopi (Korean Sansho Peppercorn), baby Ginseng, Perilla leaf, and so on.
This is a cracker. No need for anything to mix with it, in fact, it would probably overpower any mixer. Then add some ice and it fundamentally changes to more of a licorice, anise flavor. Quite incredible. It's a hot day refreshing sipper.
A funny story was told by Andrew, in that they got lemon peel and lemon juice from a nearby factory that was not very good at squeezing, so had left loads of lemon juice left in the discarded fruits. Yep, they grabbed this spent product for free and gave it another good squeeze. Nice work!!!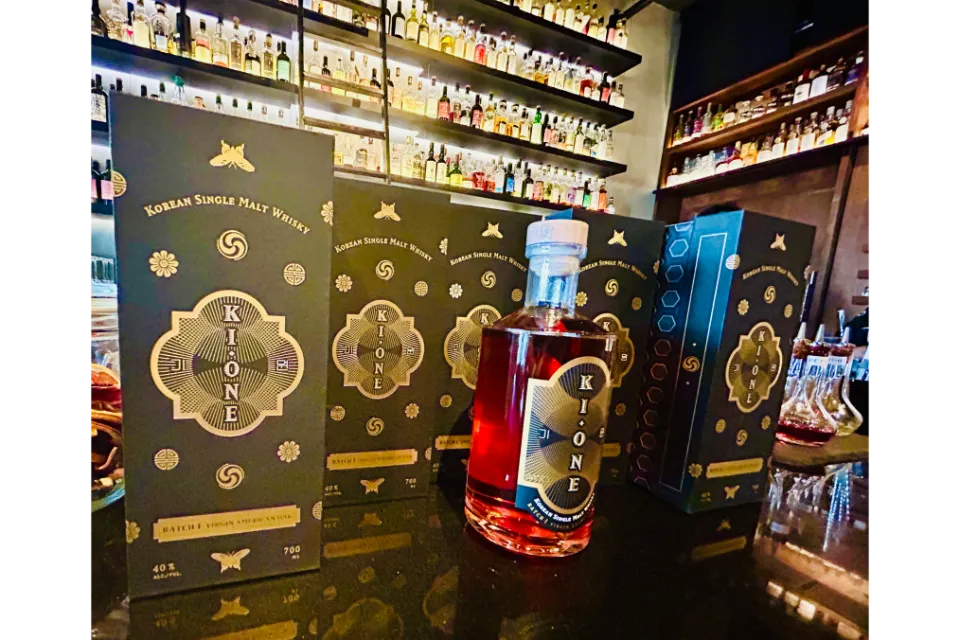 Ki One Whisky: the tasting of Batch I
Ki One Whisky is not just about the liquid gold inside the bottle; it's a testament to hope and new beginnings. The name "Ki One" holds deep meaning in Korean, symbolizing the start of a remarkable journey for the first Korean single malt whisky. It's an invitation to experience the unique maturation periods and distinctive flavors that emerge from the four seasons of Korea.
I found the nose to have strawberry, wood, camphor, a little sourness like yogurt, and pepper. The taste was definitely those lemons and lemon peel, woody, savory, and chili peppers. And to the finish, it was aromatic wood, cloves, with black peppercorns. Well, that's what my nose and mouth thought…
Ki One Single Malt Whiskey is South Korea's pioneering flagship single malt whisky, produced locally from mash to bottle. We spoke to Andrew after the tasting to gain some more detailed insights into the product. Barley is currently being imported, but soon they plan to have their very own, locally grown barley making it even more 'local' to be a 'made in Korea' product. They also plan to use Korean Oak Barrels in the future for more localization of flavor.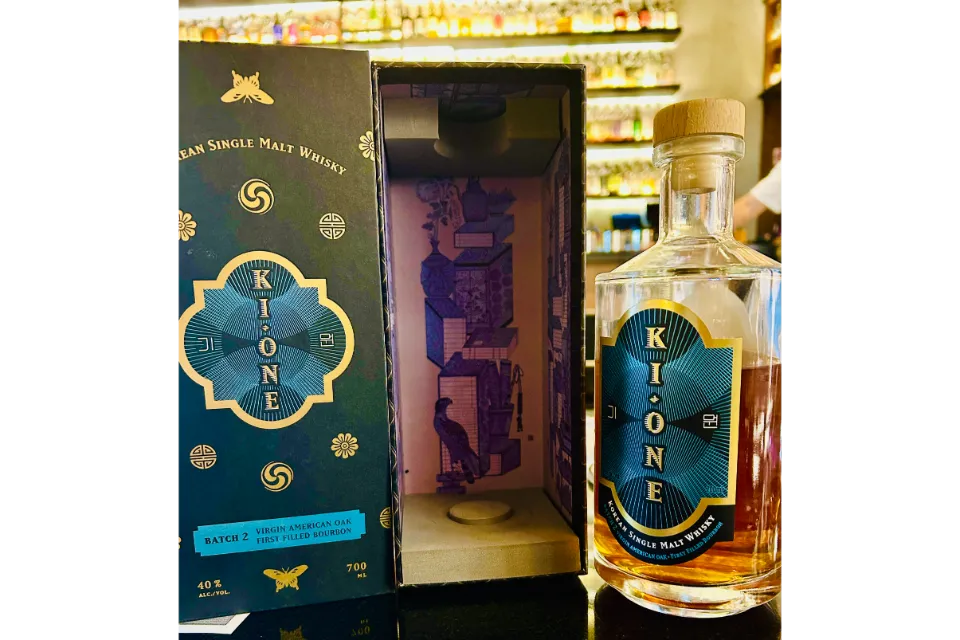 How many editions are there of Ki One Whisky?
From its limited-edition releases paying homage to Korea's iconic animals (Eagle, Tiger, and Unicorn), to its upcoming editions of Ki One Whisky Batch I and Batch II now available in Singapore, which will showcase the artistry of aging. Ki One Whisky is retailing at SGD $175, a bargain for a product of this quality.
The Ki One Whisky range includes different editions such as the Tiger Edition and the Eagle Edition. The Tiger Edition is a well-rounded and enjoyable malt with intense stone fruit notes and a depth of oak. It is bottled at 56.2% ABV. The Eagle Edition, on the other hand, offers a sherry cask finish and is also highly regarded for its flavor and craftsmanship.
How much is Ki One Whisky?
Ki One Whisky has been released in limited quantities and has gained popularity among whisky enthusiasts. It has made its way to international markets, including Singapore, where it is available for purchase at various retailers and online platforms. Ki One Whisky Batch I will set you back RRP SGD $175. The pricing and availability may vary depending on the edition and location.
Ki One Whisky's unique packaging
Even the packaging is exceptional for Ki One Whisky. Bryan explained that they brought in a make-up artist to assist with the designs, and the interior of the packaging shows engravings of screens that used to separate the Korean dignitary when drinking. You have to love that. The crew at Three Societies are embracing competition, with a view that they hope it reduces taxation on the product, and other costs associated with the distilling processes. Samsung and Lotte have already begun construction of whisky distilling plants now in Korea.
In conclusion
Ki One Whisky the first Single Malt in Korea is more than just a drink; it's a testament to the power of innovation and the pursuit of excellence. It's a chance to witness the birth of a whisky renaissance in Korea and be part of a story that's just beginning to unfold. The crew at Three Societies already have Ki One Whisky Batch 5 and 6 in play, so watch this space. So, grab your glass, raise it high, and let's toast to Ki One Single Malt Whiskey, the spirit that's redefining the whisky landscape, one sip at a time. Cheers!
쓰리 소사이어티, 기원 위스키 출시: 한국 최초의 싱글 몰트 위스키
Ki One Whisky: 롤러코스터를 타고 미각을 자극할 활기찬 모험을 할 준비가 되셨습니까? 기원 싱글몰트 위스키는 한국의 급성장하는 위스키 제조 현장의 자부심이자 기쁨입니다. 상상해보세요. 한국에서 완전히 으깨고, 발효하고, 증류하고, 숙성한 위스키로, 이 활기찬 나라의 본질을 포착하는 독특한 풍미 프로필을 제공합니다. 그렇다면 Ki One이 특별한 이유는 무엇입니까? 음, 우선, 처음부터 끝까지 한국에서 제조된 최초의 제품으로 위스키 세계의 진정한 선구자가 되었습니다. 그러나 그것은 빙산의 일각에 불과합니다.

증류 회사인 Three Societies는 미국 출신의 설립자이자 최고 주정 테이스터인 Bryan Do와 스코틀랜드 출신의 Head Distiller이자 영적 고문인 Andrew Shand가 서로 다른 국가를 형성하여 이러한 이름을 갖게 되었습니다. 둘 다 현재 한국에서 거주하며 일하고 있습니다. 따라서 Thee Societies가 탄생했습니다.

미국인이자 싱가포르의 전 PR인 Bryan Do는 원래 기술 분야에 있었지만 2013년에 자신의 맥주 양조 회사인 The Hand and Malt Brewing Company를 설립했으며 2021년에 인수되었습니다. 대한민국 최초의 싱글몰트 위스키를 탄생시켰습니다. Andrew는 위스키 사업에 종사하는 오랜 가족 혈통에서 자란 스코틀랜드 사람입니다. 그는 바닥을 쓸고 통을 쿠퍼로 만들기까지 시작했습니다. 분명히 이 두 신사는 권위 있는 목소리를 가지고 있습니다.

약 1,000병의 위스키, 럼, 진을 보관하고 있는 놀라운 La Maison du Whisky Singapore에서 그들을 만났습니다. 들어서면 정말 입이 떡벌어집니다.

La Maison du Whisky는 위스키와 고급 증류주를 전문으로 하는 유명한 식당입니다. 싱가포르와 프랑스에 위치하며 1956년 설립 이후 업계를 선도하는 권위자였습니다. La Maison du Whisky는 매장 내 800개 이상의 표현과 온라인 1500개 이상의 광범위한 컬렉션을 제공하여 위스키 애호가와 수집가를 위한 안식처가 되었습니다.

설립은 전 세계의 위스키 브랜드 및 증류소의 틈새 포트폴리오를 큐레이팅하는 데 자부심을 가지고 있습니다. 다양한 싱글 몰트, 블렌디드 몰트, 버번, 스카치 위스키로 유명합니다. 또한 La Maison du Whisky는 럼과 진과 같은 다양한 기타 증류주를 제공합니다.

싱가포르에서 La Maison du Whisky는 뛰어난 위스키와 고급 증류주에 대한 권위 있는 출처로 간주됩니다. 전문점과 바의 역할을 모두 수행하여 고객에게 병을 구입하거나 현장에서 음료를 즐길 수 있는 기회를 제공합니다. 싱가포르 지점은 80 Mohamed Sultan Road에 위치해 있으며 위스키 애호가를 위한 독특하고 매력적인 분위기를 제공합니다.

2020년 7월 7일부터 새 아메리칸 오크통에서 숙성된 드램을 음미하며 오크향과 여름 과일 샐러드의 감질나는 향을 불어 넣는다고 상상해 보세요. 한 모금 마실 때마다 바닐라 꼬투리와 즙이 많은 복숭아가 혀에서 춤을 추고 오리엔탈 스파이스의 유쾌한 폭발이 뒤따릅니다. 오래 지속되는 향신료는 보리 설탕과 참나무 숲의 힌트에 우아하게 자리를 내줍니다. 더 많은 것을 갈망하게 만드는 풍미의 교향곡입니다.

Ki One Whisky, 싱글 몰트 배치 1 및 배치 2입니다. Ki One Whisky 배치 1은 마시기 매우 쉽고 힘들지 않으며 매우 부드럽습니다. 사실 너무 부드러워서 한국 납품업자들이 불평했고 버번 캐스킷에서 숙성된 Ki One Whisky Batch 2가 나왔습니다. Kapow는 훨씬 더 강한 코, 스모키함, 그리고 당신이 밥을 먹었을 때 타격으로 배치 2를 진행합니다. 둘 다 매우 훌륭하며 3년 이내에 싱글 몰트로 숙성됩니다. 유니클리 대박!!!

시음은 한국어로 정원을 의미하는 진 정원으로 시작되었습니다. Ki One Whisky와 동일한 기본 증류주로 만들어지며 완벽하게 삼중 증류됩니다. 주니퍼베리 등 필수 보태니컬을 담았지만, 토종 소나무 등으로 토종 한국성을 더했다. 이것은 크래커입니다. 아무 것도 섞을 필요가 없습니다. 실제로 어떤 믹서도 압도할 것입니다. 그런 다음 약간의 얼음을 추가하면 근본적으로 감초, 아니스 풍미로 바뀝니다. 정말 놀랍습니다. 더운날 상쾌한 시퍼입니다.

Andrew는 레몬 껍질과 레몬 주스를 짜는 데 능숙하지 않은 근처 공장에서 가져 와서 레몬 주스를 많이 남겼다는 재미있는 이야기를 들었습니다. 예, 그들은 이 사용된 제품을 무료로 잡고 또 한 번 잘 짜냈습니다. 잘 하셨어요!!!

그러나 Ki One Whisky는 단지 병 안의 액상 금에 관한 것이 아닙니다. 그것은 희망과 새로운 시작에 대한 증거입니다. 기원(Ki One)이라는 이름은 한국 최초의 싱글 몰트 위스키를 위한 놀라운 여정의 시작을 상징하는 우리말로 깊은 의미를 담고 있습니다. 한국의 사계절이 주는 독특한 숙성 기간과 독특한 풍미를 경험해 보시기 바랍니다.

짧은 대답은 다음과 같습니다. Ki One 싱글 몰트 위스키는 매시에서 병에 이르기까지 현지에서 생산되는 한국의 선구적인 플래그십 싱글 몰트 위스키입니다. 우리는 제품에 대한 좀 더 자세한 통찰력을 얻기 위해 시음 후 Andrew와 이야기를 나눴습니다. 보리는 현재 수입되고 있지만 곧 현지에서 재배한 보리가 '메이드 인 코리아' 제품이 되기 위해 더욱 '로컬'하게 만들 계획입니다.

Ki One 싱글 몰트 위스키의 장인 정신, 맛, 부인할 수 없는 매력을 탐구하는 이 위스키 오디세이에 참여하세요. 한국을 대표하는 동물(독수리, 호랑이, 유니콘)에 경의를 표하는 한정판 출시부터 이제 싱가포르에서 판매되는 Ki One Whisky Batch I 및 Batch II 에디션에 이르기까지 노화의 예술성을 선보일 것입니다. Ki One Whisky는 SGD $175에 소매가로 판매되고 있으며, 이 품질의 제품치고는 저렴한 가격입니다.

Ki One Whisky 범위에는 Tiger Edition 및 Eagle Edition과 같은 다양한 에디션이 포함됩니다. 타이거 에디션은 강렬한 석과류 노트와 오크의 깊이가 있는 균형 잡힌 즐거운 맥아입니다. 56.2% ABV로 병입됩니다. 반면 Eagle Edition은 셰리 캐스크 피니시를 제공하며 풍미와 장인 정신으로도 높은 평가를 받고 있습니다.

Ki One Whisky는 한정 수량으로 출시되어 위스키 마니아들 사이에서 인기를 얻고 있습니다. 다양한 소매점과 온라인 플랫폼에서 구입할 수 있는 싱가포르를 포함한 국제 시장으로 진출했습니다. Ki One Whisky Batch RRP SGD $175를 돌려드리겠습니다. 가격 및 가용성은 버전 및 위치에 따라 다를 수 있습니다.

나는 코에서 딸기, 나무, 장뇌, 요거트 같은 약간의 신맛, 그리고 후추가 나는 것을 발견했습니다. 맛은 확실히 그 레몬, 우디, 세이보리, 칠리 페퍼였습니다. 그리고 마무리는 향긋한 나무, 정향, 금속성, 검은 후추 열매였습니다.

Ki One Whisky의 경우 포장도 예외적입니다. Bryan은 디자인을 돕기 위해 메이크업 아티스트를 데려왔으며 포장 내부에는 한국 고위 인사가 술을 마실 때 구분하는 스크린 조각이 표시되어 있다고 설명했습니다. 당신은 그것을 사랑해야합니다. Three Societies의 직원들은 제품에 대한 세금 및 증류 과정과 관련된 기타 비용을 줄이기 위해 경쟁을 수용하고 있습니다. 삼성과 롯데는 이미 한국에 위스키 증류 공장 건설을 시작했습니다.
한국 최초의 싱글몰트 기원 위스키는 단순한 음료 그 이상입니다. 그것은 혁신의 힘과 우수성 추구에 대한 증거입니다. 한국 위스키 르네상스의 탄생을 목격하고 이제 막 펼쳐지기 시작한 이야기의 일부가 될 수 있는 기회입니다. Three Societies의 승무원은 이미 Ki One Whisky Batch 5와 6을 플레이 중이므로 이 공간을 주시하십시오. 그러니 잔을 들고 높이 들어 한 번에 한 모금씩 위스키 풍경을 재정의하는 정신인 Ki One Single Malt Whisky를 위해 건배합시다. 건배!