Indonesian Oxtail Soup
My Mum was visiting once, and we took off travelling Indonesia for a couple of nights. Living in Singapore that means a wee ferry ride of 40 minutes, and a car ride for about the same as we decided not the usual resorts of Bintan and Batam for this trip. Whilst there we had this incredible Indonesian Oxtail Soup. This is my recipe in honour of that amazing dish.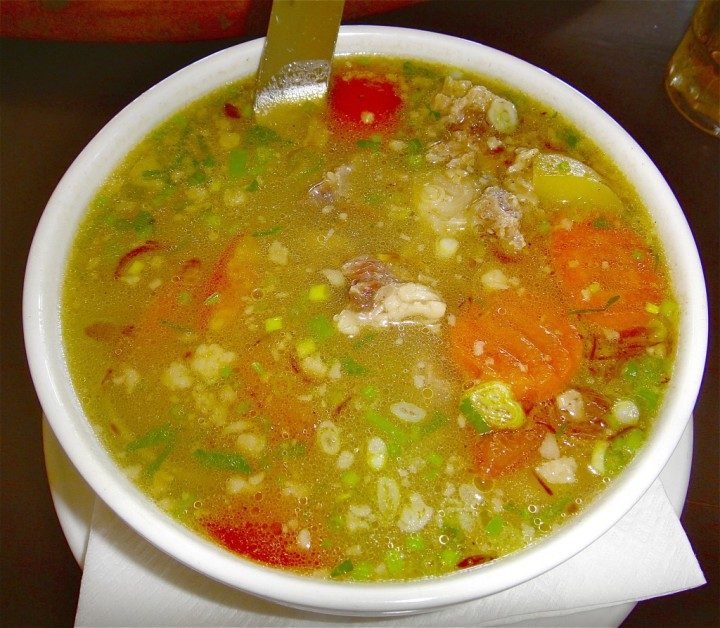 We went to Bintan Island for this trip with Mum, and ended up staying at a little, "slightly tired", but really funky resort about an hour drive from Bintan ferry terminal. Despite it needing a lick of paint, and a little $ investment here and there, it was beautiful. Right on the East Coast of Bintan, literally right on the beach. It had jetty's poking out into the sea, dotted with little restaurants and massage rooms. Of course, we explored the restaurant on the first day for lunch and found the Indonesian Oxtail Soup.
There we sat, with beautiful views, a lovely sea breeze, a cold beverage in hand, chatting as only families can chat, awaiting our food. Yes, we were hungry this day. My lunch was the Indonesian Oxtail Soup. This was indeed a winner. This could have been served at my Nan or Mum's dining room table back in England and would not have looked out of place. It's sort of Asian comfort food. Bloody good comfort food at that.
Off we go with my version of that experience Indonesian Oxtail Soup. There is no need for fancy julienning, and all that nonsense people – this is supposed to be a hearty, rustic, country-style soup. You will need;
2kg of oxtail or beef tail;
3 tablespoons dark soy sauce;
4-5 cleaned and sliced medium-sized carrots;
3-4 small white potatoes, simply sliced half;
A cup of barley pearls;
2 cinnamon sticks;
4-6 whole cloves;
A knob of butter;
2 roughly chopped chili;
2 finely chopped garlic cloves;
3 litres of beef stock – I added another beef stock cube to really get the beef flavour going; and
4 finely chopped green tops of Spring onions for garnishing the soup on serving.
Ready to go for your Indonesian Oxtail Soup? Just follow the below;
Marinade the oxtails in the soy sauce and set aside;
In a big soup pot place all the ingredients, excluding the oxtail and the spring onion tops;
Bring to boil, and then drop to a simmer;
Add the oxtails, including the soy sauce;
You are nearly finished now, as all you have to do is let this simmer away until all the vegetables and the oxtail is cooked and soft, which should take two hours or so slow cooking;
Season with a little sea salt and cracked black pepper to your preference; and
You are done!
Serve in bowls, and then simply sprinkle the green tops of the Spring onion over the top. Ahhhhh Indonesian memories are flooding back. Come on Mum get over soon and we'll go again and have some more Indonesian Oxtail Soup together. And folks if you go to Indonesia or make my version above, simply – ENJOY!!!