Recipes using Food Stacker
I have been looking for these things forever in Singapore, going to Totts and other cooking suppliers. Then I have 5-minutes on Amazon, they were ordered, shipped and 3 days later my very own Curtis Stone Food Stackers were part of my culinary toolkit. Nice.
A stainless steel set of four food rings in different sizes with a little push down plunger thing to compact the food inside the rings to keep the stacker shape. Just heavenly.
So what are Food Stackers? They are stainless steel food molds for presentation and plating basically. Come on, you've been to restaurants where your food comes in a stack of layered food, with different textures and colours. Did you ever wonder how they do it? ]
Well, it is with Food Stackers, aka Stainless Steel Rings for Cooking, aka food moulds, aka steel round rings.
See what I mean? These are not easy to search online and find. But today I got mine and today I had some initial fun with a few food stackers recipes which I'll share with you below. 
Frequently Asked Questions about Food Stackers answered by ISLIFEARECIPE-dia
It's quite funny, but we have seen a lot of questions about food stacking rings Singapore. So it is time to answer some of the common ones for you.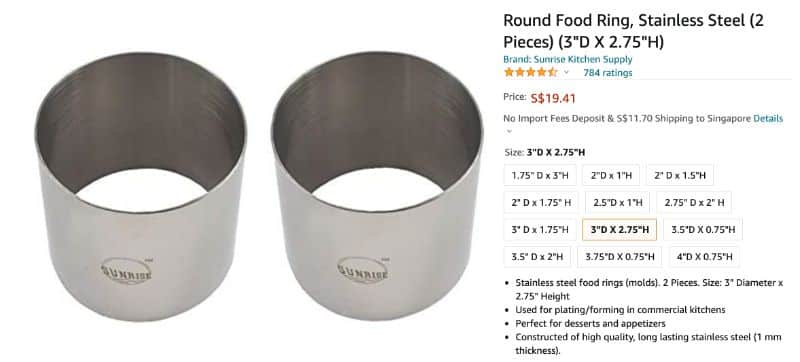 Let's have a look at some of our 1st recipes after we purchased our Food Stackers
Apologies upfront for the poor quality of the photos – not quite sure what happened this day with the camera.
And here are some additional recipes of late that we have been creating using our Food Stackers, now with much more confidence, finesse and flair I'd say
So what do you think my friends? I think these stainless steel food stackers are just so cool. It was so much fun to make these dishes, and I really do think the outcome is so impressive.
ENJOY!!!
Connect with Us on Social Media