The Culinary Institute of America, Singapore
The Culinary Institute of America has been in Singapore helping budding Chefs since 2007 with thanks to the team at the Economic Development Board who had the foresight to realise Singapore needed to grow its culinary talent locally if they wanted to attract the top tier restaurants and Chefs to our sunny shores! The Culinary Institute of America are clearly visionary themselves with an incredible history which you can read here or alternatively Learn about The Culinary Institute of America's Culinary Academy by watching this video below. 
Fine Dining at Temasek Poly
The Culinary Institute of America teamed up with the Singapore Institute of Technology (SIT) so that students may get a Bachelor of Professional Studies (BPS) at culinary arts management in a 30,000-square-foot building on the Temasek Polytechnic campus.
This is not your run of the mill cooking school in Singapore, The Culinary Institute of America is by far the best culinary school in Singapore.
I had been to The Culinary Institute of America at Temasek Polytechnic prior to Covid for a lunch with a friend on a couple of occasions but recently I had moved to the area and thought it opportunistic that they had reopened at the same time. What I did not realise was just how close I was to their campus, just see the blue roof from my apartment (it's ok I have moved recently so don't try to stalk me!)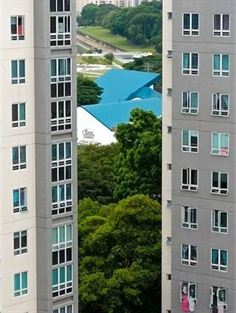 When I tried to book the China event at Cuisines of Asia it was completely full. I reached out to Doreen who is the main contact for reservations and low and behold a single slot turned up for that week and I was invited in (the blog helped). What I did not expect was a red-carpet treatment (a little embarrassing if I am honest!).
I was met by Eve Felder the Managing Director of The Culinary Institute of America Singapore and was given a tour of the facility and an in-depth background of the founding of The Culinary Institute of America from way back when (see history link above where there is lots of great information on that stuff).
I really wasn't prepared for this and did not take any notes unfortunately but one thing that stood out was the limited number of placements in the cohort for this course. The course was split into two area, the main grouping was Culinary, and the second group was focused on Bakery, the latter being a more recently added into the curriculum. From memory the Culinary side has over 40 places and the baking side over 20 and you need to be good to get through the interview process.
The Culinary Institute of America – Pastry & Bakery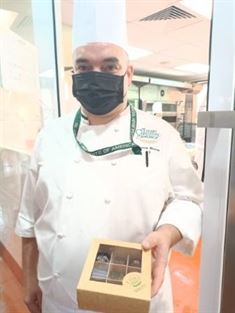 I met with Chef Saverio Busato who is the instructor for pastry and bakery who kindly gave me a box of chocolates produced by the students that were just incredible, the family devoured them that night! Thank you Chef!
Each student will go on to get a highly sought after baking diploma in Singapore.
There is now an area where you can drop in for Coffee and Pastry and try the students baking! Yes there will be Bread as well! The entrance is at Temasek Poly West G! So all those people in Tampines West get down and support them and get great pastries and bread!
Take a look at the cakes they produce, complete works of art and these are not easy in a climate like Singapore where humidity is a huge problem. The temperature-controlled room we entered went up by a couple of degrees with just two of us in the room.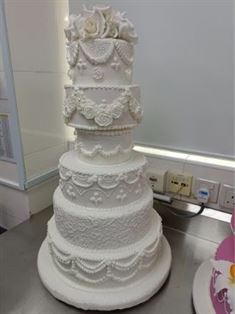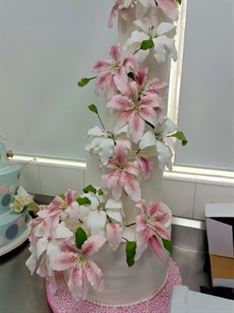 Chef Michael Sanson and Chef Elaine Koh took separate groups and presented their own versions of the set menu. Both Chefs have a pedigree of history between them. In order to work as a Chef teaching the new students at the CIA you need to have been a former student and worked out in the field for 8 years or more. 
Chef Michael studied at CIA back in 1996 so has a much longer history than Chef Elaine, just take a look at his professional experience: Head Chef, Belcancao Restaurant, Four Seasons Hotel, Macau, China. Chef d'Cuisine, Capers Restaurant, Four Seasons—Regent Hotel, Singapore. Head Banquet Chef/Garde Manger Chef, Four Seasons Resort, Great Exuma, Bahamas. Sous Chef, Crescent Moon Restaurant, Four Seasons Resort, Scottsdale, AZ. Junior Sous Chef, Quadrato Restaurant, Four Seasons Hotel Canary Wharf, London, England. Chef d'Partie, Lanes Restaurant, Four Seasons Hotel Park Lane, London. Commis Chef, Four Seasons Hotel, Dallas, TX.
Chef Elaine is from the class of 2013 at CIA Singapore and was previously working as Junior Sous Chef at Odette in Singapore which carries 3 Michelin Stars! Here are some other places Chef Elaine has gained experience: Sous Chef, La Dame de Pic, Raffles Singapore; The Dempsey Cookhouse & Bar by Jean-Georges Vongerichten, Singapore. Chef de Partie, Jaan, Singapore. Commis Cook, Pollen, Singapore.
This really showed me the level to which the CIA prepares its students for the outside world!
The Culinary students were split into two teams that both showcase the same dishes but with a different Chef at the helm the outcomes are so different as you will see shortly.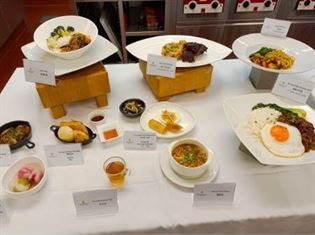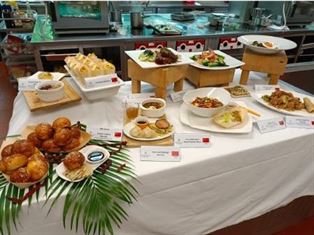 The Culinary Institute of America opens up its doors to the public for lunches within the campus and then dinner at the CIA Top Table, there are limited slots so get on the invite list and be quick. The purpose is for the students to present their food and this way the food does not go to waste.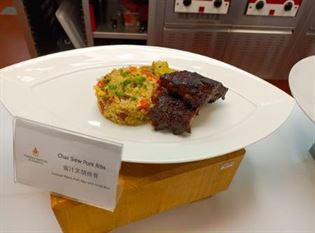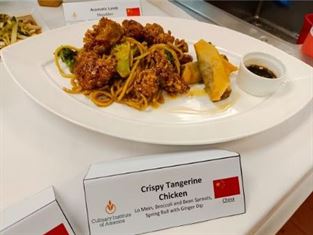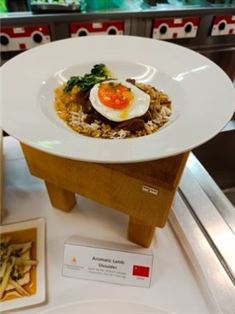 The price for lunch and dinner is extremely reasonable but I won't add that here as Doreen will be inundated with new applicants and I won't be able to get a table!
CIA have recently added Chope see button below for bookings!
Today's set menu was based on China but as you can see from the selection in the green link above, they are taught to cover the entire region and that's not the end of it. Mid term they get to fly to the US to study and learn even more food types and pairings there!
Unlike Oliver I was not left asking for more! Eve Felder insisted I try one set from each Chef and their team! Wow, a mountain of food was delivered to my table where I was sitting alone! I can only image what everyone sitting at the other tables was thinking, such a greedy Ang Mo!
The first image here was basically doubled and was so big I could not get an image of the entire table full of food!
As you can see from a number of the images above they were in pairs, I kept the Chef's dishes one in front of the other to ensure I knew which ones belonged to which Chef.
As you can see from the last image above, they even included an accompanying tea, both very difference in terms of fragrance and taste, having a sweet tooth I went with Chef Michael's tea!
Chef Michael and Chef Elaine both presented two very different styles across the same menu.
I really liked Chef Michael's hot and sour soup as its was more peppery with more vinegar, that's a personal preference of mine!
For the dessert Chef Elaine did an incredible Tang Yuan with black sesame that despite being full I wolfed down the lot!
So besides each of the Chef's teams show casing their skills each team clearly had a standout dish for me but overall Chef Elaine took it for me, apologies Chef Michael but a few of the dishes Chef Elaine's team served up took me by surprise!
Now Serving Contemporary A-la-carte Lunch and Dinner in CIA Top Table from 25 Aug to 1 Oct 2022
About The Culinary Institute of America Program
The Culinary Institute of America, Singapore is the ideal place to round out your education and enrich your knowledge of the food world. Since 1946, the CIA has set the standard for education excellence in the culinary arts. Here you'll develop a broad base of knowledge and a confidence in your culinary skills, preparing you to move successfully into the career that's absolutely right for you.
The CIA degree program in Singapore is specifically for diploma holders from one of the five Singapore-based polytechnic institutions. If you are currently enrolled in or graduated from one of these institutions, you can apply online at the Singapore Institute of Technology website.
Thanks to the college's historic partnership with the Singapore Institute of Technology, the CIA is offering its renowned degree program in Asia. Students have the opportunity to earn a Bachelor of Business Administration (BBA) in Food Business Management from the world's premier culinary college, in the state-of-the-art facilities on the campus of Temasek Polytechnic.
The objectives for the bachelor's degree program at the CIA Singapore are ambitious—to build essential knowledge and skills, foster the ability to solve problems and think creatively, and prepare our students for future leadership in the foodservice and hospitality industry.
The CIA has had a teaching presence in Singapore since 2007 when it partnered with Temasek Polytechnic to co-teach the Diploma in Culinary & Catering Management program.
The CIA Singapore, Temasek Polytechnic Address &Telephone Number
21 Tampines Avenue 1, Block 31 (West Gate/Swimming Complex)
Singapore 529757
Phone: +65 6592 1189
Alt. Phone: +65 6592 1136
Connect with Us on Social Media