What a lovely BBQ we had this week at Simon and Dani's – thanks so very much my darlins.
Now you can look at the other blog for more on that – this as you know is food food food.
So here are some snaps of the bloody amazing food on offer at the party – absolutely spanking in fact!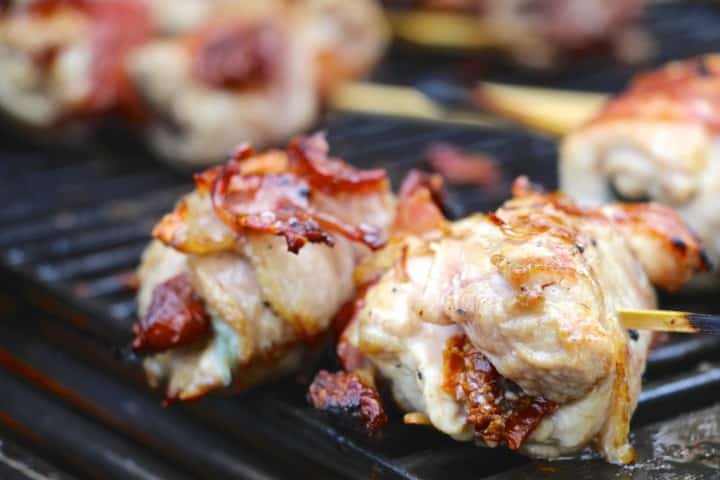 A quick boil of some asparagus, leaving it a little on the crunchy side.
Wrap two sprigs with some streaky bacon, repeat and skewer as above.
Drizzle a little oil, salt and pepper and bang em on the grill. If you see above Simon has laid them on the griddle so the brown lines form across the bacon. Mt Davies like a true pro Sir!!!
Cut a chicken breast in half across the flat part, so you end up with two breasts. Quick em a quick bash with a cooking mallet.
Little salt and pepper. Add in some sun dried tomatoes at one end of the breast. Add to that a couple of sage leaves.
Roll the breast up with the stuffing inside. Wrap some cured ham over the breast, repeat and again skewer the two as above.
A little more oil and salt and pepper sprinkle and again bash em on the grill. Bloody delicious.
I kid you not this is just my plate. Loaded with just wonderful grub. Everyone prepared a dish, all so different but all tasting out of this world.
You should be able to see my Olive egg fried rice to the left.
In the middle is plain white rice with basic pesto stirred in – simple yes, but flipping heck…
The salad to the right I have to say was up there for me, I had two goes at this.
Simply toss the following in a bowl and serve – baby spinach leaves, cubed beetroot, toasted pine nuts, and some broken up goat's cheese.
BOOM!!!
What a lunch!!!