Deen Muslim Food, LTN Foodcourt Siglap
Just when I was thinking, am I reaching that point of saturation by eating pretty much every weekend at the same foodcourt. Am I getting too used to having the same food, the same choices, despite whizzing up and down Siglap for choice? What to do? Actually do nothing as it came to us, in the shape of Deen Muslim Food, LTN Foodcourt Siglap. He has no sign board at the moment, but is located where the Western food stall was, next to the Pizza food stall. I tell you what this made my weekend as I now have variety again, and I now have frequent access to one of my favourite food styles – bring on the rotis, murtabaks, bryani's – "heaven, I'm in heaven……"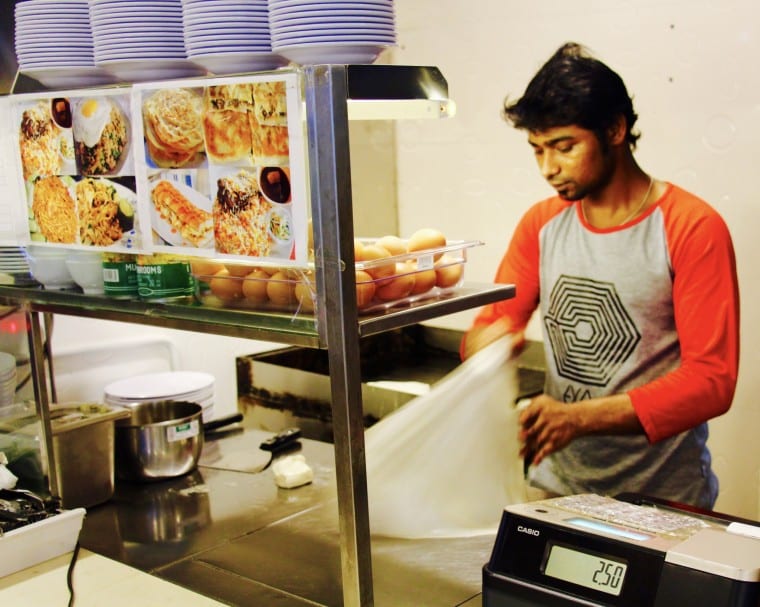 Come on check those photos, you want to start eating them right? Well we sure did, and in total this lunch we had;
Cheese roti prata;
Onion roti prata;
Mushroom, onion and cheese roti prata;
Cheese and onion roti prata;
Mutton murtabak; and
About 5 gallons of curry dipping sauce.
All for the bargain price of $19, accompanied by $7.50 icy cold beers. I am in love!!! What you are not getting from the pictures is the texture and the flavours. Crispy outside with chewy inside. Sweet onions, curried mutton and a dipping sauce to die for with, what I think could be star anise and cinnamon – don't quote me on that though.
As usual family Kennett went completely overboard with the ordering, but 90% got consumed, with only one little 'doggy-bag' of two pieces of murtabak being taken home for breakfast tomorrow. What a find, a gem in our already wonderful local foodcourt. Thanks for joining us Deen Muslim Food, LTN Foodcourt Siglap. You are a more than welcome addition. Two times we had your fare this weekend, and that is a good sign my friend. We'll be seeing more of you, and hopefully from this blog so will others be dragged in from the neighbourhood. ENJOY!!!
Is Life a Recipe YouTube Channel
(Visited 79 times, 1 visits today)