Secret Square Café & Bistro is located right opposite Katong i12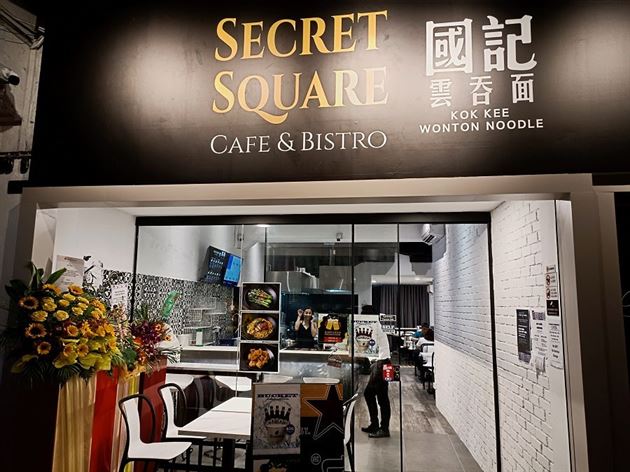 Two becomes One (thanks Baby Spice)
The Secret Square Café has its own menu aptly called the SS Menu (see below) and the KK Menu. These are derived from the fact that Secret Café has its own speciality dishes such as the Curry chicken prepared in the exclusive manner of Secret Square and served with rice, an egg, and the whole leg for $10.80.
Secret Square Cafe also offers Kok Kee Wonton Noodles, which was established in 1985 by Hong Choy Ing and her older sister, Hong Choy Chan, is renowned for its springy noodles combined with a special sauce.
Kok Kee Wonton Noodles started out in Lavender Food Square but is now a concept brand owned by Jumbo Seafood. Besides serving up wonton needs at Secret Café you can get Kok Kee Wonton Noodles at Ang Mo Kio, Bedok North, Bras Basah, Foch Road, Jurong Point, Marina Bay Sands, Punggol & Toa Payoh HDB Hub.
Check them out https://kokkeewontonnoodle.com.sg/
Secret Square Cafe & Bistro Menus
Secret Square Cafe & Bistro Soft Launch!
With under a week in operations and tweaking things behind the scenes before going live the Secret Square already had some late-night patrons inside as I walked past on my way home from a night out in Katong. So, imagine their surprise when in I walk phone in hand asking to take some pictures, so with some minor hair adjustments they were ready for the snapshot!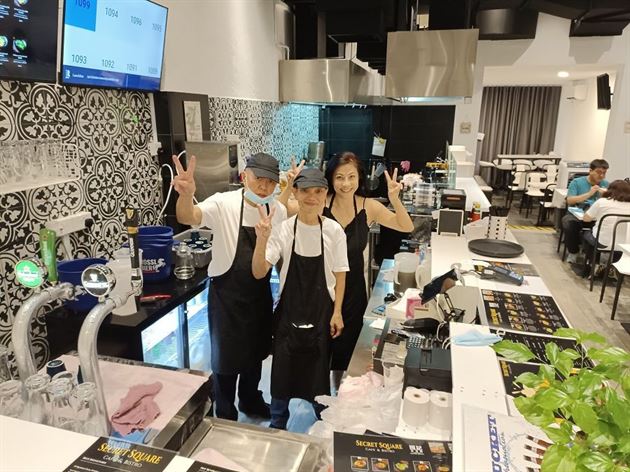 Secret Square Café & Bistro – What do they say about themselves
Secret Square Cafe has been nestled in the heart of the Katong area since 2022. This cosy establishment highlights our passion for market-fresh ingredients, honest cooking, and an enjoyable atmosphere. Satisfy your cravings with our selection of local favourite dishes and Quench your thirst with our array of cold beers.
With some of the most delicious combinations of ingredients, there is something for everyone to enjoy. Loved by locals and traveling foodies alike, now is the perfect time for you to join us today at Secret Square.
Happy Hour at Secret Square Cafe & Bistro
Aside from the great looking food options (no I did not try them on this occasion, had already eaten but I promise I will return!).
They offer beers on tap! Some good deals to be had here and with their location opposite Katong i12 and next to Alibar I am sure this is a location, location, location opportunity for many potential patrons! Look at the Heineken & Guinness deals below! There are more on their website in terms of bucket deals to look out for!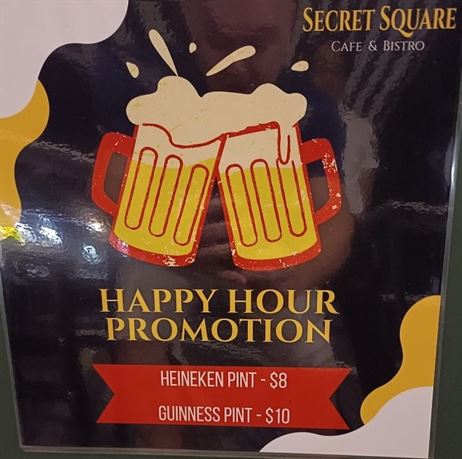 Their website claims to offer Deep Fried Specialty Finger Food to be enjoyed with a nice glass of cold beer! You had me at Hello!
The Deep-Fried Platter consisting of Onion Rings, Luncheon Meat, French Fries at \$11.80 plus the Fried Chicken Mid-Wings (8pcs) at \$13.80 is enough to make any heart flutter and to guzzle that down with an \$8 pint of Heineken, what's not to love!
But what really got my attention was the Ngoh Hiang Platters and ala carte options available, a veritable food fest! The platter choices are basically 5, 6 and 7, which is the number of items to choose from. From the ala caret but they have already been selected for you, so its up to you how you want to roll on that but as an example the Ngoh Hiang Platter of 7 consists of Ngoh Hiang Roll, Prawn Cracker, Fish Balls, Sotong You Tiao, Flat Ngoh Hiang, Guan Chang, Gan Er.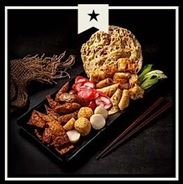 Secret Square Café & Bistro Conclusion
Whilst we did not get a chance to eat or drink here, we do like to give our new neighbours a head start and wish them all the very best for their business in Katong! We will of course come back to try out their fine-looking local delights as soon as we possibly can!
Secret Scquare Cafe Address & Telephone Number
Connect with Us on Social Media