I have not been to this restaurant for over 15 years, minimum.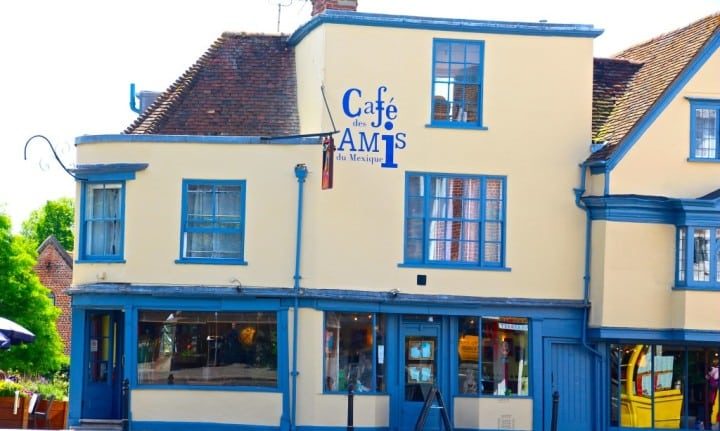 We happened to be in UK visiting for my brother's wedding, hired a car, came to Canterbury in Kent and parked opposite. In my head was planted the seed – lunch must be had at Cafe Des Amis, the Mexican at The Westgate Towers. I used to come here with Mum when the Summer Season had finished at Bembom Brother's and we had finished selling donuts – the staff-do in effect. This was a big treat then. It became a favourite.
I used to go there with gangs of friends. We loved it. Great food, great atmosphere and prices that won't blow you away.
Some 15 years later, not one thing has changed. Incredible. Decor is the same, chair and tables the same, floor the same, layout the same, the same art for sale on the walls etc. I would even go so far as to say the menu is the same but then I noticed a few vagaries that I will touch on.
So every time we came I would always order the sizzling fajita chicken plate. ALWAYS. Like a religion. Guess what was in front and centre of the mind. Yep I am gonna have a flipping chicken sizzler fajita. Yummy. BUT then I saw a new fajita sizzling platter choice – Yacatan Pork Belly. Ding Ding Ding, stop the bus. Pork belly fajitas, please explain more; Pork bellies with orange, garlic and habanero glaze, and with Chimayo spiced crackling. Decision made, decision done. I'll have one of those please, and Ollie you are sharing with me.
Below is the guacamole and salsa picante (very hot) – both made fresh every day, and served with nachos fried on premise for freshness. Seriously a very good nachos. You can really taste the freshness. No chain style frozen crap here. The salsa picante is made of many different chills and has a seriously smoky bite, and then slow burn effect, and when that slow burn hits the top of the curve BOOM – but wow simply delicious.
Nachos below with a delicious tomato, onion and parsley salsa, some sour cream, some jalapeños and quality cheddar cheese melted atop. Dip these in to the picante and guacamole and you will be a very happy person indeed.
Oh yeah baby.
Here is the pork belly and crackling fajita. Have you ever seen anything so wonderful in a Mexican.
No idea of the authenticity, but this was truly fantastic mixed with refried beans, sour cream, cheese, jalapeño, tomato, onion – all wrapped in a nice warm and soft flour tortilla. Ding Don merrily on high…
So if in UK, if in Canterbury, if near The Westgate, if you are hungry, or in fact even if you are not. Get yourself in here, get yourself an icy cold Sol.
Enjoy!!!
Nicely done Cafe Des Amis!!! Stellar!!!