Amazing Nachos
Check out my recipe for The Best Beef Chilli, that is the perfect bed below for these Amazing Nachos. You want some Chilli dipping action? Well then, create these at the same time and dip them in. This is Chilli dipping heaven folks. Or if you'd prefer, simply bake these off, toss them in a bowl, crack a few beers and get the TV on – perfect alone, and perfect as bedfellow with something else.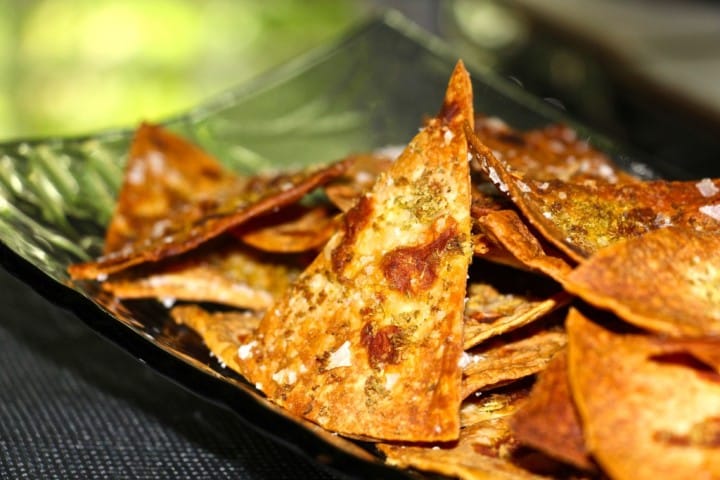 I have tried to make my recipes very easy, but delicious and looking pretty damn good too. So here come my Amazing Nachos, I really hope you do give a go as it really could not be any simpler with such amazing outcomes. To make 48 rather large nachos, you will need;
6 flour tortillas, I got garlic flavoured ones;
A bottle of smoky Tabasco sauce or equivalent;
6 limes;
Cracked black pepper and sea salt; and
Lay out two baking trays, and line with baking paper to avoid any sticking.
Take the 6 tortillas and stack them up as neatly as you can. I'll use a clock face for this next piece of preparation. With a large sharp knife cut from 12-6, then 9-3, then cut each quarter in to two triangles. There you have your nachos as 48 individual pieces – Phase I Amazing Nachos.
Lay all 48 of these on the baking trays; and;
From a height drizzle some of the smoky hot sauce on to each nacho;
With a grater take off the zest of the six limes )careful you don't go too 'deep' though as the white pith is bitter), and sprinkle some on each nacho;
Drizzle some good olive oil all over; and
A sprinkle of sea salt and cracked black pepper.
On with your oven to 250 degrees, and pop them in for circa 10-15 minutes. Basically you are done when they are crispy and have browned. Amazing Nachos straight out of the oven, on a plate and serve with a beer or the Beef Chili. Flipping lovely these are!!!
Come on how simple is that?
Amazing Nachos
ready to eat in what, 5 minutes? Too quick, well OK then how about messing about a bit. Add some olives, maybe some cheese, potentially even some paprika. The world is your oyster (now there's a thought…) – ENJOY!!!