Sorry Edward – completely stolen from you, but as I know not how you make yours I suppose I can claim this as my own!!!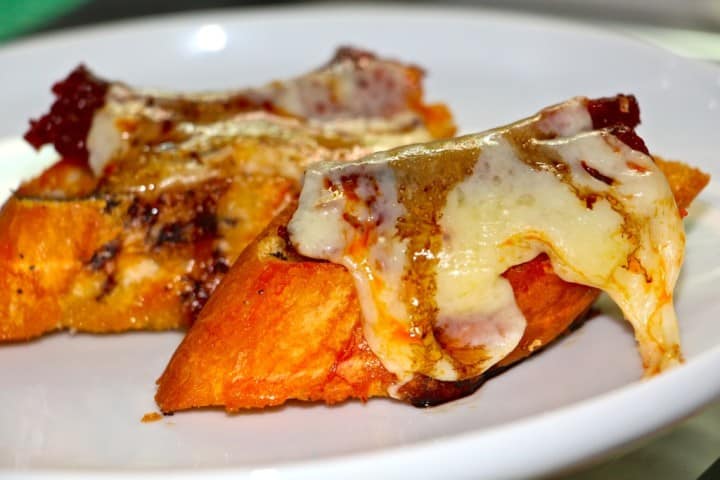 Crostine – Spanish style.
This made about 20 crostine – easily enough got a hand out when having a party, a starter, or enough for Ollie who had 4 in the blink of an eye.
A few phases to this one but to be honest pretty damn simple.
Phase I – the reduction;
Small pan on the heat and add in about 1x inch of balsamic, bring to the boil, reduce to simmer and let it reduce by about half. That's is your sauce – EASY!!!
Phase II – the bread
Cut the loaf on an angle in to 1x inch thick slices. Looks fancy and gives you a bigger surface for the toppings.
Get a baking tray and cover with foil (saves the washing up) and lay the slices on it.
Drizzle with olive oil, and on each slice give a good pinch of salt and pepper.
Bang this in pre-heated oven of 250 and bake until golden brown.
Once golden brown flip them over and repeat the oil, salt and pepper and back in the oven again until golden brown. Take them out and prepare for topping time.
Phase III – the topping
Chorizo sausage – I used Iberico, yep pushing the boat out
A block of cheese sliced finely – I used Cheddar, quite an aged one as you need some 'cut' through the smoky paprika of the sausage
I cut the sausage in half lengthways and then again – in effect quartering it. Then cut it in to 3 inch sections.
Cut the cheese in to thin slices for melting.
Phase IV – finished thanks
On to each piece of bread lay 1 or 2 pieces if sausage and then cover with some of the thinly sliced cheese.
Once done for all the pieces of bread back in the oven she goes until the cheeses has melted and starts to brown.
Out they come, place on a plate and drizzle with a little of your balsamic reduction.
Serve and stand back – easy peasy, but absolutely delicious!!!