Mussels in White Wine Recipe French-style with Tarragon
Blink and you'll miss this one folk. This is a really fast, and really simple recipe, so you will need to keep up. This goes back to Christmas Day 2014 and dinner for my wifey on this special day. Not bad to get French-style tarragon & white wine mussels eh? Well, here is that Mussels in White Wine Recipe.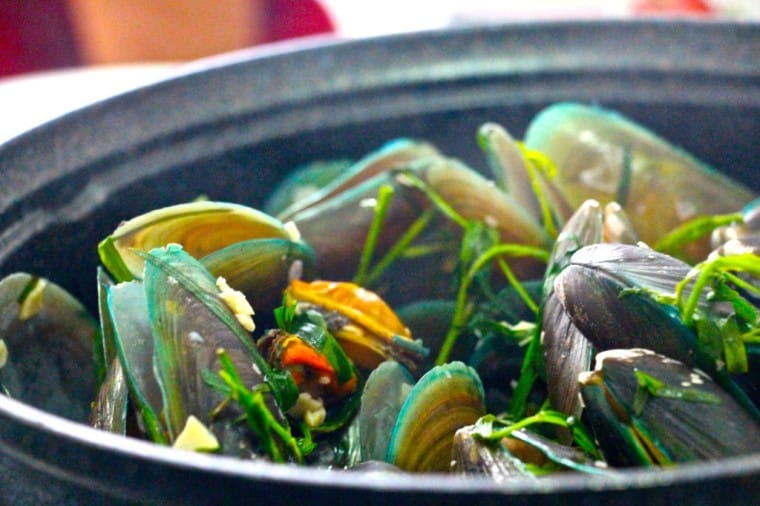 This easily fed two for a nice hearty lunch. Serve this with some crusty bread, so you can soak up the juices in the bottom, or just use the shells as quasi-spoons to scoop up little mouthfuls of the liquor. For the Mussels in White Wine Recipe for two you will need the following Ingredients:
2 packets of fresh Green-lip mussels;
3 packets of roughly ripped French Tarragon;
1 tablespoon of roughly chopped garlic, and
2 cups of white wine (I used a Chardonnay);
(Now you could also add a roughly chopped chilli padi in here if you wanted to spice it up).
Instructions:
Take a deep pan and get that on the heat, pour in the wine and mussels and place the lid on;
Keep shaking the mussels with the lid on to soak them all in the wine and to get the steam cooking them through;
Gradually the shells will also start to open up;
In with the garlic and the tarragon (and chilli padi if chosen) and let the wine bubble and boil and steam – keep stirring or swilling it around for another few minutes;
In effect, you are then done. You'll know when this is ready because you won't smell the strong smell of alcohol or wine anymore.
Served straight from the pan, just giving the girls another clean bowl to throw those shells. Rough carve some crusty bread to accompany it and maybe a glass or two of the remaining Chardonnay of course. Told you this was quick hey!!! My Mussels in White Wine Recipe!
ENJOY!!!
Recipes for French Mussels: A Taste of the Mediterranean
Around the globe, mussels are a favorite seafood dish, but the French are particularly fond of these bivalves. French cuisine offers a broad variety of ways to prepare and serve mussels, from traditional moules marinières to more complex dishes. The most well-known French mussel recipes will be shared now, along with the fascinating history and culture of these delectable shellfish.
French Mussels: Their Heritage and Culture
Especially in coastal areas, mussels have long been a mainstay of French food. Mussels were a staple of fishermen's diets and were deemed "poor man's food" during the Middle Ages. But by the 17th century, mussels had gained popularity as a delicacy, and French chefs had created a number of recipes to highlight their distinctive taste and texture.
Mussels are still a popular ingredient in French cooking today, and many coastal towns host annual festivals to mark the arrival of these delectable bivalves. In reality, the "Mussel King" competition is held in the western French town of L'Aiguillon-sur-Mer, and the winner is determined by how many mussels they can eat in one sitting.
French Mussels Dishes from the Past
The most well-known French mussel recipe is probably moules marinières. White wine, garlic, onions, parsley, and butter are all added to a broth in which the mussels are steamed. To sop up the flavorful broth, the meal is usually served with fries or a baguette.
Moules à la Crème
This dish is identical to moules marinières, but the broth is given a richer, creamier flavor by the addition of cream.
Moules Provençales
The mussels are prepared in a tomato-based sauce with garlic, onions, and spices like thyme and oregano in this dish called
Moules Farcies
This is a more complex recipe in which the mussels are baked in the oven after being stuffed with a mixture of breadcrumbs, garlic, parsley, and butter.
Moules Gratinees
This recipe for baked mussels tops the mussels with a combination of breadcrumbs, garlic, and butter before baking them until they are golden brown.
Guidelines for Cooking Mussels
It's crucial to select live, fresh mussels that are firmly closed when preparing mussels. The mussels should be washed in cold water and any beards, or fibrous strands that stick out from the shells, should be picked out before cooking. Additionally, it's wise to throw away any mussels that don't open while being cooked because they might not be suitable for consumption.
Finally, French mussels recipes are a tasty and flavorful way to appreciate this cherished seafood delicacy. There is undoubtedly a French mussel recipe out there that will satisfy your palate, whether you favor traditional moules marinières or more complex dishes like moules farcies. So why not give something new a try and learn more about the fascinating culture and history of these delectable bivalves? Bon Appetit!!! 
Connect with Us on Social Media