We take you on the journey of the Thai Beef Salad Recipe – Origins of this come from Thailand and the Laab series of salads, usually prepared with chicken, beef or pork. Blend that Thai experience together with a great recipe from Neil Perry, and you have a winner, a fusion kinda thing.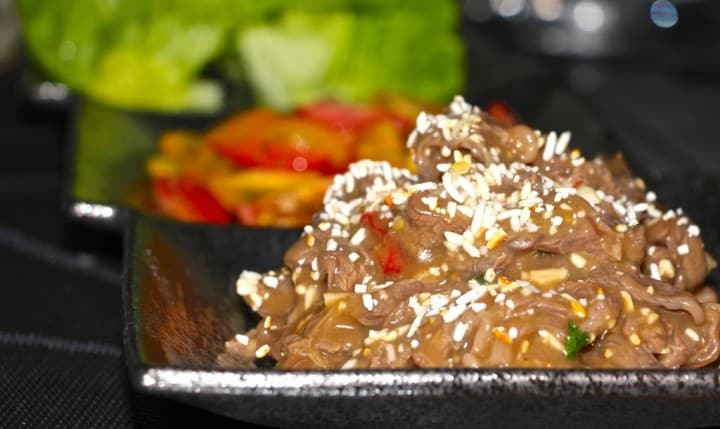 I like this one as the flavour burst is the dressing – or the Nam Jin. If you like to have it hotter simply up the ante on the chili. If you like it saltier add more fish sauce. If you like it more sour simply add more lemon. Yours to experiment.
But as committed in the title of the recipe, this one is hot and spicy and will indeed burn your bum a few hours later – well worth it in my eyes. This is a winner.
Easily enough here for my gang of 5. Best done in 3 phases to make it easier to follow.
Thai beef Salad Recipe
Phase I – the marinade
2-3 tablespoons or oyster sauce
1-2 tablespoons of fish sauce
1 tablespoon of grated palm sugar (or any sugar if you can't get that)
1 tablespoon of olive oil
300g Shabu Shabu sliced beef
In to a bowl add the marinade and beef. I used already sliced rib eye usually for Steamboat (Shabu Shabu), or simply buy a couple of steaks and thinly slice them up to get the same outcome. Try to leave the marinade for a couple of hours or so to allow it to soak in to the meat.
Phase II – the dressing
1 lemongrass stalk, with the outer leaves removed and chopped very finely
1 long Jalapeño chili finely sliced
2-3 chili padi finely chopped (these are your bum burners!!!)
5 garlic cloves finely chopped
1 tablespoon of sugar
2 tablespoons of fish sauce
3 tablespoons of lime juice
All in to another bowl and stir with a spoon to ensure the sugar is dissolved. Set aside.
Phase III – here we go
1 cup of coriander chopped finely
3 red onions finely sliced
10 or so cherry tomatoes cut in to quarters
1 small butternut lettuce trimmed and cleaned
1/2 cup of rice that you simply toast in a dry pan until browning, out of the pan and then bash in pestle and mortar – you want crunchy NOT a powder
Pinch of salt and pepper
OK get your wok out, on the heat and add some oil in . Throw in the beef and onions and fry until cooked. Off the heat and add in the coriander, stirring through. This will cause it to wilt. That's fine, as it is the desired outcome.
Add in some of the dressing, and if needed a little dissolved corn starch in cold water to thicken the gravy. Add in some of the crunchy roasted rice and stir through again.
I plated up on a serving dish that has three separate serving areas. It went like this;
Plate 1; Lettuce with a drizzle of the remaining dressing,
Plate 2; Tomatoes, sprinkled with a little salt & pepper,
Plate 3; The beef. Atop the beef I drizzled a little more of the dressing and a sprinkle of the roasted rice.
To consume, take a lettuce leaf, place some tomato on that and then some of the beef. Roll it up and stick it in your gob.
Delicious!!! Sour, spicy, salty. Crack an icy beer for a match made in heaven.
Oh Yeah Baby!!!
If you enjoyed this Thai Beef Salad Recipe Post and want to keep up with the channel be sure to Subscribe: The Angmo Cooking Show
Connect with me on Socials:
➤Facebook: https://www.facebook.com/islifearecipe
➤Twitter: https://twitter.com/Islifearecipe
➤Instagram: https://www.instagram.com/islifearecipe/
➤Tumblr: https://www.tumblr.com/blog/view/islifearecipe
➤Facebook: https://www.facebook.com/chillaxbbq
You'll see many many other recipes on the channel and heaps of restaurant and hawker reviews too.
(Visited 46 times, 1 visits today)