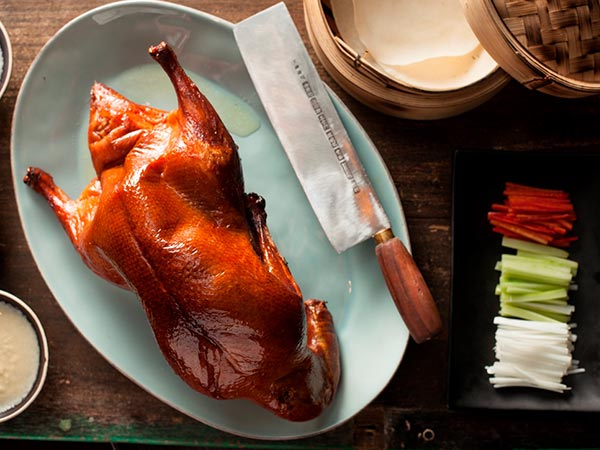 A Taste of Authenticity: Mott 32 Singapore Delivers an Exquisite Chinese Culinary Journey
In the heart of Singapore's vibrant Marina Bay Sands, Mott 32 emerges as a culinary gem, offering an exceptional dining experience that seamlessly combines traditional Chinese recipes with a modern twist.
As I stepped into this elegant establishment, I found myself immersed in a world where East meets West, where the essence of Chinese culture intertwines with New York's industrial charm. Join me as we delve into the realm of Mott 32 Singapore, exploring its remarkable ambience, impeccable service, and, of course, the exquisite dishes that define this renowned restaurant.
Chinese Fine Dining Bar & Lounge Bars 
Mott 32 Singapore is an award-winning Chinese restaurant located in Marina Bay Sands, Singapore. It offers authentic Chinese cuisine and is known for its innovative cooking techniques. The restaurant brings the renowned Mott 32 dining experience to Singapore for the first time. The chefs at Mott 32 Singapore use modern techniques to create unique and flavourful dishes.
Mott 32 Singapore is situated at Galleria Level, The Shoppes, in Singapore. It has received positive reviews from customers, with a rating of 4.3 out of 5 on Facebook. The restaurant is part of the Mott 32 brand, which has several locations around the world, including Hong Kong, Vancouver, Bangkok, Dubai, Cebu, and Seoul.
A Fusion of Tradition and Innovation:
Mott 32 Singapore proudly presents a menu that pays homage to the rich heritage of Chinese cuisine while embracing the latest culinary techniques from around the world. Led by Executive Chef Lam Kwong Ming, a culinary maestro with over four decades of experience, the kitchen team expertly crafts dishes that are true works of art.
Signature Dishes That Delight:
At Mott 32 Singapore, one can expect a symphony of flavours that excite the palate and leave a lasting impression. Let us uncover some of the standout dishes that epitomize the culinary excellence at this esteemed establishment. 
Apple-Wood Roasted Peking Duck: The epitome of Mott 32's expertise, the Apple-Wood Roasted Peking Duck is a masterpiece of crispy skin and succulent meat. Each slice reveals a delightful combination of textures and flavours, leaving you craving for more. The meticulous preparation and presentation of this iconic dish truly showcase the artistry behind every plate. $128 (must pre-order 2 days in advance)

Barbecue Iberico Pork Glazed with Yellow Mountain Honey: Prepare your taste buds for a journey of indulgence with the Barbecue Iberico Pork Glazed with Yellow Mountain Honey. The succulent pork, marinated to perfection, is enhanced by the sweet yet delicate flavours of the honey glaze. This dish strikes a harmonious balance between tenderness and rich, smoky notes. $52

Iberico Pork with Soft Quail Egg and Black Truffle Siu Mai: Mott 32 Singapore takes dim sum to new heights with their Iberico Pork Siu Mai. This delicate dumpling is a treasure trove of flavours, featuring luscious Iberico pork, a velvety soft quail egg, and the luxurious aroma of black truffle. The combination of textures and the explosion of flavours in each bite make this dish an absolute delight. $10 (2 pcs)

Crispy Triple Cooked Wagyu Beef Short Rib: For meat enthusiasts, the Crispy Triple Cooked Wagyu Beef Short Rib is a must-try. Prepared with utmost precision, this dish features tender Wagyu beef that melts in your mouth, complemented by a tantalizingly crispy exterior. The bold flavours and exquisite texture of this creation highlight the culinary craftsmanship that sets Mott 32 apart. $98
Images c/o MOTT 32 Instagram account
A Culinary Journey Beyond the Plate:
Even while the wonderful food served at Mott 32 takes center stage, the whole quality of the dining experience is improved because to the restaurant's meticulous attention to detail. The incorporation of Eastern and Western elements into the design results in an ambiance that manages to be at once elegant and warm. The link between these two bustling cities is further strengthened by the seamless integration of features that are evocative of the flagship shop in Hong Kong and the abundant flora seen in Singapore.
In addition, the mixology program at Mott 32 ought to be highlighted specifically. Their inventive concoctions, which take their cues from Chinese tradition and the flavors of Asia, provide for the ideal match for the mouthwatering cuisine. The bar at Mott 32 guarantees that every taste is a trip of its own, with unique drinks ranging from inventive takes on traditional cocktails to classic cocktails with an Asian twist.
MOTT 32 Singapore Address & Telephone
Address: 
10 Bayfront Ave, B1 – 41 / 42, Singapore 018956