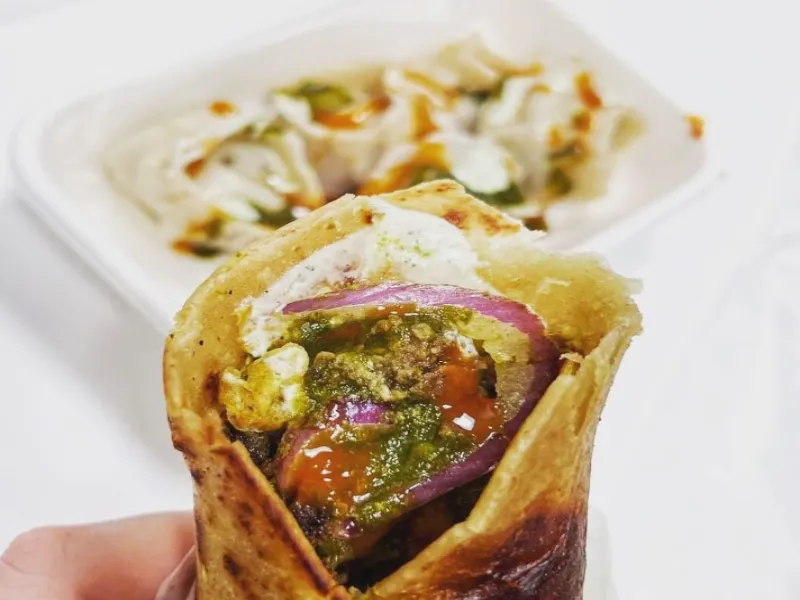 The origin of the Kathi Roll goes back to the British Raj in India, some 200 years ago. Legend has it that the British Sahibs used to love their Kebabs after a long hard day, but hated to get their hands dirty eating them. (Good thing too, because their hands usually smelled of sweat and horses!).

An enterprising cook in Calcutta saw the Sahibs eating their (somewhat dry!) Sandwiches for lunch, and hit upon the idea of presenting the kebabs wrapped inside a luscious layered prata. Thus was born the Kathi Kebab Roll, becoming an instant hit with the British Sahibs.

RollGaadi ("a vehicle to carry Rolls") now brings this all-time favourite dish for your enjoyment in Singapore. Available in a variety of Indian & Fusion flavours.

Also try our unique yogurt based cooling frappes full of healthy probiotics, in a variety of flavours. Or just grab our straight up probiotic beverages to keep your gut healthy & hungry for more Kathi Rolls!
Rollgaadi Katong is an Indian restaurant located at i12 Katong, Singapore. They specialize in authentic Kathi Kebab rolls, which are made from scratch every day. The restaurant takes pride in hand-making every kebab and hand-rolling every layered paratha to provide customers with an authentic and mouth-watering experience. Rollgaadi Katong offers a diverse menu of Kathi rolls, rice bowls, and other Indian street food options.
Customers can order from Rollgaadi Katong through various delivery platforms such as GrabFood, Foodpanda, and Deliveroo. The restaurant also provides the option for takeaway. They have received positive reviews from customers, with an average rating of 4.7 out of 5. Rollgaadi Katong has gained popularity for its delicious and high-quality Indian cuisine.
In addition to their location at i12 Katong, Rollgaadi has expanded to another location in Century Square, Tampines. This expansion showcases the growing popularity and success of the restaurant. The authentic flavors and handmade preparations have attracted customers from both near and far, making Rollgaadi a go-to destination for Kathi Kebab rolls in Singapore.
Address: 112 E Coast Rd, B1-41, Singapore 428802