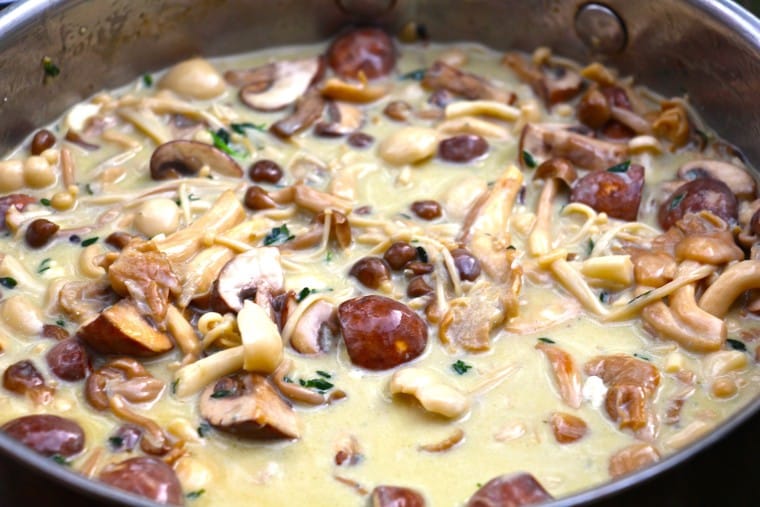 It was quite bizarre as our mates the Rutherfords had just got some blue cheese in from Finland, and Steve was talking to Pia about doing mushrooms in blue cheese – hey presto what was I shopping for at that exact time – yep mushrooms and blue cheese – how spooky is that.
Anyways the outcomes is thus, and it goes in to 'big stuff' because we had 8 grown adults stood around the pan dipping away, chatting, munching, dipping away etc. 'big stuff' it is.
For a great big pan as you can see above;
2 packets of fresh thyme – simply strip the little leaves off the woody branches;
2 packets of blue cheese – up to you how much you spend here on quality cheese. To be honest mine was cheap;
3 good knobs of butter;
As many different types of mushrooms as you can squeeze in a pan – I used about 6 different varieties. To be honest though even if it were just button mushrooms I reckon you'd be fine too;
1 heaped tablespoon of finely chopped garlic;
Squeeze of a lime; and
A good glug of olive oil.
Take a breath and hold it – because you won't need inhale before finishing the next bit.
All the ingredients in a pan, except the cheese and thyme, and get the heat on. Sweat the mushrooms down in the oil and butter – when they start to soften get them off the heat. Likely 2 minutes or so.
Add in the thyme and cheese and stir round until the residual heat has melted the cheese in to a thick silky sauce. Squeeze in the lime, and serve with some little slices of crusty bread – the dippers.
I have to say this was bloody awesome, truly.
Blue cheese mushrooms with thyme – Enjoy!