Mana Uluwatu Restaurant, part of Uluwatu Surf Villas in Bali
Mana Uluwatu is the restaurant serving Uluwatu Surf Villas Bali, The villas are perched on the top of a cliff with ocean views, infinity pools, and the coolest restaurant offering up fusion Mexican/Japanese food. This is going to be good. This is going to be really good!!!
To book and make a reservation at Mana Uluwatu Restaurant, just click below. We do recommend that you book.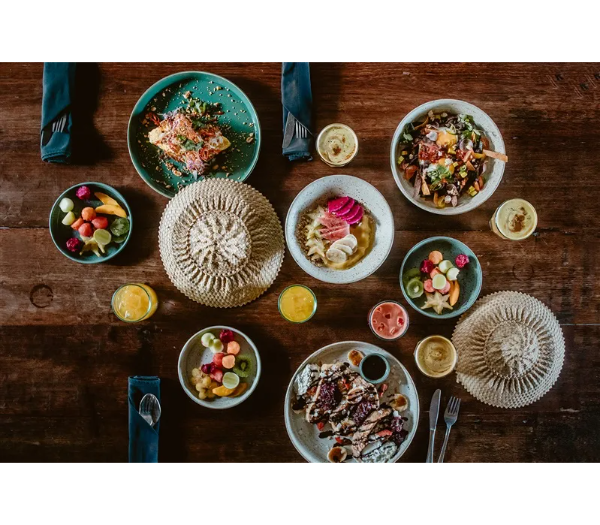 Photo courtesy of Mana Uluwatu website
Surf movie icon Alby Falzon directed the immediate classic Morning of the Earth in 1971, shedding light on Bali's essentially unexplored waves. Wayne Lynch, a goofy-footer, was inspired by that movie to take up surfing, and he made history when renowned photographer Dick Hoole photographed him in a barrel—the first surfer ever to be captured on camera at the iconic wave. The video rapidly went viral and reached renowned surfer Gerry Lopez, who traveled from his native Hawaii to take part.
As they say, the rest is history.
Years later, in 2001, Bali Villas debuted, taking its cue from those trailblazing surfers of the legendary 1970s. Uluwatu Surf Villas, the property's new name following a shift in ownership in 2008, cemented its reputation as the go-to spot for surfers wanting waves with a side of Bali magic. In addition to providing vinyasa classes with an ocean view, Morning Light Yoga Studio opened in 2014; Mana Uluwatu followed in 2018, completing the trifecta by including all-day dining and drinking options.
They constructed a two-tone concrete skate park in 2022 at the rear of the property, surrounded by lush jungle, as a natural complement to the excellent waves in front. A magnificent deck made of salvaged teak and ironwood has also been added; it is connected to the shore by a private staircase and is only a few steps away.
Visitors to Uluwatu Surf Villas enjoy an unmatched barefoot Balinese experience. The exceptional amenities, which include complimentary surfboards for use during your stay, private staircase access to the white sand beach for epic waves and tide pool explorations, on-site yoga with ocean views, and en-suite massages, to name a few, honor this heritage because they are located at one of the most famous surf locations in the world.
They cordially welcome everyone to share in the warmth of Balinese magic. It is a location where they give their visitors a reviving charge and provide them with an unforgettable experience, catering to the adventurous traveler wanting rustic refinement.
What does Mana Uluwatu Restaurant have to say about itself?
Mana Uluwatu Restaurant 2023 Menu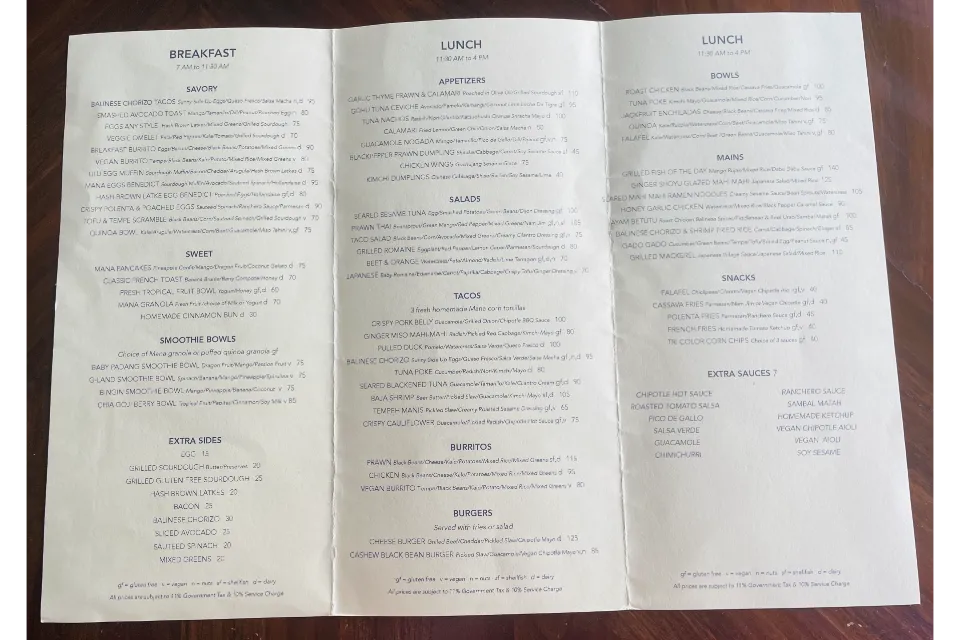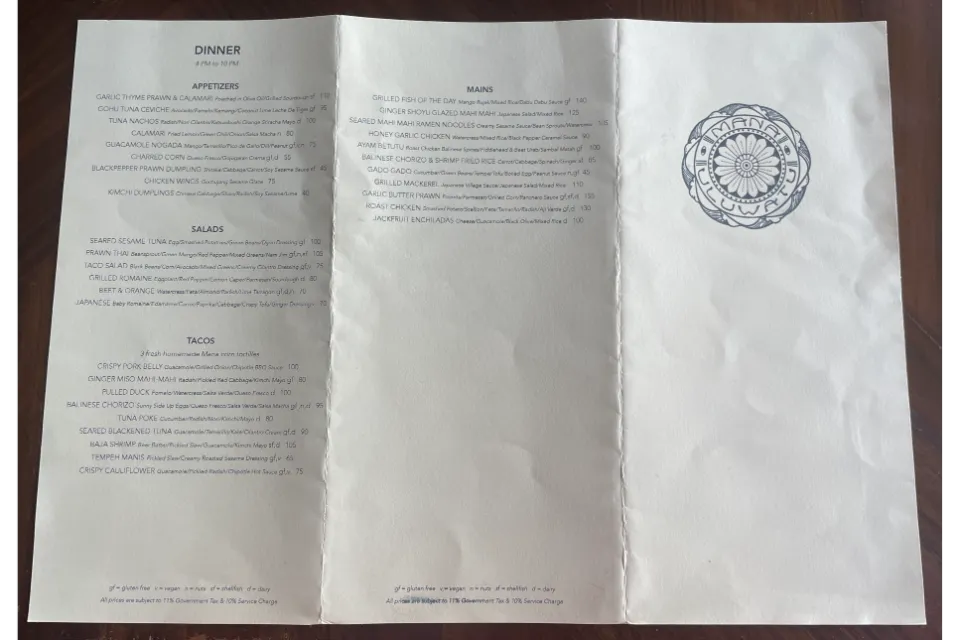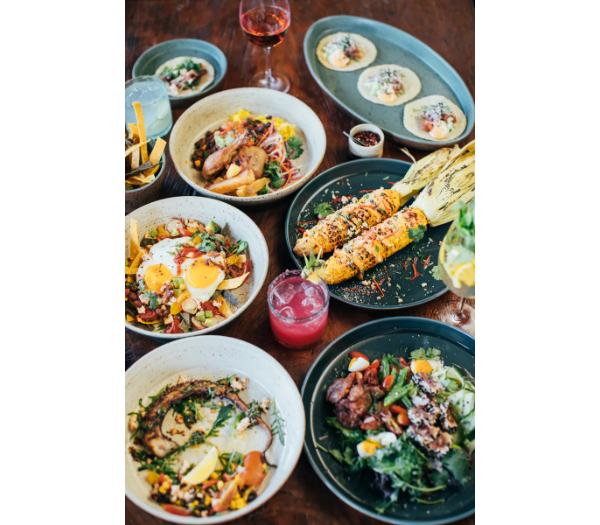 Photo courtesy of Mana Uluwatu website
Mana Uluwatu Restaurant Bali - the outside
For foodies and those looking for a casual eating experience with breathtaking views, Mana Uluwatu Restaurant is a must-visit location. The eatery is perched on a cliff and provides stunning vistas of the Indian Ocean. The upscale yet relaxed atmosphere is ideal for those who want to indulge in nourishing, flavorful food made with ingredients from the nearby land and water. The relaxed ambiance is only enhanced by the 12×15-meter infinity pool suspended over the forest.
Tacos, which are standout dishes, are highlighted on the varied and extensive menu at Mana Uluwatu Restaurant. Many visitors who have praised the food's quality and flavor strongly recommend the fish tacos and corn on the cob. Alongside the infinity pool's turquoise waters, the eatery also offers cold coconuts, cocktails, and incredibly fresh food from the luxury of shaded lounge chairs and daybeds.
All things considered, Mana Uluwatu Restaurant provides a special dining experience that should not be overlooked. It's the ideal place to enjoy dinner or some drinks while admiring Uluwatu's beauty because of the breathtaking cliffside views, laid-back ambiance, and delectable food.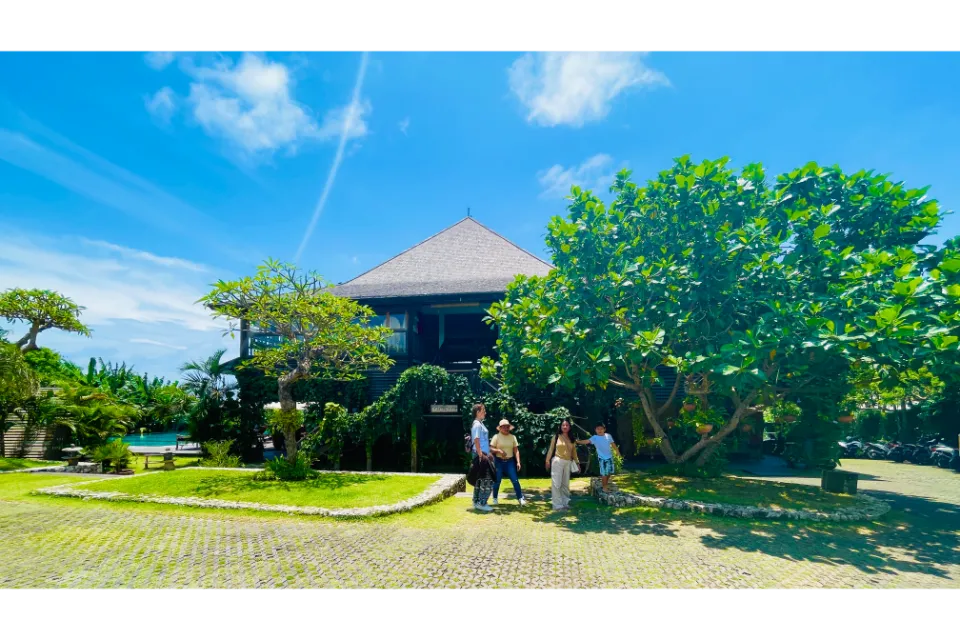 We have arrived – and we are HUNGRY!!! Bring it on Mana Uluwatu, we're ready to dine!!!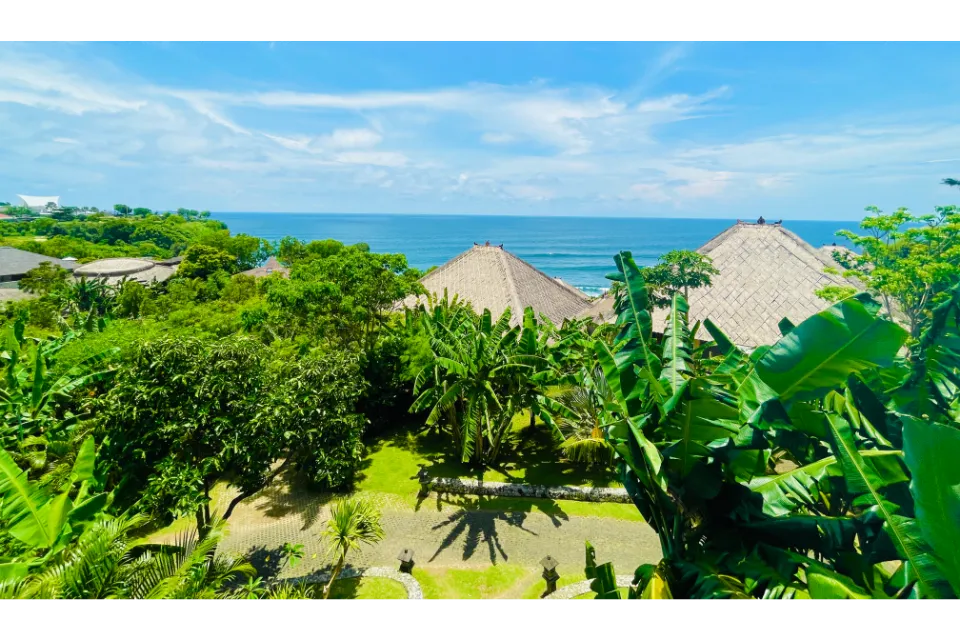 It really is just breathtaking.
Where else for a better lunch view point? Answers on a post-card. This is true WOW material here.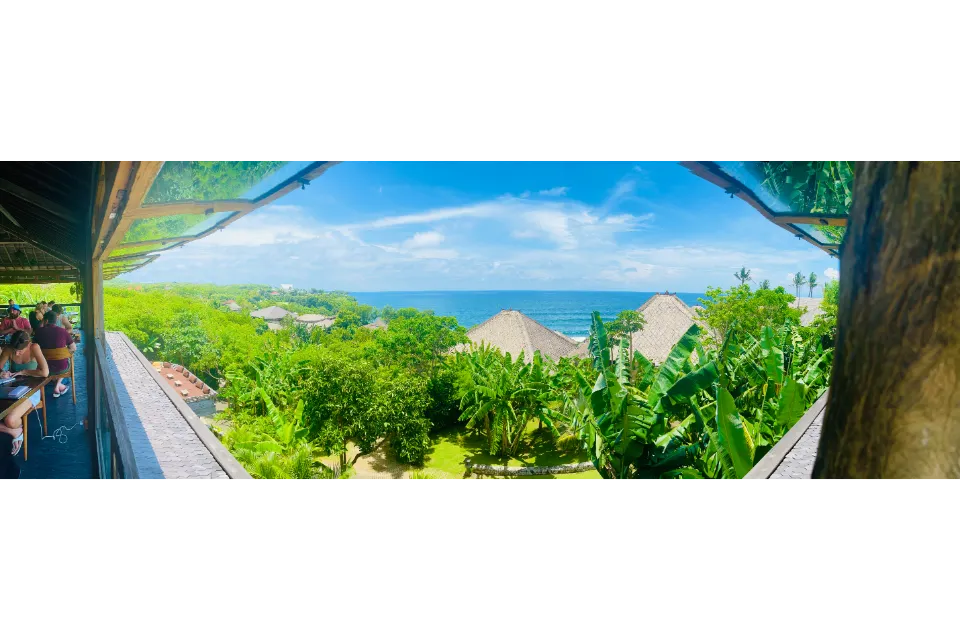 See what I mean about airy views? You literally sit here and get transfixed with the view. Waves crash, birds soar, winds blow, and toons chill. It's just wonderful escapism as you dine on incredible food.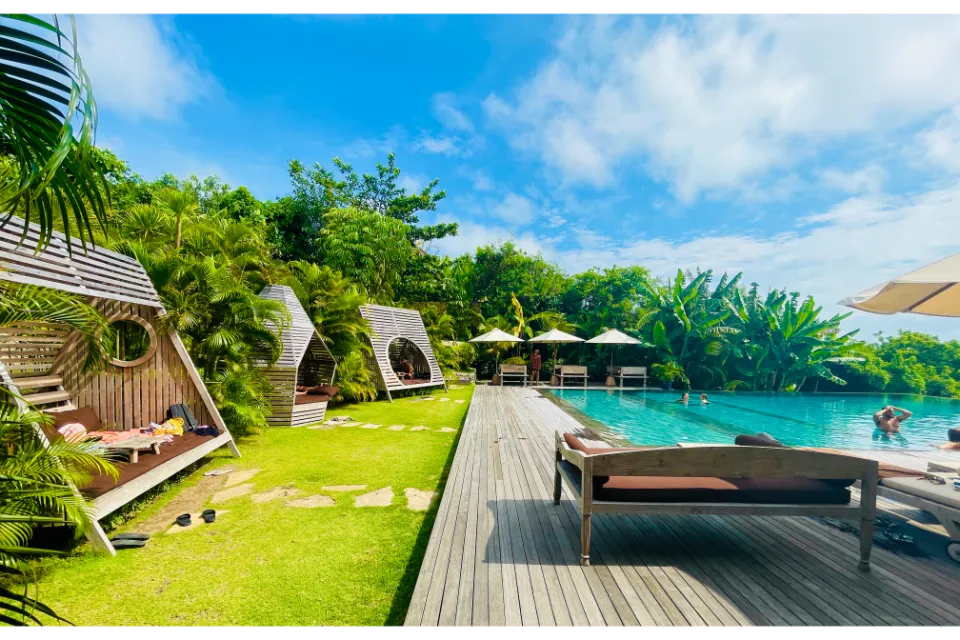 I really think family K is going to be having a night or two at Uluwatu Surf Villas the next time we frequent Bali. Just have a look at this place. It's stunning.
Mana Uluwatu Restaurant Bali, the food we ate today...
CHEESE QUESADILLA; Cheese and Spinach Flour Tortilla, Guacamole. This was Jude Jude's and he really liked it, he was not sure about the Guacamole though, bless him.
@ IDR 45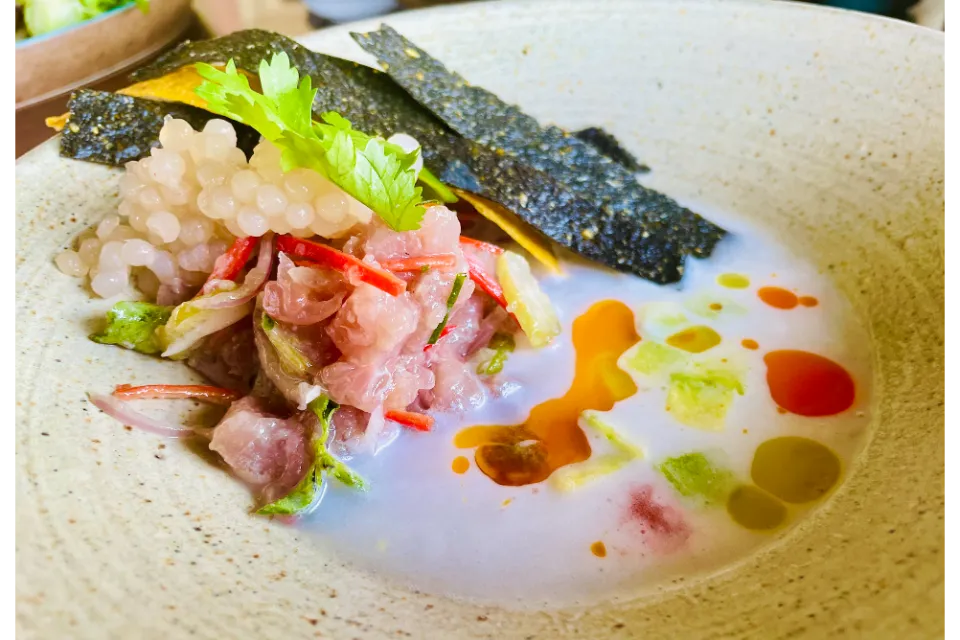 GOHU TUNA CEVICHE; Avocado, Pomelo, Kemangi, Coconut Lime Leche De Tigre. How stunning is that? WOW! See the mix of cultures, Mexican, Japanese and I would say Hawaiin with that Poke feel to this dish.
@ IDR 95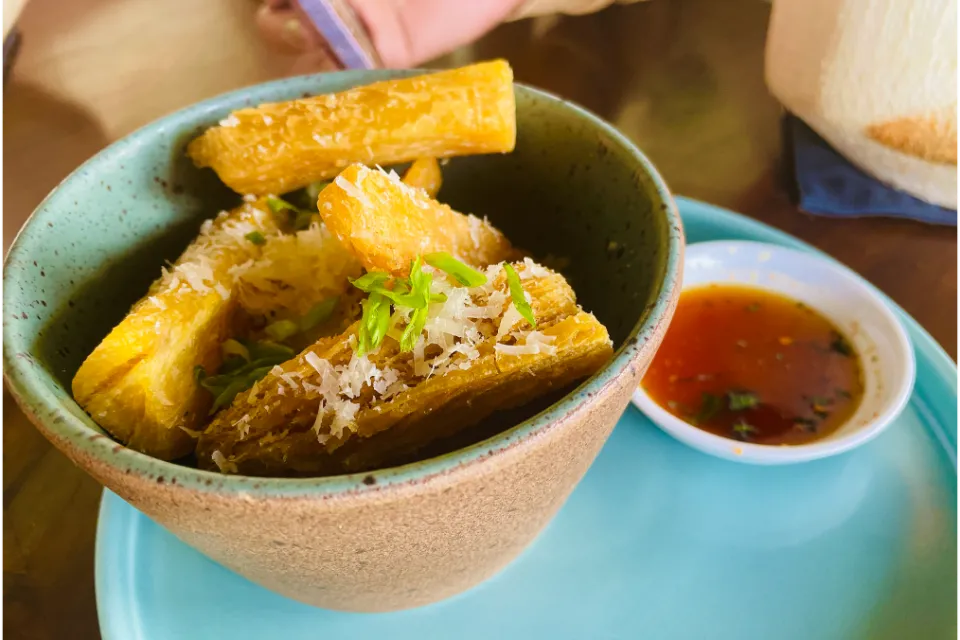 CASSAVA FRIES; Parmesan, Nam Jim Chipotle. Yeah, these were just awesome. Incredible beer food.
@ IDR 40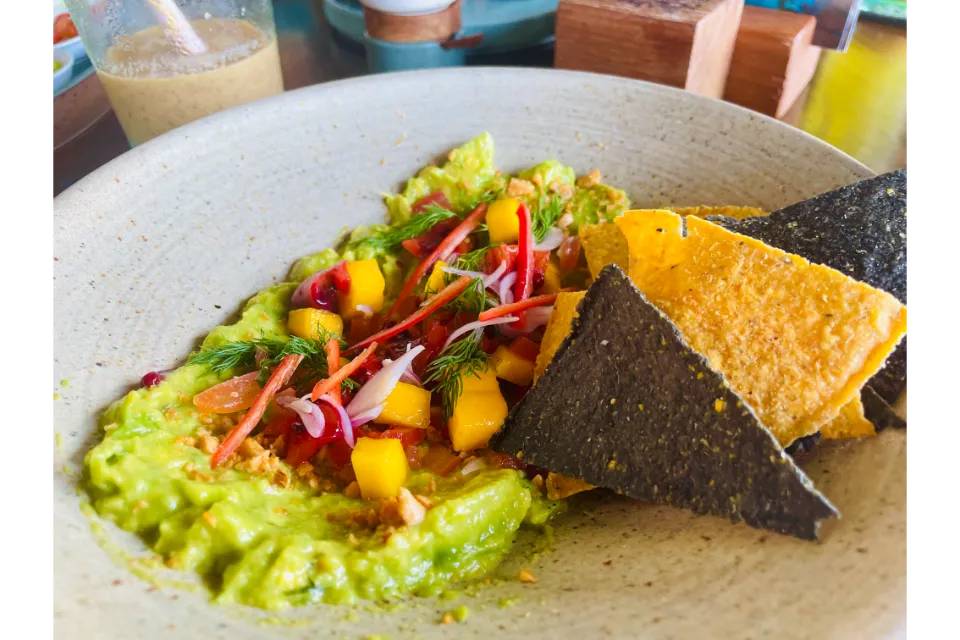 GUACAMOLE NOGADA; Mango, Tamarillo, Pico de Gallo, Dill, Peanut. Oh yes, this was a cracker. What a spin on the traditional. I could have kept eating this over and over. Absolutely superb version of guacamole.
@ IDR 75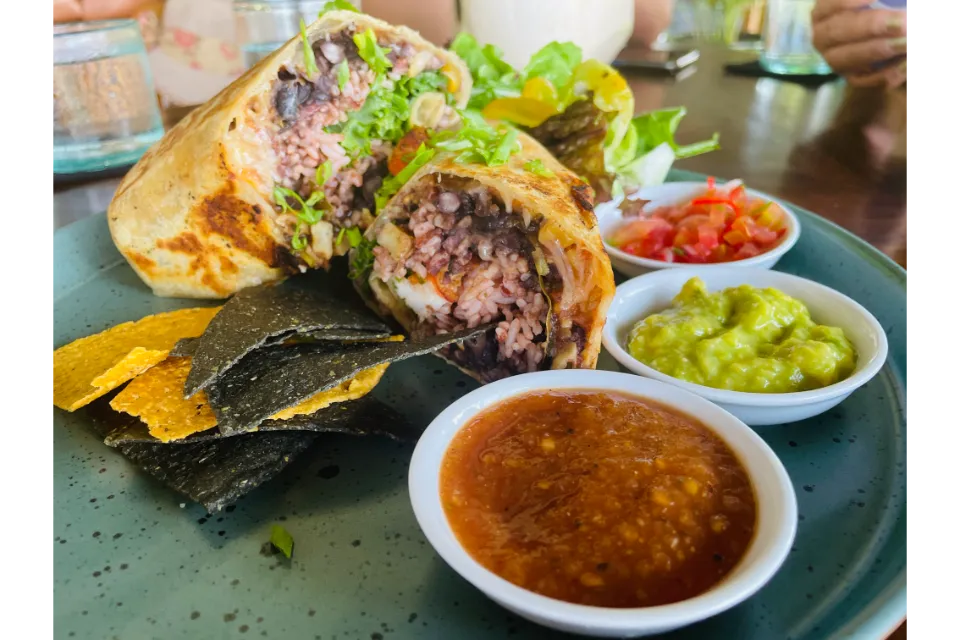 CHICKEN BURRITOS; Black Beans, Cheese, Kale, Potatoes, Mixed Rice, and Mixed Greens. Amy had this. Super-filling. A little dry. Hmmm, ok maybe this will not win any awards at the Strawberry Blonde camp.
@ IDR 100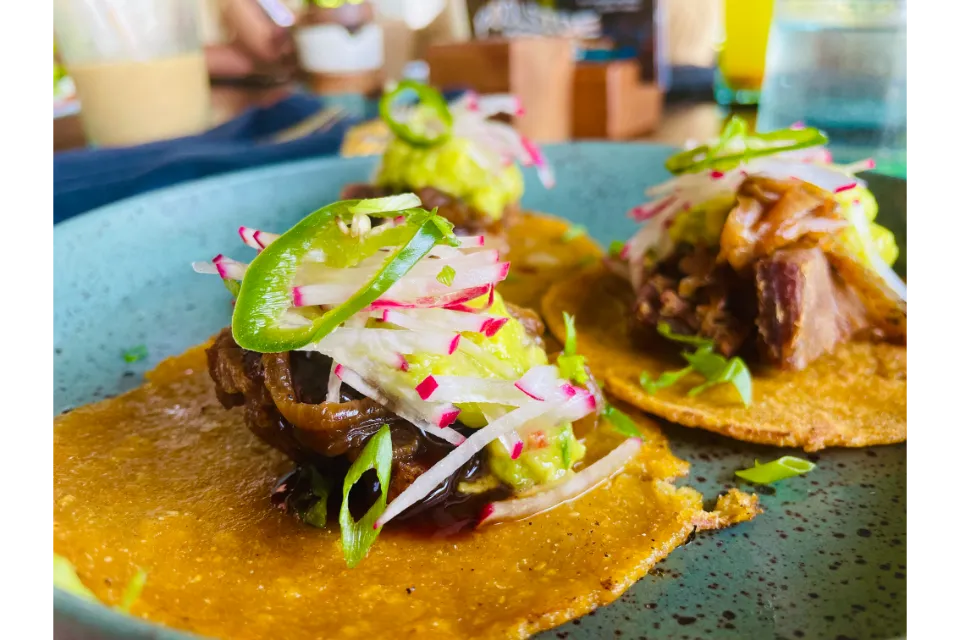 CRISPY PORK BELLY TACOS; Jude and me up next with this bad boy. Yeah, these were sooo good. Just look at those tacos, you can see homemade and hand-pressed. They really were delicious. These came with Guacamole, Grilled Onion, and Chipotle BBQ Sauce. Woof!!!!
@ IDR 100
To book and make a reservation at Mana Uluwatu Restaurant, just click below. We do recommend that you book.
In the southern region of Bali's Bukit Peninsula, Uluwatu Surf Villas is a gorgeous cliff-front resort renowned for its breathtaking views and sunsets. Private villas with one to three beds are available at the resort and come with air conditioning and WiFi.
Uluwatu Surf Villas is the ideal location if you're looking for a rejuvenating tropical getaway with a traditional Bali experience. The resort's unobstructed 180-degree views of the surf make it the ideal place to keep a watch on the shifting tides and surf. While gazing at Uluwatu's renowned surf breakers, you can unwind and take in the breathtaking energy of the ocean.
The property provides a range of affordable lodging options, including 3-bedroom villas for $490/night for four people, 2-bedroom bungalows for $290/night for two people, and 1-bedroom loft/upper suite/lower suites for $150/night for one person.
Although daily breakfast is included in the prices, tax, and service fees are not. Children aged 6 to 10 are charged $10 per night as additional visitors, who are charged $30 per person per night.
Overall, Uluwatu Surf Villas is a fantastic location to stay in Bali thanks to its stunning views, relaxing atmosphere, and cozy accommodations. It's unquestionably a fantastic location for surfers who want to take in the majesty of Uluwatu's renowned surf breaks.
To book Uluwatu Surf Villas at DISCOUNTED RATES, click below for our BFFs at Booking.com Bali
Exploring the Stunning Cliffs and Beaches in Uluwatu, Bali
On Bali, Indonesia's southernmost point, Uluwatu is a beautiful and well-known tourist attraction. It is renowned for its gorgeous beaches, historic temples, and breathtaking cliff views. We'll examine the top activities to do and see in Uluwatu in this blog.
First off, the Uluwatu Temple, a Balinese Hindu temple perched atop a sheer cliff overlooking the Indian Ocean, is one of Uluwatu's major draws. Monkeys, which are revered in Balinese society, have a sizable population in the temple. The temple's grounds are open for exploration, and visitors can take in the expansive ocean vistas.
Uluwatu is a surfer's haven for those who enjoy surfing, next. Surfers from all over the globe travel to the region for its dependable and top-notch waves. Padang Padang, Bingin, and Impossibles are a few of Uluwatu's top surfing locations.
In addition to having some of Bali's most stunning coastlines, Uluwatu is known for its surfing. The secluded Nyang Nyang Beach, which is situated at the base of a cliff and is only reachable by a difficult stairway, is one of the most well-known. The Padang Padang shoreline, which Julia Roberts starred in the movie "Eat Pray Love," is another well-known shoreline.
Uluwatu provides visitors with the opportunity to experience traditional Balinese culture in addition to the beaches and the temple through daily Kecak dance shows. A group of 50 to 100 men executes the dance, telling the tale of the Hindu epic Ramayana through chanting, singing, and dancing. You can add a distinctive cultural experience to your journey to Uluwatu by attending the performance, which is held every day at dusk in an outdoor amphitheater.
Last but not least, Uluwatu is renowned for its breathtaking sunsets. The clifftop bars and eateries in Uluwatu, like Rock Bar Bali, Single Fin, and of course Mana Uluwatu, are the ideal places to watch the sunset. These locations provide breathtaking views of the Indian Ocean, making them the ideal means to cap off a successful day in Uluwatu.
Uluwatu Surf Villas is the essence of Uluwatu and Bali. It's like a tree house dropped from the trees, made from locally recycled items. It's nestled between palm trees, with individual Uluwatu surf villas for guests to unwind after a hard day surfing on the topaz ocean. We only dined at Uluwatu surf villas, in the airy restaurant overlooking the crashing waves, as birds soared in the skies. It's such a beautiful place, I think for our next trip to Uluwatu, we'll definitely be having a few nights at Uluwatu Surf Villas.
In conclusion, Uluwatu in Bali is a must-visit location for anyone interested in learning more about the island's natural grandeur and rich culture. Uluwatu has something to offer everyone, from its breathtaking cliff vistas and beautiful beaches to its historic temples and cultural events. So, when planning your next trip to Bali, make sure not to skip this incredible location