Venison Tartare
Should I have called this Rudolph Tartare? Well I did make it at Christmas. My poor little Amy nearly cried when I told her what it was, dear me. My Venison Tartare came about because my mate Rutherford said he had some venison for the Christmas dinner, but didn't know what to make with it. I happened to be sat in a pub mulling this one over, when a mate said he had lunch at some pos restaurant and ate Venison Tartare.
PING!!! Goes the food lightbulb.
And the result was;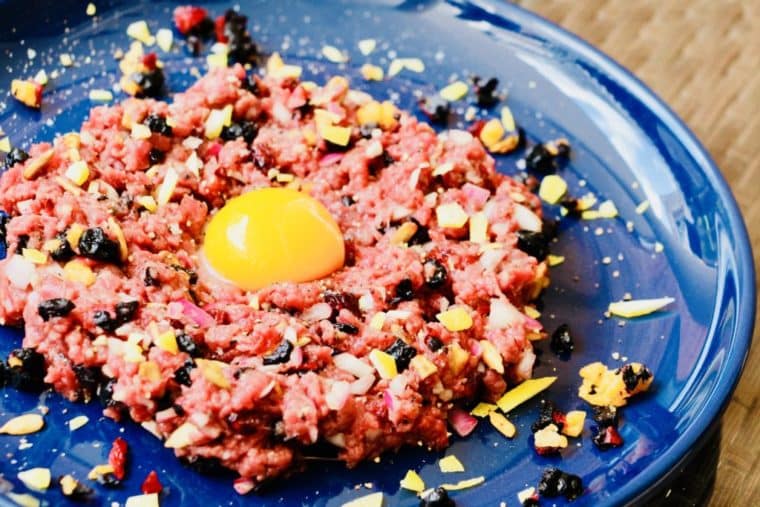 I think my Venison Tartare looks pretty damned good. I'd order that if I saw it on the menu (with a picture). Now a couple of tips first;
Venison is gamey so you need counteract that;
It can be quite sinewy too so more time on meat preparation is needed;
It goes really well with tart fruit.
Add all those elements together and hey presto!
What you'll need to make the above – a sort of sharing starter;
1/2 Kg of venison meat – I used a piece of fillet off a shoulder joint;
2 finely chopped red onions;
1/2 cup of red wine vinegar;
The zest of half a lemon;
2 tablespoons of dried, and roughly chopped

Cranberries;
Blueberries;
Apple;

2 tablespoons of dried pumpkin seeds;
Sea salt and cracked black pepper; and
One egg yolk.
OK here we go, my recipe for Venison Tartare;
First finely chop those red onions, place them in a bowl and pour in the vinegar – yes you are lightly pickling them;
Clean the meat – remove any fatty/gristle/sinew within the meat, and any of the fatty stuff that sits on the muscle;
Take time, as this is a raw meat dish don't forget, and nothing must be chewy;
You should be left with beautiful deep-red meat only, and no white fatty bits;
Start cutting the meat up as fine as you can (tip; use your sharpest knife, or sharpen one) to a mince;
Put the fruit together and rough chop;
Mix the chopped fruit and nuts with the meat (keep back a little to garnish the dish);
Drain the red onions from the vinegar and stir them in too (discard the vinegar);
Add two good pinches of sea salt, and a good crack of black pepper;
Stir it all through;
Arrange it on the plate as you can see, and create a small hollow in the middle to drop in your egg yolk.
That's it for the main bit of this recipe – now to garnish! Sprinkle all over with the lemon zest, and remaining fruits and nuts. Sprinkle some more sea salt and cracked black pepper. Serve. Venison Tartare is a new one for me, and to be honest for most at the party where this was served. I was worried that none would try, or the taste would be rejected. Far from it. It was GONE in the blink of an eye. If you are feeling adventurous one day, why not give it a go. Many others did today, so I am confident you will – ENJOY!!!
Is Life a Recipe YouTube Channel
(Visited 77 times, 1 visits today)