Japanese Wagyu Beef Wellington with Truffle Oil & Bacon
Japanese Wagyu Beef Wellington with Truffle Oil & Bacon
It's breakfast time again for my little 5-year-old. What di I have in the fridge? Well, I have that Japanese Grade A4 Wagyu from Chef Greg. Now how can I get creative with that? I know, how about Japanese Wagyu Beef Wellington with Truffle Oil & Bacon? Yeah, that works. That works really well. The little man had already asked me to make him his favourite Wagyu so this became my plan. And what a cracker she turned out to be.
This was beef butter in some beautiful crispy pastry,  with salty crispy bacon, and some super savoury from the truffle. How can you not want more and more of this? It was a stunner. One of the very best my two mits had created for a breakfast. This is my Japanese Wagyu Beef Wellington with Truffle Oil & Bacon. I'll definitely be doing this again, that is for absolute certain.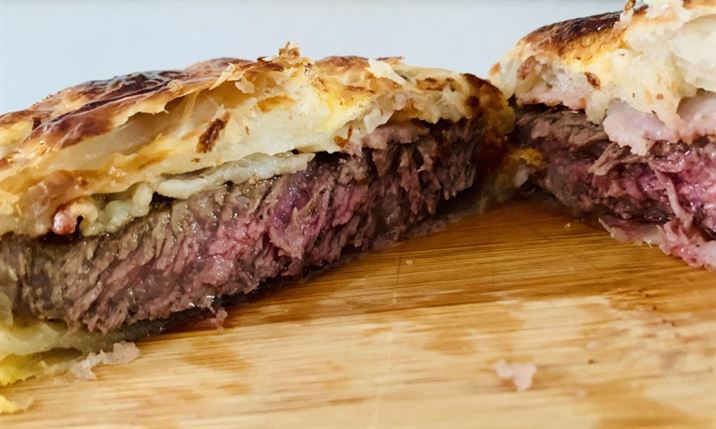 Are you ready for the recipe? Here we go, folks. Here comes the recipe for Japanese Wagyu Beef Wellington with Truffle Oil & Bacon.
You will need;
200g Japanese Wagyu Rib Steak, Grade A4 if you can or equivalent;
1 strip of streaky bacon;
1 sheet of flaky pastry;
1 egg;
Truffle oil; and
Sea salt & cracked black pepper.
Follow these steps folks;
Spray the steak with the truffle oil on both sides;
Give a good sprinkle of sea salt & cracked black pepper;
Heat up a frying pan and pop in the steak and fry it off until nicely charred on both sides – set aside to rest a little;
Fry off the bacon until crispy;
Put some baking paper on an oven tray, rub with a little oil and pout down the sheet of flaky pastry;
Pop the steak in the middle, and pop the bacon on the top;
Neatly fold over the pastry gently sealing it where the joins are, and gently stab with a fork to let the steam escape when cooking;
Beat the egg and use that as an egg wash to brush over the pastry – this will give the golden brown colour when it bakes;
Pop that in an oven on 200 degrees and watch carefully for it to crisp and brown – which should be about 5-10 minutes;
And you are done;
If you want to test the steak doneness you can stick in a small sharp knife and touch the top of your lip – if you feel warm all down the knife with no cold bits you are in business.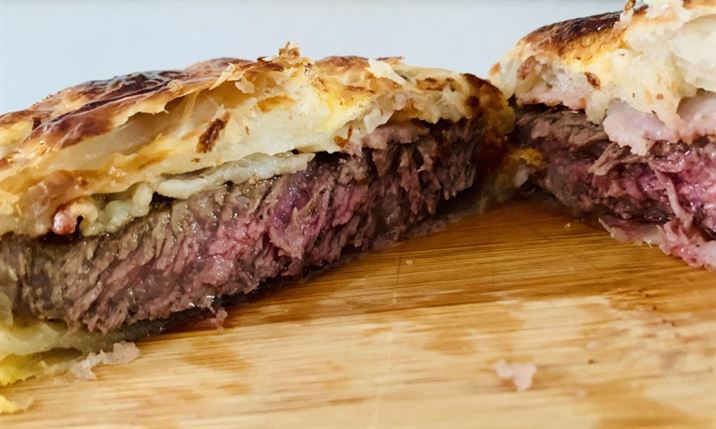 I served this on a wooden platter for Jude. When I sliced this open we were exposed to a perfectly cooked medium steak. So very juicy, and flavoursome with the truffle oil and bacon, and wrapped in that perfectly crispy flaky pastry, that was all nice and gooey inside. This is a BELTER, and one everyone should try. It was incredible, even if I do say so myself. Give it a go. This was Japanese Wagyu Beef Wellington with Truffle Oil & Bacon – ENJOY!!!
Is Life a Recipe YouTube Channel
(Visited 372 times, 1 visits today)